Editor's note: 2/25/22: The original article for this announcement was published on February 18. However, Crunchyroll News unpublished the article due to an error in the provided embargo date. The updated article follows.
Additional reporting by Daryl Harding
A press release for the upcoming The Dawn of the Witch anime announced today the series will begin its broadcast on April 7 and released a brand new key visual to coincide with the announcement as well as more cast members for the upcoming series from Tezuka Productions.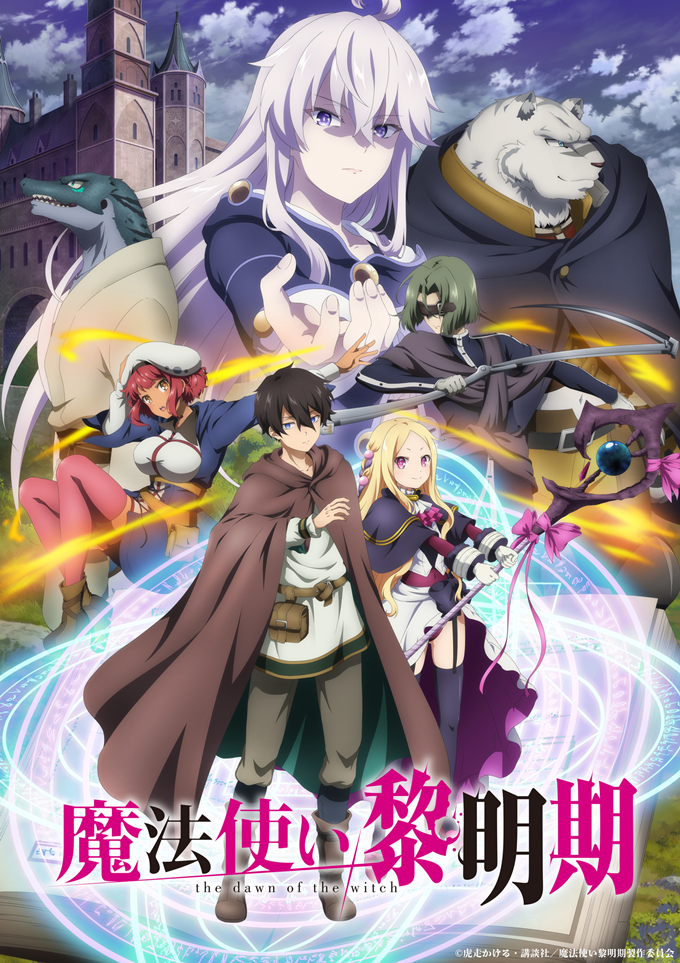 1st PV:
\????キービジュアル公開????/

物語の鍵を握るキャラクターが勢ぞろいのキービジュアルを公開????

さらにTVアニメ『#魔法使い黎明期』の放送開始日時が決定✨

TBSにて4月7日(木)深夜1時58分から、BS11にて4月10日(日)深夜0時から放送開始????

▼公式HPはコチラhttps://t.co/RDVwp15PJX pic.twitter.com/HlnpdwAeX7

— 『魔法使い黎明期』TVアニメ公式 (@reimeiki_pr) February 25, 2022
---
Additional cast members were also announced:
Yumiri Hanamori (Nadeshiko Kagamihara in Laid-Back Camp) as The Witch of Muddy Darkness:
– An unidentified witch who appears in a scene that Seville, who has lost his memory, can only slightly recall. She has a somewhat otherworldly atmosphere and knows about Seville's past.
Comments by Yumiri Hanamori
Q1. What are your impressions of this anime?
 "Albus has grown up, Thirteen is no longer there, and Mercenary is still the same… It's a nostalgic world where things change and the things that don't change are mixed together. I'm sure those who loved Grimoire of Zero will be pleased.
Q2: What is your impression of the character you play and your enthusiasm for the role?
"I never thought that the day would come when I could play Zero (The Witch of Muddy Darkness) again. I'm happy, really happy. Please look forward to seeing what happens to Zero and Mercenary after they finish their big journey!"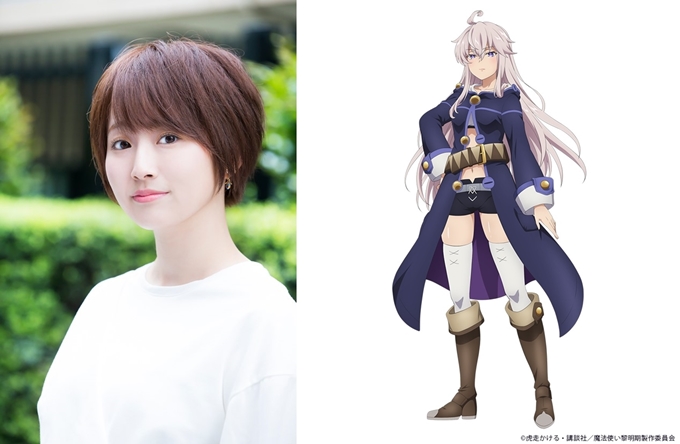 Masaaki Yano (Jyaka in I'm Standing on a Million Lives) as Mercenary
– A "beast fallen" mercenary in the service of the witch who rules the village where the special training takes place. He has the features of a huge, white, feline beast, and gives off a strong sense of intimidation to anyone who confronts him.
Comments by Masaaki Yano
Q1. What's your impressions of this anime?
"I was full of excitement, like I want to go! I want to be one! Magic and beastmen are real!!! There were so many things I loved that I couldn't keep up with my emotions. I'm excited to see how the story develops and how the characters bond with each other. Personally, I love beastmen, so this is great!"
Q2: What is your impression of the character you play and your enthusiasm for the role?
"It's fluffy! That was my first honest impression (laughs). But he has a lot of experience in his words, actions, and behavior. I hope I can pick up on that and express it. I will do my best to play the role of a mercenary in my own to be of help to the work and to make everyone who sees it enjoy."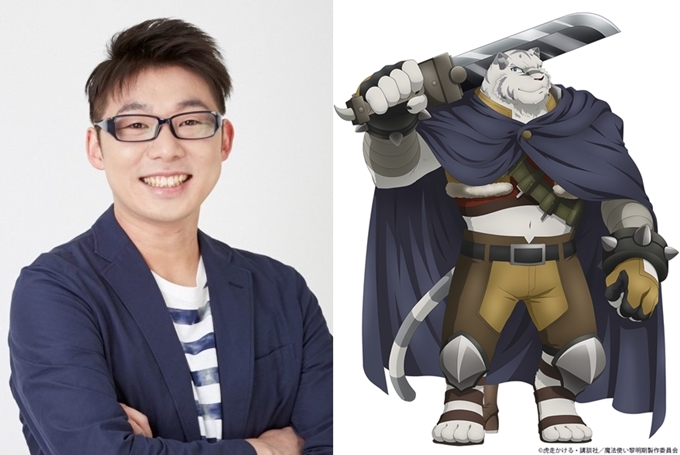 Masaaki Mizunaka (Keisuke Baji in Tokyo Revengers) as Minister:
– A minister who works at the church in the village where the special training takes place. He has lost his eyesight, so he covers both eyes tightly with a belt. Perhaps because of his wariness of witches, he often speaks in a rather harsh manner, and has a somewhat tense atmosphere.
Comments by Masaaki Mizunaka:
Q1. What's your impressions of this anime?
 "With magic as the keyword, I found myself getting more and more into the story as I watched each of the characters take action while having their own conflicts. The interactions between Seville, Loux-sensei, Hort, and Kudo are exciting to watch, and it make me watch over them. I'm looking forward to the day when I can see them move and perform magic in animation."
Q2: What is your impression of the character you play and your enthusiasm for the role?
"Minister is a calm and intelligent person. I find it very attractive that he speaks clearly and plainly to others, and that he has an unfathomable and mysterious aura. I am very honored to be able to play such a character, Minister. I will do my best to bring out the best of his charm and make 'The Dawn of the Witch' more exciting together with everyone. We would appreciate your support!"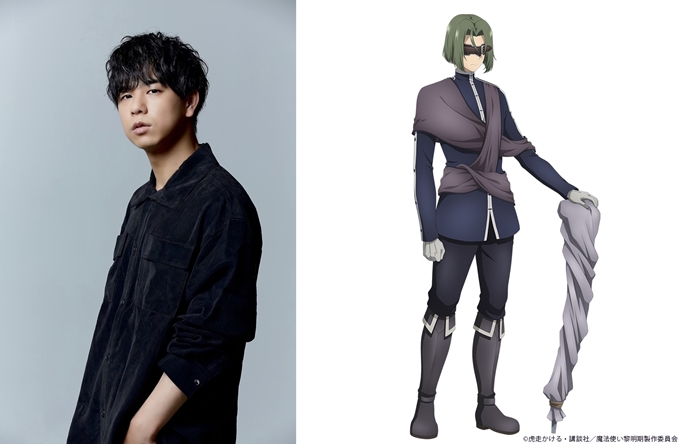 ---
The previously announced cast is as follows:
Main staff:
Director/Series composition: Satoshi Kuwabara (Girlfriend, Girlfriend)
Script writer: Kakeru Kobashiri, Mayumi Morita
Character design: Rena Iwasaki
Art setting: Minoru Nishida
Color design: Yumi Yutani
Editing: Wataru Uchida (Conquest)
Sound Director: Satoshi Motoyama
Sound Production: Bit Groove Promotion
Animation Production: Tezuka Productions
Crunchyroll announced at Anime NYC that the series will stream for users in North America, Central America, South America, Europe, Africa, Oceania, the Middle East, and CIS. Crunchyroll describes the series as below:
I can't remember. Who am I? What am I? Seville is a student at a magic academy who has no memories of anything from before he joined the school. Not understanding why he's there, the time he spends at the academy feels hollow and empty. And since he doesn't know how to work hard, his grades are always the lowest in his year. Then, one day, the school headmaster, Albus, orders Seville to participate in a dangerous special training. "I want you to spread the use of magic in an area where they hold witch hunts." It has only been a few years since the war between the church and the witches came to an end—the world has not yet fully accepted witches and their magic. This is the dawn of the age of the witch. This is the story of how a young man, a boy who is no one special, and his companions, who all hold wounds in their hearts, set out and end up finding themselves.
---
Source: Press Release
© Kakeru Kobashiri, Kodansha/"The Dawn of the Witch" Production Committee