The official website for Mobile Suit Gundam: Cucuruz Doan's Island announced on June 16 that the film had already earned 700 million yen (5.5 million USD) on 350,000 admissions in 12 days since its release in Japan.
/
㊗️ 興行収入7⃣億円!&観客動員35万人突破‼️
\
全国184館にて公開中????

劇場にお越しいただいた皆様誠にありがとうございます✨

3週目入プレは明日6/17~配布開始!
✅安彦監督MS複製原画5枚セット

引き続き #ククルス・ドアンの島 をよろしくお願いいたします。#安彦ガンダムを見届けろ pic.twitter.com/mRBxDts7jE

— 機動戦士ガンダム ククルス・ドアンの島 (@g_cucuruzdoan) June 16, 2022
The 108-minute film was released in 184 theaters across Japan on June 3, then sold approximately 150,000 tickets and earned 257,300,000 yen (2.36 million USD) on its first Saturday and Sunday. Its first three-day total gross from Friday through Sunday was 391,483,520 yen (3 million USD) on 195,313 admissions, which was enough to make its third place debut in Japan's weekend box office ranking. In its second weekend of June 11-12, it ranked seventh. The film is likely to end its domestic box office run just shy of reaching the one billion yen mark.
Thanks to its smash hit, a special screening event was quickly decided to be held at the Shinjuku Piccadilly theater in Tokyo on June 20, and the tickets were sold out in no time at all.
トークイベント開催✨
芸人 #田村淳 さん、#若井おさむ さんがファンとして安彦監督、福嶋プロデューサーに、お話を聞くイベントを開催!
もうひとりの"たむらあつし"こと総作監の田村篤さんの希少な制作資料も公開?!

▼購入????https://t.co/1SsYfy58aK
▼冒頭10分映像公開中https://t.co/r2fKZGg9n6 pic.twitter.com/WOgvIdEyOn

— 機動戦士ガンダム ククルス・ドアンの島 (@g_cucuruzdoan) June 10, 2022
RELATED: Yoshikazu Yasuhiko Says Cucuruz Doan's Island will be His Last Gundam Film and Anime Work
The film is based on the first Mobile Suit Gundam TV anime's 15th episode of the same name, which was aired in Japan on July 14, 1979. 
Main poster visual: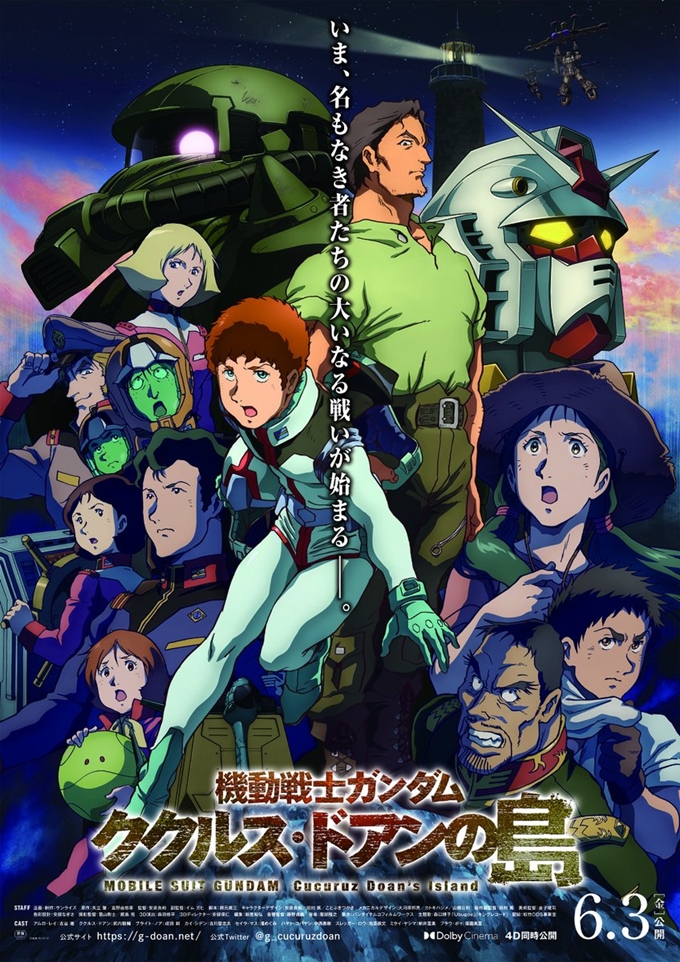 RELATED: Listen to Hiroko Moriguchi's Beautiful Voice in Gundam: Cucuruz Doan's Island Theme Song MV
---
Source: "Mobile Suit Gundam: Cucuruz Doan's Island" official website / Twitter
©SOTSU, SUNRISE