In 1970, Richard Matheson kicked off an enduring thought experiment with his short story "Button, Button." Push a button, and you get a substantial amount of money; but someone you don't know will die. Then in 1999, Sōta Sugahara (gdgd Fairies) put his own spin on the idea with his manga installment 5-Oku-Nen Button. And next month, it's getting an anime adaptation. 
Translated to 500 Million Year Button, the story (like Matheson's) kicked off a long-running philosophical debate. Sugahara's version of the box grants a million yen to whomever pushes the button. But in this case, the button-pusher must spent 500 million years alone in an empty space, at the end of which they'll forget the entire half-billion-year ordeal and return to the moment they pressed the button. Knowing you'll walk away with just under $7,500 with no memory of the several million lifetimes of isolation you've just endured… would you do it?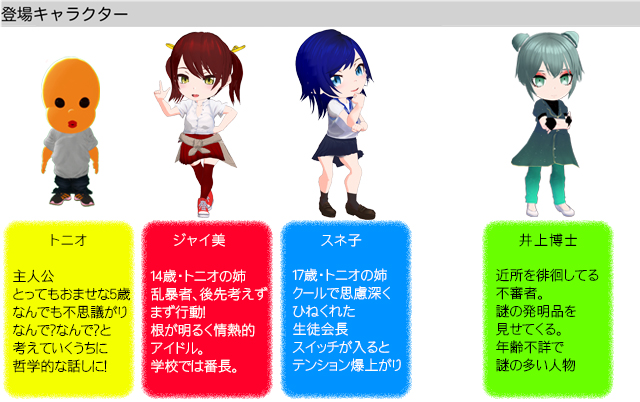 RELATED: FEATURE: Before VTubers, There Were Fairies!
The series focuses on a trio of siblings — 5-year-old Tonio, 14-year-old Jaibi, and 17-year-old Suneko — who are presented with this opportunity. The three need to raise money to pay their father's hospital bill, so the thought experiment comes at an especially tempting time. 
A trailer has been released for the upcoming project:
As well as a cast list:
Tonio: Masako Nozawa (Goku in Dragon Ball)
Jaibi: Suzuko Mimori (Umi Sonoda in Love Live!)
Suneko: Naomi Ōzora (Hana Uzaki in Uzaki-chan Wants to Hang Out!)
Professor Inoue: Marika Kōno (Petra in Re:ZERO -Starting Life in Another World-)
Unko-chan: Shiori Mikami (Akari Akaza in YuruYuri)
Hana-chan: Hina Yomiya (Shinju Inui in My Dress-Up Darling)
Dragon: Volcano Ōta (Sasaki in One Piece)
Narrator: Banjou Ginga (Gihren Zabi in Mobile Suit Gundam)
VTubers Koko and Rim will be performing the series's themes: Koko with opening theme "TIME," and Rim with ending theme "Tick-Tock Boy." Sugahara will write, direct, and handle character designs for the adaptation.
500 Million Year Button ~Sōta Sugahara's Short Shorts~ premieres July 14 on TOKYO MX.
© STUDIO SOTA
Source: Anime! Anime!

——
Kara Dennison is the book reviewer for Sci-Fi Magazine and a regular features writer for Otaku USA Magazine. Follow her on Twitter @RubyCosmos, and read more at KaraDennison.com.