The official Twitter account for The Maid I Recently Hired is Mysterious today added a few more helping hands to the cast list of the upcoming TV anime adaptation of Wakame Konbu's comedy slice-of-life manga, who'll be put to work when the series premieres sometime this July.
Yui Horie (Tsubasa in Bakemonogatari) as Tsukasa Gojoin
Mikako Komatsu (Maki in JUJUTSU KAISEN) as Fujisaki
Miyu Tomita (Miko in Kaguya-sama: Love is War) as Natsume Nakashima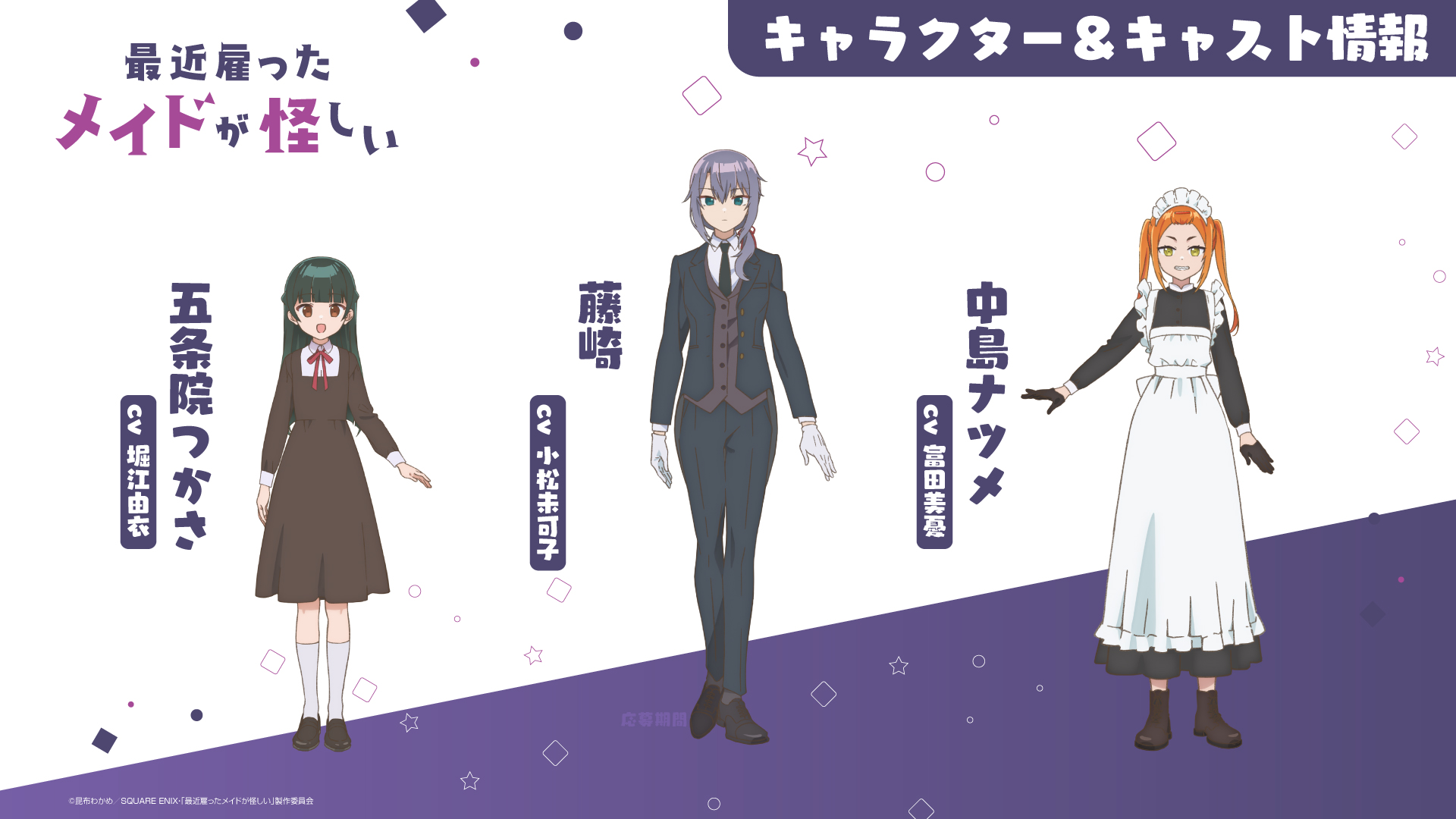 Yui Horie (Toradora OP/ED) will also be performing The Maid I Recently Hired Is Mysterious' ending theme, "Himitsu no Niwa no Futari" ("Two in the Secret Garden").
It was revealed with the anime's announcement in May that Saori Hayami (Yor in SPY x FAMILY) and Rie Takahashi (Takagi in Teasing Master Takagi-san) are voicing the primary pair, Yuuri and Lilith.
RELATED: The Maid I Hired Recently Is Mysterious Announces TV Anime for Summer 2022
The main staff behind 2021's The Great Jahy Will Not Be Defeated!, with the exception of the character designer, are producing the anime at studios SILVER LINK. and BLADE, as follows:
Chief Director: Mirai Minato
Director: Misuzu Hoshino
Assistant Director: Yushi Ibe
Series Composition: Mirai Minato
Character Design: Machi Yoshino
Music: Koji Fujimoto, Osamu Sasaki
Yen Press, who publishes the manga's official English version, describes the series as:
There's something really strange about the maid I just hired! No normal person could be so beautiful, or cook such amazingly delicious food, or know exactly what I want before I even ask. She must be using magic—right, a spell is the only thing that can explain why my chest feels so tight whenever I look at her. I swear, I'm going to get to the bottom of what makes this maid so…mysterious!
Source: Comic Natalie

Der shy man behind @Shymander, Liam is a timezone-fluid Aussie with a distinct fondness for anime, Eurovision and creating odd stats projects despite hating math.