Shonen Jump's official YouTube channel has started streaming a short anime PV for Masahiro Hirakata's comedy manga Debby the Corsifa wa Makezugirai (Debby the Corsifa is Emulous). The clip animates famous scenes from the first three chapters of the manga.
The manga was first published in the spring 2020 issue of Shueisha's Shonen Jump GIGA as a one-shot story. Thanks to its favorable reception, it has been serialized in the publisher's Shonen Jump + manga app/website since December 2020. So far four tankobon volumes have been released in Japan.
The story follows Debby the Corsifa, whose alias is "The Strongest Demon." As her alias suggests, she is the strongest demon in hell. Bored with the fact that no demon can beat her in a fight, she went to earth to destroy the human race to kill time. She meets Rokuro Sugo, a human boy who was killing time by himself, and decides to play a game with him with the extinction of the human race at stake. Rokuro understands that he cannot win by sheer force of arms, so he decides to play Bubba-Dubba, a card game.
ジャンプ+のCMにて、デビィちゃんをアニメにしていただきました!
うわぁーデビィちゃんが動いてるぞ、すげー、すげー????‼️
ザコさが増し増しだぁー‼️????
↓からyoutubeで公開されていますので、ぜひ観にいってくださいー‼️✨✨https://t.co/ZaQ62lCjPt pic.twitter.com/fREd0lAr8C

— 平方昌宏@デビザコ連載中 (@magoroku2) June 10, 2022
In the previously-posted voice comic videos, Debby the Corsifa was voiced by Kana Motomiya (Fennec in Kemono Friends), while Rokuo was played by Souru Saito.
Voice comic first chapter 1
Voice comic first chapter 2
Manga tankobon 1st & 4th volume covers: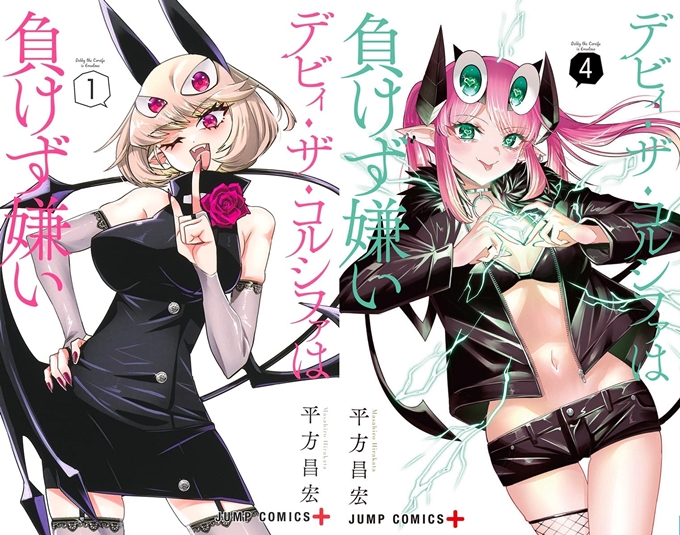 ---
Source: Shonen Jump official YouTube channel
@ Masahito Hirakata/SHUEISHA