UPDATE 6/9/22: On June 9, the Anime Expo Health and Safety page updated with a note stating, effectively immediately, the SPJA has "reinstated the previous COVID-19 policy requiring both proof of vaccination (or negative test) and face coverings for entry." 
The statement adds the "SPJA will be requiring all attendees of AX 2022 to provide proof of COVID-19 vaccination or proof of a negative COVID-19 test taken within 72 hours prior to attending the event." The masking requirement is also still in effect. The statement ends that "these requirements and guidelines are final."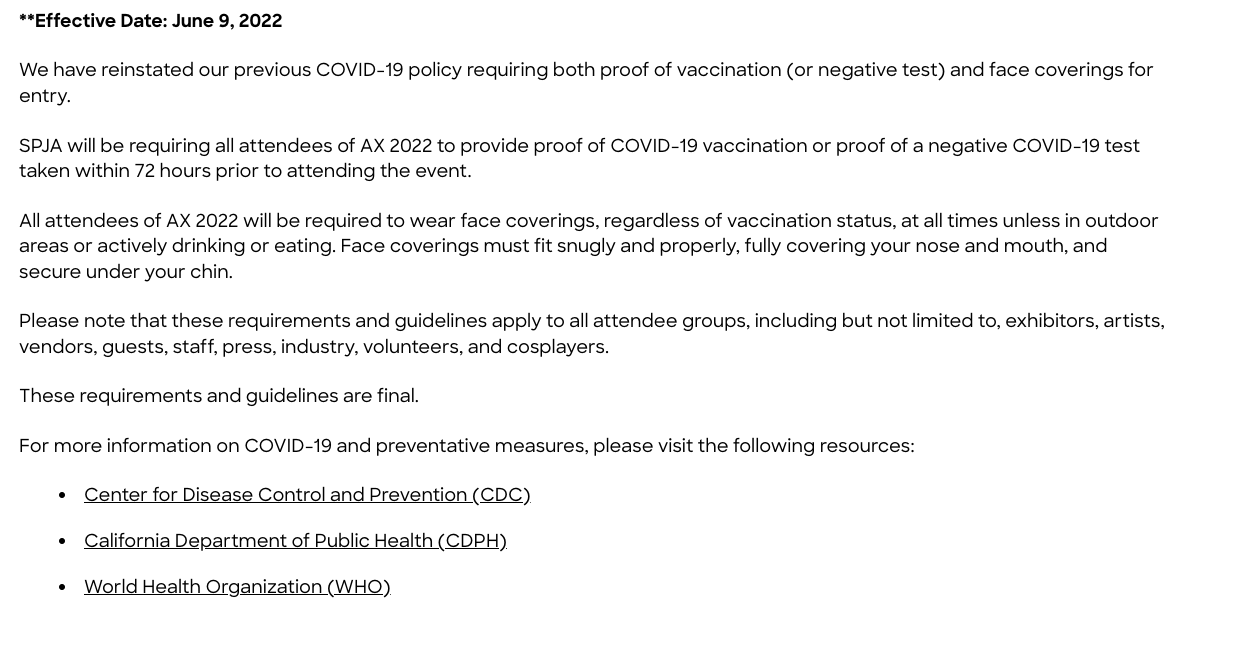 Screencap of the Health and Safety Page statement
The original article written on June 8 follows.
---
The Anime Expo official website announced today in an official statement the convention's previous health and safety protocols will be rolled back, no longer requiring proof of COVID-19 vaccination nor a negative test to enter the event. The statement adds that face coverings will still be required "regardless of vaccination status, at all times unless in outdoor areas or actively drinking or eating. Face coverings must fit snugly and properly, fully covering your nose and mouth, and secure under your chin."
We have updated our COVID-19 Health & Safety Protocols. While face coverings will still be required inside the LACC, we will no longer be requiring proof of vaccination or negative test for entry. More information is available here: https://t.co/H5Oe6HnQcD pic.twitter.com/8BTY7H07mH

— Anime Expo (@AnimeExpo) June 8, 2022
The statement adds "These requirements and guidelines may be subject to change as more details emerge. SPJA reserves the right to change or modify these terms at any time." Anime Expo previously announced in December 2021 that attendees would require proof of vaccination or a negative COVID-19 test taken 72 hours prior to the event.
Anime Expo previously held the Anime Expo Lite events in 2020 and 2021 in light of the spread of COVID-19. Anime Expo 2022 will be held from July 1-4, 2022, marking the convention's 31th anniversary. 
---
Kyle Cardine is a Managing Editor for Crunchyroll. You can find his Twitter here.