The official website for the Dropkick on My Devil! anime series announced on June 1 that "Ryusenkei Mayday" (Streamlined Mayday), the ending theme song for its highly-anticipated TV anime third season, Dropkick on My Devil! X, is sung by virtual singer KAF. According the site, it will be "the best ending movie that matches the sentimental world view depicted by director Taku Yamada."
KAF is described as "An 18-year-old who lives somewhere in Japan, and is everywhere and nowhere. A virtual singer at the forefront of the next generation of artists." Since October 2018, she has been performing using a 3D modeled avatar without revealing her true face. She has attracted over 150 million views on YouTube and a passionate fan community in Japan and abroad. She belongs to KAMITSUBAKI STUDIO.
Message from KAF:
I️ worked with Kaf-chan (her musical isotope) on the ending theme song for the anime Dropkick on My Devil! X! It is a wonderful pop and bursting song that fits the lively, dizzying, but light-hearted days of Jashin-can and the other characters! In the song, I paid particular attention to the audible expressions! I also love the way Kaf-chan's voice combines with mine! I hope that "Ryusenkei Mayday," the ninth in the collaboration suite series, will reach as many people as possible! 
そしてEDテーマはバーチャルシンガー花譜(かふ)さん「流線形メーデー」に決定!山田卓監督が描くセンチメンタルな世界観とマッチした、最高のエンディング映像をお届けいたします。放送をお楽しみに!#邪神ちゃんドロップキック #jcdk@virtual_kaf https://t.co/scN7AVCqtm pic.twitter.com/q5y8zd9xhs

— 【7月放送】邪神ちゃんドロップキックX (@jashinchan_PJ) June 1, 2022
KAF artist visual: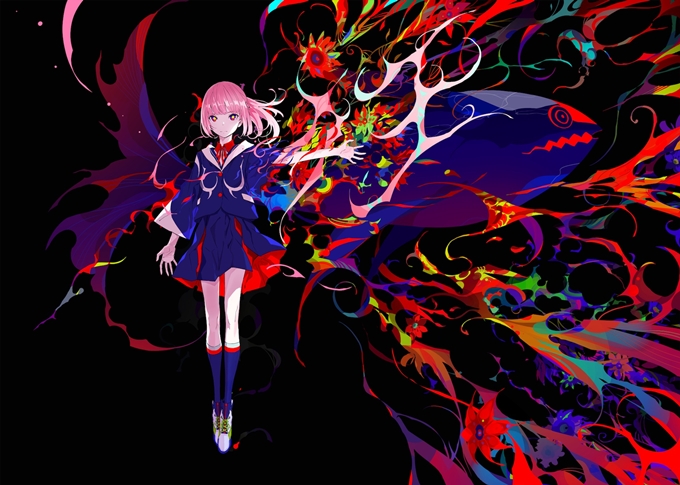 ---
Following the first season in 2018 and the second season Dropkick on My Devil!! Dash in 2020, the third season Dropkick on My Devil! X is set to premiere on TV Tokyo on July 5, 2022.
As reported, the third season's opening theme song "Arekore Drastic feat.Suzuki Aina" will be sung by halca, who previously sang the second season's opening theme "Tokitoshite Violence." As its title suggests, Aina Suzuki, the voice of the anime's protagonist Jashin-chan, joined the recording.
"Dropkick on My Devil! X" poster visual: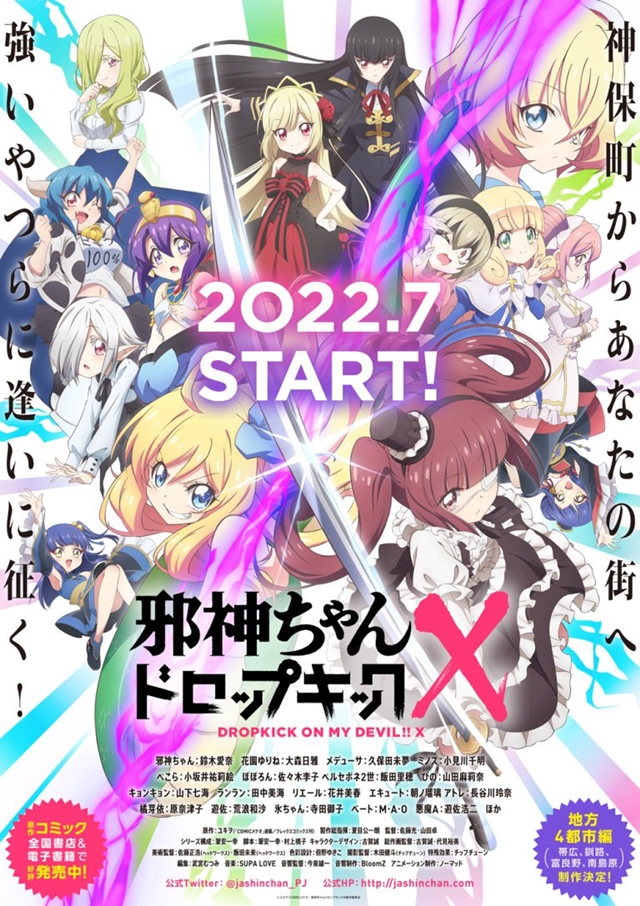 RELATED: Hatsune Miku Joins the Cast of Dropkick on My Devil!! X TV Anime 
---
Source: TV anime "Dropkick on My Devil!" official website / Twitter
©Yukiwo, Comic METEOR/Jashin-chan Dropkick Production X Committee
© KAMITSUBAKI STUDIO