It's officially the month of Dark Schneider's grand return to anime form, nearly thirty years after his first and only appearance in a 1990s OVA series, and he's already casting a captivating spell in the newly unveiled main visual for BASTARD‼ -Heavy Metal, Dark Fantasy-.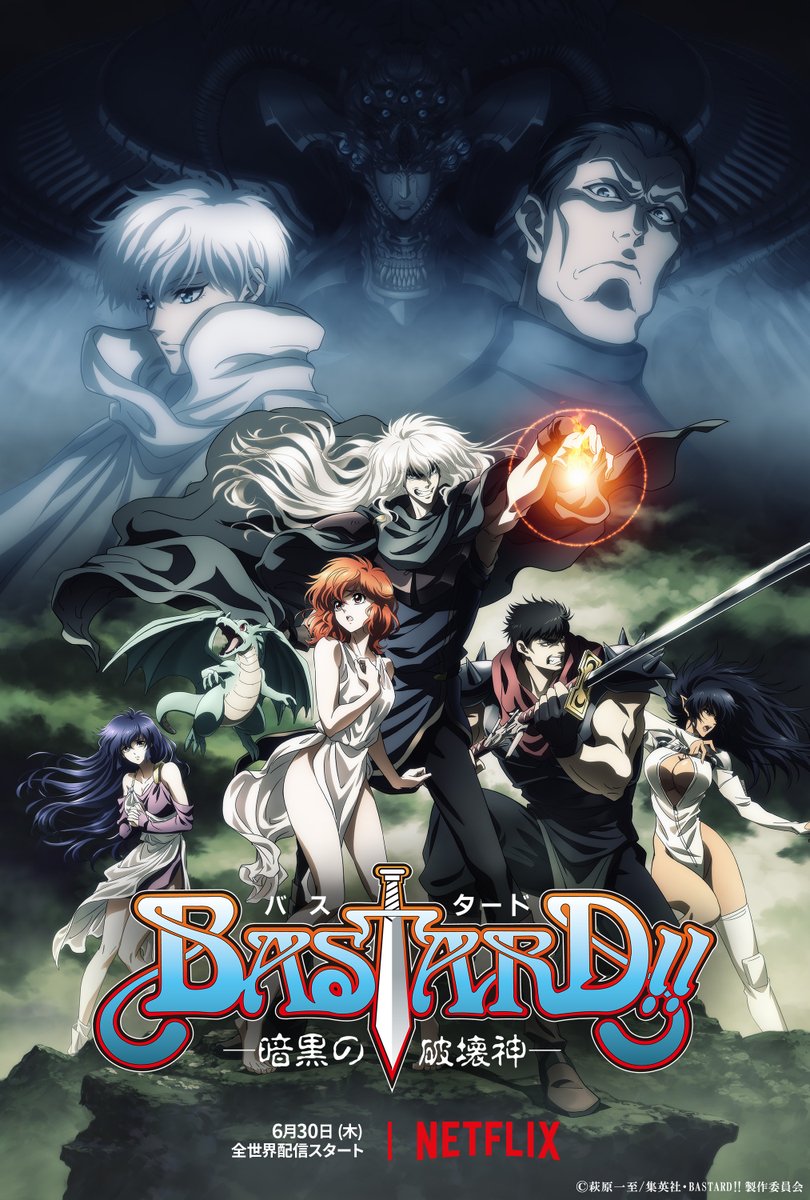 It was also announced that Tielle (Re:CREATORS OP) will perform "BLESSLESS" for the ending theme, and that the first episode is titled "Doujo" ("Entrance").
RELATED: BASTARD!! Art Exhibition Hits Tokyo in July of 2022
Based on the 1988 manga by Kazushi Hagiwara, BASTARD‼ -Heavy Metal, Dark Fantasy- is being directed by Takaharu Ozaki (GOBLIN SLAYER) at studio LIDEN FILMS, with series composition by Yosuke Kuroda (My Hero Academia), character designs by Sayaka Ono (Cross Ange: Rondo of Angel and Dragon), and music by Yasuharu Takanashi (Naruto Shippuden).
The main cast is as follows:
RELATED: BASTARD!! –Heavy Metal, Dark Fantasy- Anime Reveals Teaser PV, Additional VAs, OP/ED Theme Performers
Netflix, who will be streaming the new adaptation worldwide for 24 episodes from June 30, describes the series as:
The Dark Rebel Army, which plans to resurrect the god of destruction Anthrasax, continues to expand its power in a bid to rule the world, led by the overwhelmingly powerful Four Divine Kings. The Kingdom of Metallicana on the Central Metallion Continent is assaulted by the sorcerer-led Dark Rebel Army.
In order to save the kingdom, Tia Noto Yoko, daughter of the Great Priest, has a decision to make — she must resurrect the ancient great wizard who once plotted to rule the world, and who is sealed within her childhood friend Lucien Renren. The only thing that can undo the seal is a virgin's maiden kiss.
Facing imminent danger, Yoko puts her lips on Lucien's, and in that moment, a dark and powerful energy fills the air. The strongest, wildest, and most beautiful protagonist, the legendary wizard Dark Schneider, is finally revived!
Source: Comic Natalie, BASTARD!! official Twitter account

Der shy man behind @Shymander, Liam is a timezone-fluid Aussie with a distinct fondness for anime, Eurovision and creating odd stats projects despite hating math.