The official web site for the forthcoming live-action drama adaptation of Shinta Harekawa's romantic comedy BL manga Senpai, Danjite Koi Deha! (Senpai, This is Never Love) has released a main visual (see above) and a 30-second first trailer. In the clip, the drama's two protagonist men grow closer and gradually fall in love each other.
The clip also features the drama's theme song "Follow Your Heart" sung by Hayato Kagami & Haru Kaida from ROF-MAO. The two are virtual YouTubers who belong to ANYCOLOR's virtual YouTuber agency Nijisanji.
As the second entry from KADOKAWA's "TUNKU" project that is specialized in BL (Boys' Love) drama series following the ongoing drama adaptation of Gamoko Tsuyu's Fukoukun wa Kiss Surushikanai! (Mr. Unhappy has no choice but to kiss!), Senpai, Danjite Koi Deha! will start airing on MBS' midnight drama slot "Drama Shower" on June 16, 2022.
The original manga was serialized on KADOKAWA's BL manga website Comic Fleur in January 2019, then its sequel Senpai, Danjite Koi Deha! Brush up followed in September 2020. The story follows Yanase, an experienced CG designer, has been assigned as a trainer for newcomer Kaneda. But he has been unable to get close to Kaneda. Yanase understands Kaneda is a hard worker, but he never breaks facial expressions, and even when he tries a little physical contact with Kaneda, he is rejected, "I'd prefer you not to touch me." While Yanase is depressed, Kaneda, on the other hand, does not know what do with Yanase. In fact, Kaneda respects Yanase to the point of worshipping him as a "god"…!
26-year-old Shuichiro Naito (Touma Kamiyama/Kamen Rider Saber in Kamen Rider Saber) is cast as Yanase, while 26-year-old Toshiki Seto (Hiiro Kagami/Kamen Rider Brave in Kamen Rider Ex-Aid) plays Kaneda. The two actors, who have both appeared in the Kamen Rider series, will co-star in the drama.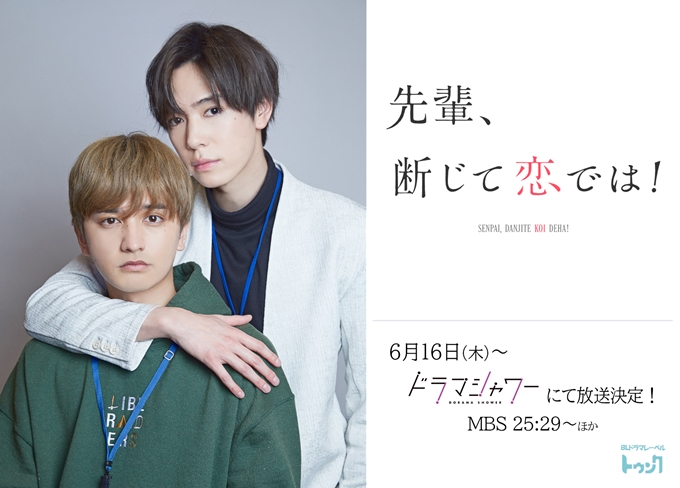 "Senpai, Danjite Koidewa!" and "Senpai, Danjite Koidewa! Brush up" manga tankobon covers: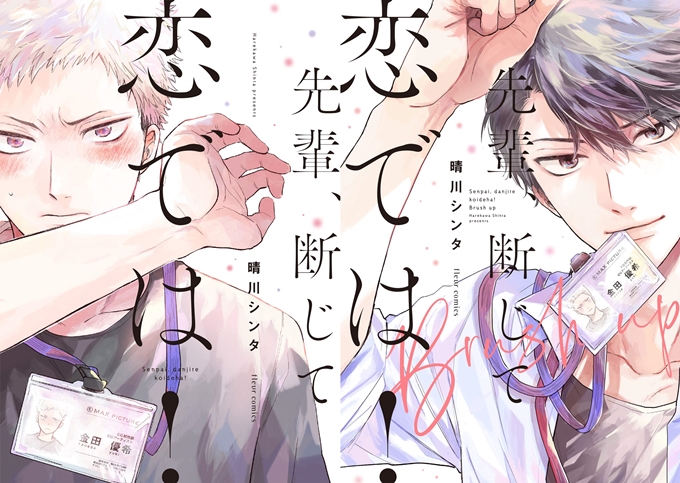 RELATED: Shinta Harekawa's BL Manga Senpai, Danjite Koi Deha! Gets Live-action Drama Adaptation in June
---
Source: "Senpai, Danjite Koi Deha!" TV drama official website
©"Senpai, Danjite Koi Deha!" Production Committee, MBS