The official website for the long-awaited live-action film adaptation of Aoi Hiiragi's romantic coming of age manga Mimi wo Sumaseba / Whisper of the Heart has posted two new teaser visuals and a message from the manga author.
The Nana Seino (Ai in Mamoru Oshii's Nowhere Girl) and Touri Matsuzaka (Takeru Shiba/Shinken Red in Samurai Sentai Shinkenger)-starring film was originally scheduled to be released in Japan on September 18, 2020, but has been postponed for two years to October 14, 2022, due to the effect of the COVID-19 pandemic.
The Yuichiro Hirakawa (The Promised Neverland live-action film)-directed adaptation is told in two parts: "Ano koro (past)" based on the manga story, and the original part "Junen-go (present)" set ten years after that. The first teaser visual shows the two protagonists – Shizuku Tsukishima and Seiji Amasawa – as junior high school students riding bicycles on a bank, and the second one is set in ten years later, they are standing in the same place again, facing each other. The two visuals express the long passage of time with the changing scenery of the town. How their relationship has changed over the years?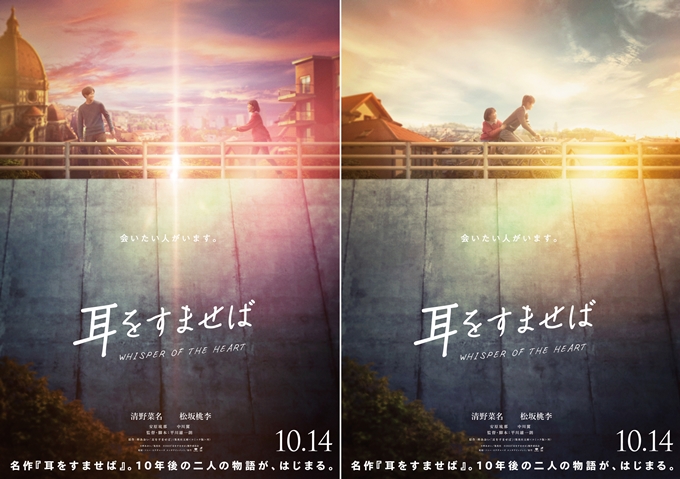 ♬ ───────────
 映画『#耳をすませば』
  第2弾ビジュアル解禁
 ─────────── ♪

10年後の新たな物語とはー

日本 ???????? と イタリア ????????
離れて過ごす二人の想いに寄り添う
劇中歌は「翼をください」に決定????#雫と聖司の10年#清野菜名 #松坂桃李 #安原琉那 #中川翼 pic.twitter.com/01Vg2z8IiX

— 映画『耳をすませば』公式 (@mimisuma_movie) May 26, 2022
Message from Aoi Hiiragi:
It has been 33 years since I drew "Whisper of the Heart" and 27 years since it was made into an animated film. Hearing the passionate thoughts of the staff who grew up watching the film, I was intrigued by the new approach of "a story 10 years later." Now that a new live-action film has been created, I wonder about the characters who are walking completely out of the original creator's hands. However, it is because I am their parent that I am excited and trilled to see what kind of world they will show me. The world has become darker due to the unexpected pandemic, but I hope this film will brighten the world, if only a little.
■─────────────■
  「#耳をすませば」原作者
#柊あおい 先生 のコメント✏️
■─────────────■

「10年後の物語」という
新しい切り口に興味を惹かれました。
この映画で少しでも
世界が明るくなればと願っております。#耳すま #雫と聖司の10年 pic.twitter.com/TvNBXdT6c8

— 映画『耳をすませば』公式 (@mimisuma_movie) May 26, 2022
Teaser trailer:
RELATED: Whisper of the Heart Live-action Film Teaser Trailer Finally Announces Its October 14 Release Date
---
Source: "Whisper of the Heart" live-action film official website / Twitter
©Aoi Hiiragi/KODANSHA
©2022 "Whisper of the Heart" Production Committee