UPDATE: Added in the additional updated info for the event. 
Heyas, Knights! As we look to the month of June, one thing's for certain: the seasons are beginning to turn, and the hot summer months are beginning to creep up on us. Summer in Astraea means plenty of new characters, campaigns, and other bits of summer fun, and you bet we've got plenty of stuff in our update portfolio to key you in on. We've got plenty of stuff in our update portfolio to key you in on, so let's make a splash and jump right on in!
Long hair? Check. Side ponytail? Check. Scrunchie? Check. Suzuna (Summer) is dressed for fun at the beach, and kicks off a gauntlet of Summer-themed characters, each with their own charms and unique skill set to differentiate them from their normal counterparts. For Suzuna (Summer), she'll totes make waves with her newfound TP gain, while still retaining the critical hit ability that she's known for. Math may not be her strong suit, but she's ready to integrate her toolkit into any team that needs some massive damage output. 
Like other seasonally-themed characters from Focus Gachas past, Suzuna (Summer) is a limited character, which means that once her Focus Gacha ends, she won't be added to the main Premium Gacha rotation, but will be on that rotation for a short period of time, and will also be available for redemption via character points. As a result, you'd be wise not to miss this opportunity to encounter her while her Focus Gacha's live, as it might be a while before another opportunity like this comes around. Can't be busting out the summer attire during all seasons, after all!  
The Suzuna (Summer) Focus Gacha runs for 13 days, from 6/1, 23:00 UTC to 6/14, 22:59 UTC. Don't worry about the other members of Lucent Academy, either – we didn't forget about them! More on that in a bit.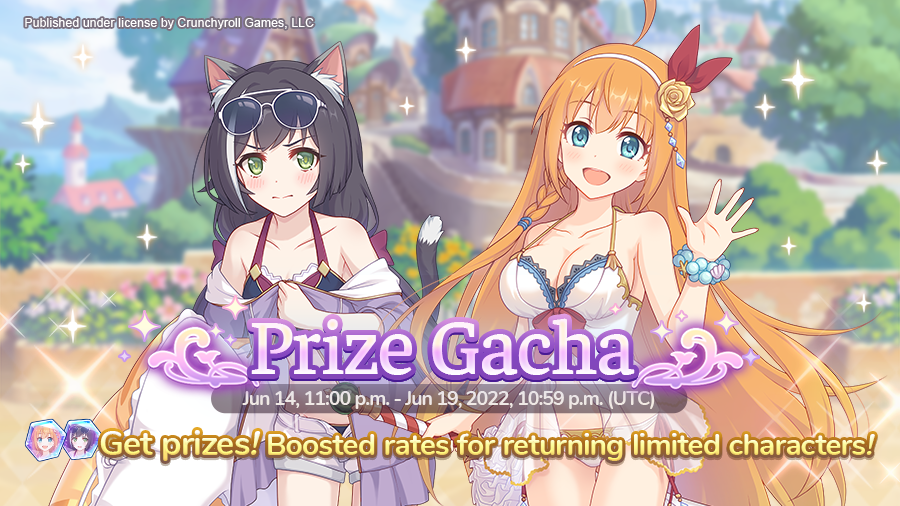 The Summer fun doesn't end when the Suzuna (Summer) Focus Gacha ends. To get their fair share of the beachside fun, Karyl (Summer) and Pecorine (Summer) are making their return for a limited time. For a short period of time, you'll see boosted draw rates for Karyl (Summer) and Pecorine (Summer). If you missed out on obtaining the Gourmet Guild heroines decked out in beach attire last summer, now is the perfect opportunity to obtain them.
To add even more value we're also introducing this as our first Prize Gacha. Before pulling on this Gacha, you'll be able to select either Karyl (Summer) or Pecorine (Summer). Each pull you make in the Prize Gacha will also come with a guaranteed prize ranging from Divine Amulets, Skip Tickets, Princess Heart Fragments, to Memory Shards of your selected character! 
As with our last release of these seasonally-themed characters, Karyl (Summer) and Pecorine (Summer) are limited characters, which means that once this Prize Gacha ends, they won't be added to the main Premium Gacha rotation. However, they will be available for redemption via character points during the Prize Gacha Period. So make sure to head down to the beach with the Gourmet Guild before they head back to the guildhouse!
The Karyl (Summer) & Pecorine Prize Gacha runs for 6 days from 6/14, 23:00 UTC to 6/19, 22:59 UTC. Looks like we'll be in for a great summer!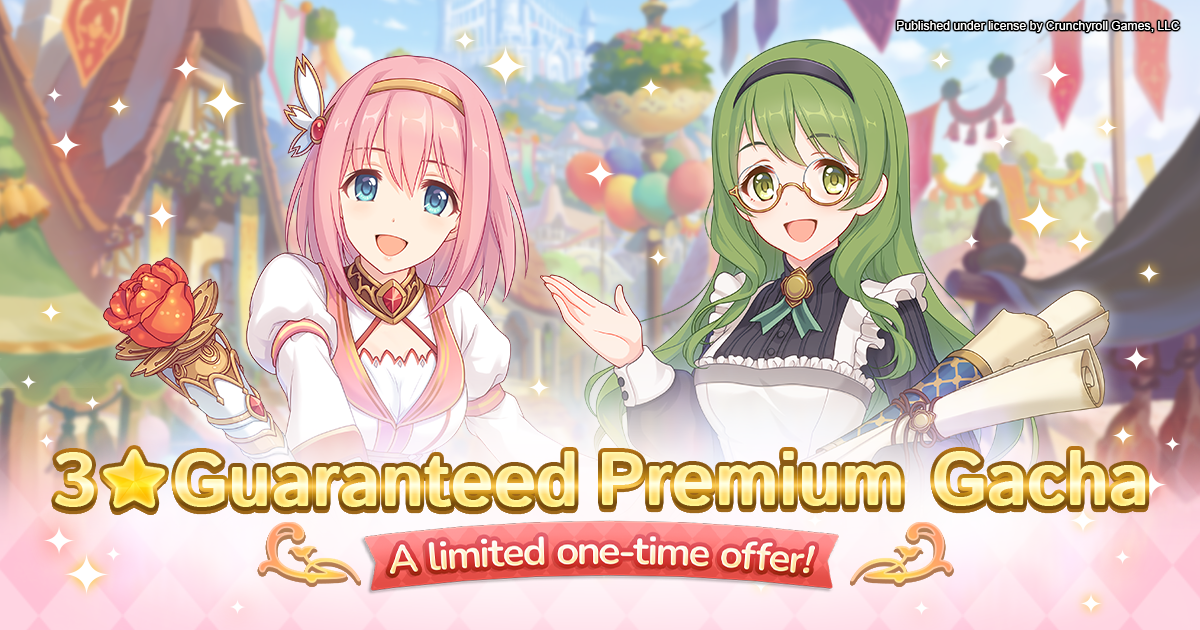 The stars have aligned once again (well, three of them, at least) to bring back the 3★ Guaranteed Premium Gacha! 3★ characters are crème de la crème of what the Gacha system has to offer, and we're bringing back a limited one-time offer to ensure that you draw a 3★ character when performing a 10-Draw. 
This opportunity will be available to all accounts new and existing for one week, from 6/1, 23:00 UTC to 6/8, 22:59 UTC. Since this overlaps nicely with the start of the Suzuna (Summer) Focus Gacha, it's a perfect opportunity to guarantee a 3★ character and see what you get!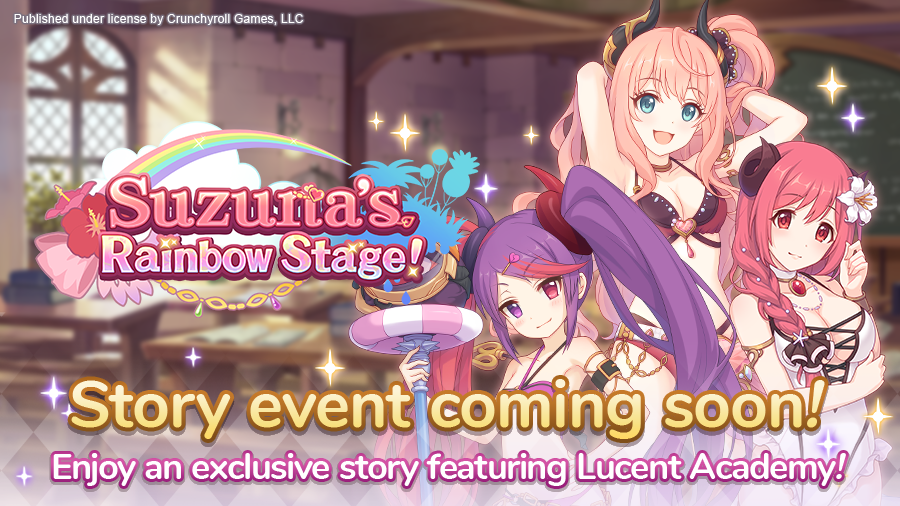 Suzuna's Rainbow Stage is a brand new story event featuring the members of Lucent Academy as they have some fun while school's out for summer vacation. But it's more than that – Suzuna's got a big gig lined up for herself on a remote island away from Landosol! It's called a stage, it's called a Rainbow Stage, it's got Suzuna, Misaki, and Io, and you'll know when you get there. Of course, the only thing that could ruin such a remote getaway like that would be some bad weather or misfortune…
Even if nothing could possibly go wrong, we should get the usual formalities out of the way first. This event features unique, exclusive boss battles, where you can test your skills in three varying difficulties: Normal, Hard, and Very Hard. Very Hard is designed to be the toughest of the bunch, and is only clearable once per day. If you're craving even more of a challenge, we've also prepared another Special difficulty boss, with unique challenges and mechanics that will challenge you in new ways across three different modes. Of course, for each boss you destroy, you'll earn various rewards for your troubles, such as Victory Medals, equipment, and more. 
In order to fight the bosses, though, you'll need to spend Boss Tickets. These Boss Tickets can be obtained by clearing event stages, as well as from login bonuses while the event is active. If you don't successfully defeat a boss on your first attempt, don't despair – you can retry as many times as necessary, and non-lethal damage dealt to a boss carries over between attempts.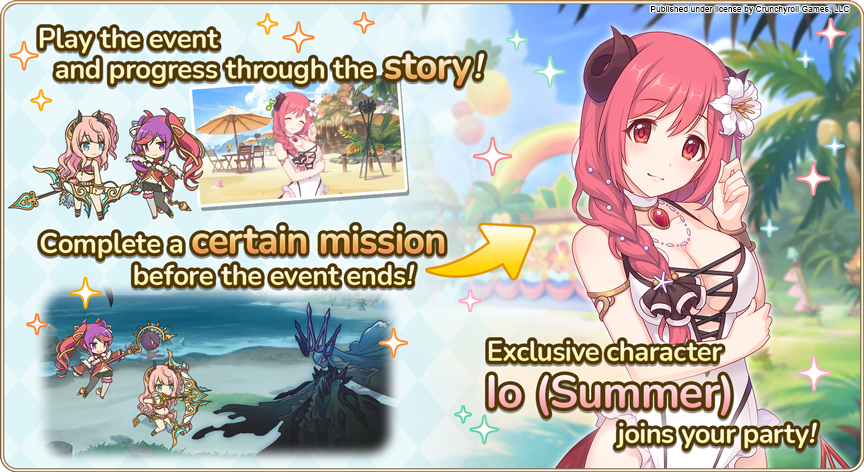 Suzuna (Summer) might be taking the center stage with her Focus Gacha. That doesn't mean she's the sole feature. During the story event period, you'll be able to obtain an exclusive free unit in Io (Summer) after defeating the boss on Normal difficulty. Io (Summer) is dressed in her exclusive summer attire and ready to hit up the beach with Suzuna and Misaki. Don't miss your chance to enjoy summer with Io (Summer) before she heads back to teaching at Lucent Academy.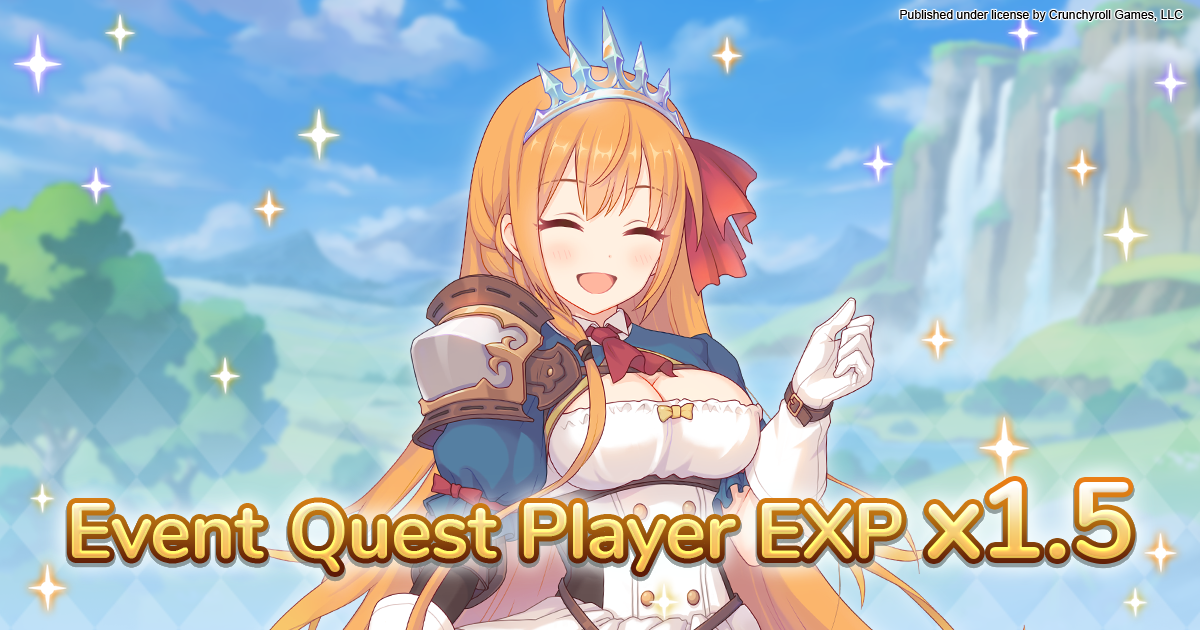 Things are certainly starting to heat up for summer. To make sure you can make the most of summer, we're also increasing the experience gain rates for completing Event Quests. During the event, clearing Event Quests will give 1.5x times the normal experience, in addition to the normal Mana, items, and Boss Tickets that these quests give out.  
The Victory Medal Gacha also makes its splash for the event! Clearing event stages, event missions, and defeating the previously mentioned bosses will earn you Victory Medals, which can be exchanged for a plethora of goodies. There's a predetermined series of reward lineups, each featuring a key reward – once you roll the current lineup's key reward, you'll have the opportunity to either reset the rewards and move ahead to the next lineup, or hold off on resetting to clear out all the possible rewards. Here are the key rewards you should look out for!
    •    Lineup 1: Misaki's Memory Shard x 20

    •    Lineup 2: Io (Summer)'s Memory Shard x 25

    •    Lineup 3: Misaki's Memory Shard x 30

    •    Lineup 4: Io (Summer)'s Memory Shard x 40

Just remember – once you've gone through the four initial lineups, you won't be able to reset the active lineup until you've obtained all the possible rewards from the current active lineup.
The Suzuna's Rainbow Stage story event will be available from 6/1, 23:00 UTC to 6/15, 22:59 UTC.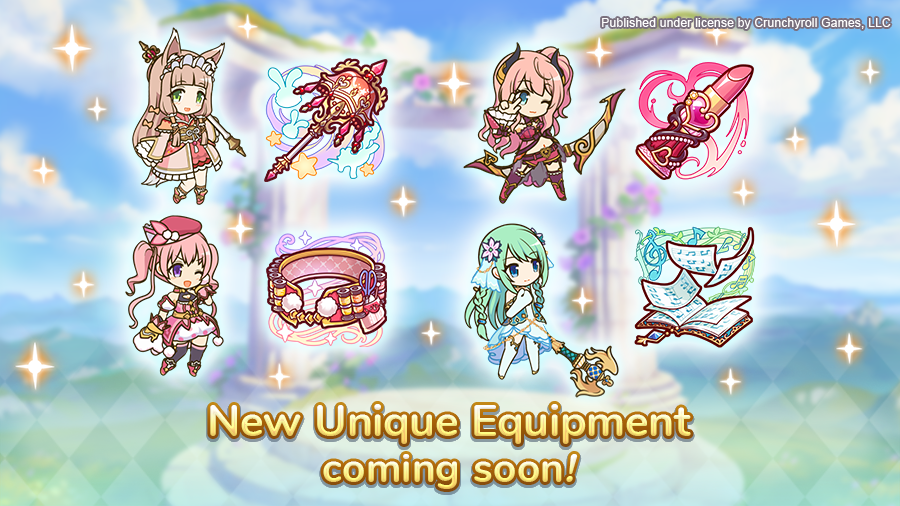 For the month of June, it's time to unlock the full potential of your heroines again using the mysterious powers from Unique Equipment! Get ready by stocking up on Princess Hearts and Mana to unlock special per-character equipment that further enhances their unique skills and provides additional stat boosts! 
The following characters will have their Unique Equipment unlocked for the month of June:
    •    Maho

    •    Suzuna

    •    Tsumugi

    •    Chika

This new set of Unique Equipment will be available to craft on 6/1 at 9:00 UTC.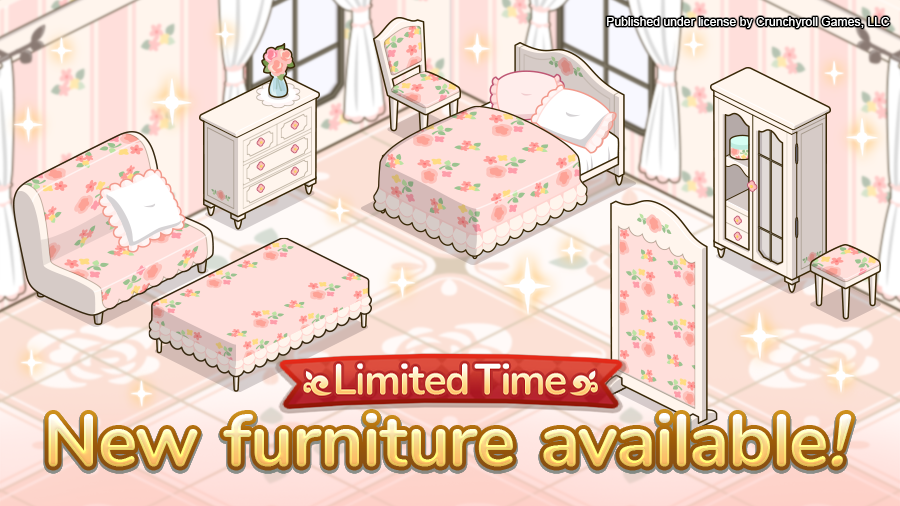 Pink is back in style with our latest limited-time furniture set. The perfect match with Suzuna (Summer) being released in the same time period! Whether you're set to turn your guildhouse into a quaint-looking abode or just looking to deck it full of roses, this furniture set is sure to set your creative fire alight. 
This limited-time furniture set will be available starting from 6/16, 23:00 UTC, so get ready to fill up your guildhouse with roses galore. This set will only be available until 7/18, 22:59 UTC, so be sure to catch some tunes at the Jukebox with Suzuna (Summer) in this rose themed limited-time furniture set before it fades out. The full list of the Flowery furniture set is as follows:
    •    Flowery Bed

    •    Flowery Partition

    •    Flowery Stool

    •    Flowery Chair

    •    Flowery Seat

    •    Flowery Loveseat

    •    Flowery Wardrobe

    •    Flowery Chest

    •    Flowery Tea Table

    •    Flowery Dining Table

    •    Flowery Wall

    •    Flowery Flooring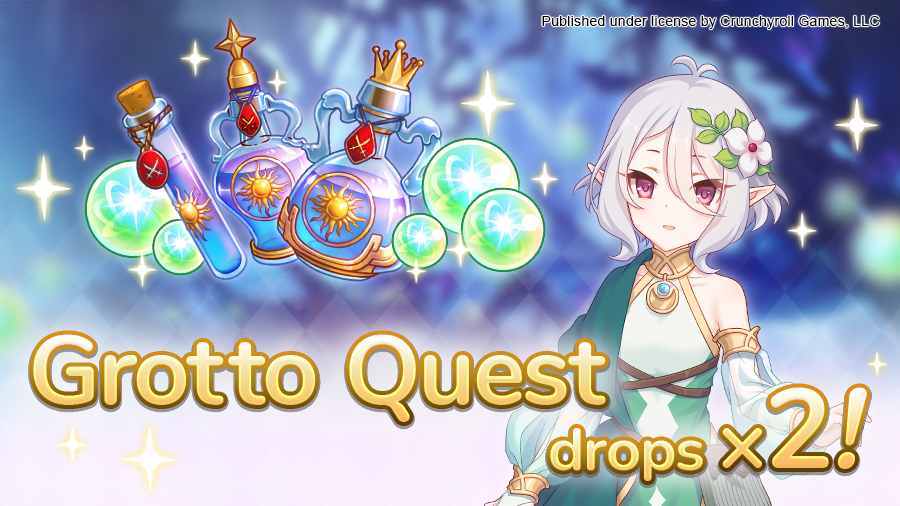 We know you've been waiting for "grot-two" to make its golden return to help stock up on resources for all the upcoming new content. During the Grotto Quest Double Drop Campaign, you'll obtain twice the Mana and twice the EXP Potions when completing Grotto Quests. It's time to roll out the red carpet for this very important event.
The Grotto Quest Double Drop Campaign runs for 7 days from 6/4, 13:00 UTC to 6/10, 12:59 UTC.
With so much Unique Equipment to go around, we know you can never have enough Princess Heart Fragments. Once again, double drops will be making their way back into the Sanctum Survey. During the Sanctum Survey Double Drop Campaign, you will collect double equipment, Mana, and most importantly, Princess Heart Fragments when completing the Sanctum Survey.
The Sanctum Survey Double Drop Campaign lasts for 7 days, from 6/10, 13:00 UTC to 6/16, 12:59 UTC.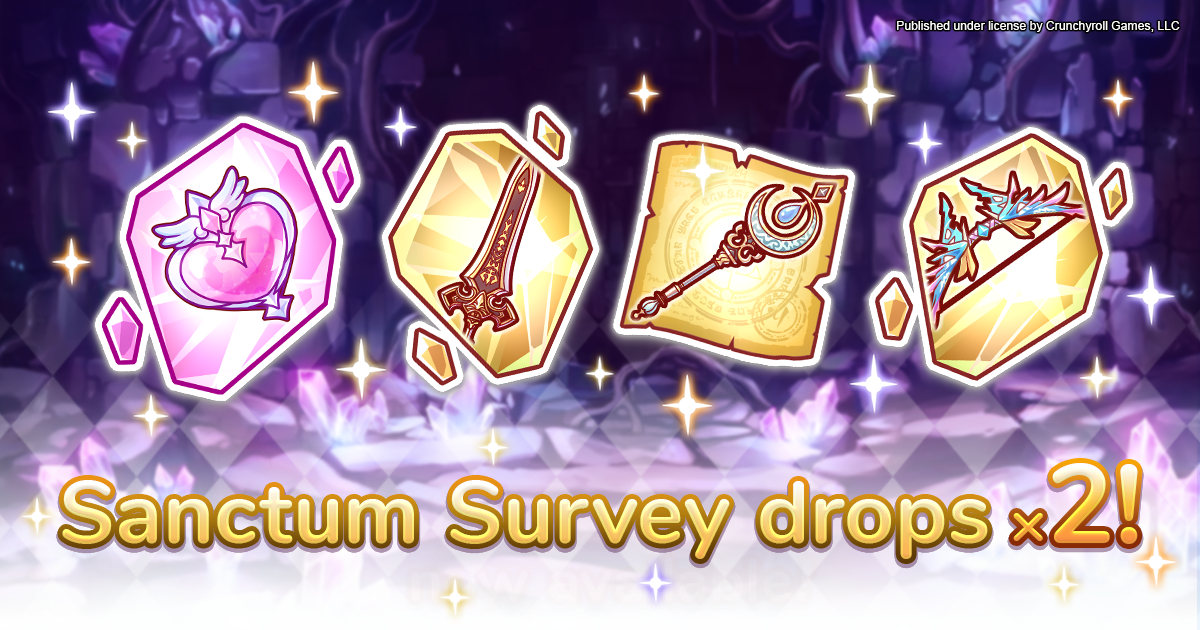 For easy reading and accessibility, included below is a summarized version of all the updates announced today. Thank you for all your support, and we hope you continue to enjoy Princess Connect! Re: Dive! 
See you in Astraea, Knights!
— Crunchyroll Games
*Note: All event details may be subject to change. Please check the in-game notifications at the start of the events for the full details.
    •    Suzuna (Summer) Focus Gacha (6/1 23:00 UTC to 6/14 22:59 UTC)

    ◦    Boosted rates for Suzuna (Summer), also available for redemption via character exchange points.

    ◦    Suzuna (Summer) is a limited unit and will only be available during the Focus Gacha period.

    •    Karyl (Summer) & Pecorine Prize Gacha (6/14 23:00 UTC to 6/19 22:59 UTC)

    ◦    Boosted rates for Karyl (Summer) and Pecorine (Summer), also available for redemption via character exchange points.

    ◦    Karyl (Summer) and Pecorine (Summer) are limited units and will only be available during the Prize Gacha period.

    ◦    Obtain special prizes including Divine Amulets and Memory Shards when pulling this Prize Gacha.

    •    3★ Guaranteed Premium Gacha (6/1 23:00 UTC to 6/8 22:59 UTC)

    •    Story Event: Suzuna's Rainbow Stage (6/1 23:00 UTC to 6/15 22:59 UTC)

    ◦    Event exclusive Io (Summer) can be obtained.

    ◦    Event missions give 1.5x experience.

    •    Unique Equipment (After 6/1 9:00 UTC)

    ◦    Unique Equipment added for Maho, Suzuna, Tsumugi, and Chika.

    •    New limited-time furniture added to the Guildhouse Shop (6/16 23:00 UTC to 7/18 22:59 UTC)

    •    Grotto Quest Double Drop Campaign (6/4 13:00 UTC to 6/10 12:59 UTC)

    •    Sanctum Survey Double Drop Campaign (6/10 13:00 UTC to 6/16 12:59 UTC)