It is confirmed today that Ren Nagase, a 23-year-old member of Johnny & Associates' boy idol group King & Prince, will star in the forthcoming live-action TV drama adaptation of Shinobu Kaitani's sci-fi school thug manga Shin Shinchokoki ~ Nobunaga-kun to Watashi~ (The New Official History of Nobunaga: Nobunaga and Me). 
The manga was first serialized in Kodansha's Weekly Young Magazine from 2019 to 2020, then moved to the publisher's manga app/website Comic DAYS and ended its serialization in September 2021. It ran for 77 chapters in total and compiled in eight tankobon volumes. The story is set in a prestigious thug school where clones of famous sengoku warlords, such as Nobunaga Oda, Shingen Takeda, Kenshin Uesugi, Masamune Date, and Hideyoshi Hashiba, gather in 2120.
Nagase is cast as Nobunaga Oda, an eccentric character who wears a strange school uniform that incorporates Western culture and is constantly eating something. He says, "Nobunaga has an image of being cruel and ruthless, but in this drama, you will see a glimpse of a slightly different, apathetic and selfless side to him. Please look forward to my portrayal of Nobunaga Oda, including what thoughts and feelings are hidden behind his character!"
Under the title Shin Shichokoki ~Classmates wa Sengoku Bushou (Classmates are Warlords)~ , the TV drama is set to premeire on the Nihon TV network stations in July 2022.
主演 #永瀬廉(#KingandPrince)????

7月期新日曜ドラマ
『#新信長公記 ~クラスメイトは戦国武将~』放送決定㊗️

名だたる戦国武将のクローン高校生たちが高校に大集結????
クセ者揃いの英雄が、知力と武力で総長目指して大暴れ⚔️
笑っちゃうほど新しい、学園天下獲りエンターテインメント????
お楽しみに✨ pic.twitter.com/Cd9s3yyHwg

— 『新・信長公記』【公式】7月スタート日テレ系新日曜ドラマ (@shincho_drama) May 26, 2022
Manga tankobon 1st and 8th volume covers: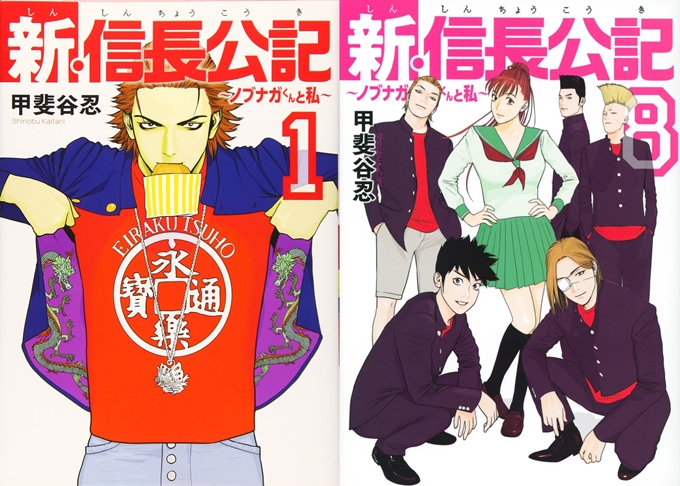 RELATED: King & Prince Member Ren Nagase Set to Star in Yowamushi Pedal Live-Action Film
---
Source: "Shin Shichokoki ~Classmates wa Sengoku Bushou~" official website / Twitter
©Shinobu Kaitani/KODANSHA