The official website for the forthcoming live-action film adaptation of Tetsuro Kuromatsu's baseball comedy manga Yakyubu ni Hanataba wo (Bouquet for the baseball team) has posted a teaser visual and a 20-second teaser trailer to announce its release date of August 11, 2022.
The tagline is "Major League Baseball! This is Japan's baseball team!" The clip shows the new members of the high school baseball club having their heads forcibly shaved by senior members as soon as they join the club. It has been a tradition for members of Japanese baseball clubs, if not all, to shave their heads (In recent years, it has come under increasing criticism as a violation of human rights). Since this film is a comedy, the act is portrayed with amusing emphasis.
Teaser trailer:
Teaser visual: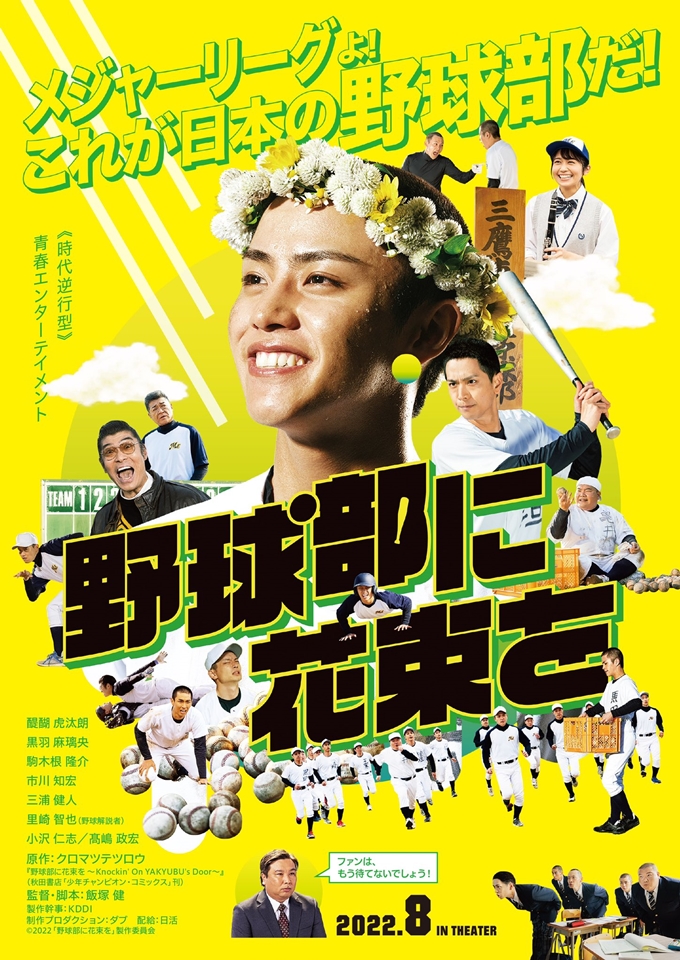 The manga by Kuromazu, who has baseball experience, was serialized in Akita Shoten's in Monthly Shonen Champion from May 2013 to January 2017, then compiled in nine tankobon volumes. Its story centers on the protagonist Teppei Kuroda and his classmates, who join at the entrance ceremony with high hopes for their high school life after saying goodbye to the baseball club life in junior high school. They are recruited by the kind seniors of the baseball club and decide to join the club, but the moment their provisional membership ends and they finally join the club, the attitude of the seniors changes dramatically.
The protagonist Teppei Kuroda is played by Kotaro Daigo (Hodaka Morishima in Makoto Shinkai's 2019 anime feature film Weathering With You), and Ken Iizuka (Arakawa Under the Bridge, Nijiiro Days) is attached to direct on his own screenplay.
/
メジャーリーグよ‼️
これが日本の野球部だ‼️
\

⚾️出演#醍醐虎汰朗 #黒羽麻璃央#駒木根隆介#市川知宏#三浦健人#里崎智也(野球解説者)#小沢仁志/#髙嶋政宏
????️原作#クロマツテツロウ
????監督・脚本#飯塚健

◢◤公式HP◢◤https://t.co/2J7b3CdBKh pic.twitter.com/6dDieSakUr

— 映画『野球部に花束を』公式 (@yakyubuhanataba) May 24, 2022
RELATED: Tetsuro Kuromatsu's Baseball Comedy Manga Yakyubu ni Hanataba wo Gets Live-action Film This Fall
---
Source: "Yakyubu ni Hanataba wo" live-action film official website / Twitter 
© 2022 "Yakyubu ni Hanataba wo" Production Committee