On May 18, a completion announcement stage greeting event for the forthcoming new feature film Mobile Suit Gundam: Cucuruz Doan's Island was held at the Marunouchi Piccadilly theater in Tokyo. Director Yoshikazu Yasuhiko appeared on stage and revealed his thoughts about the new film, which may be the last Guandam anime work for himself.
As reported, Yasuhiko, who was the first TV series' character designer and chief animation director, told at the press conference for the film in March that Cucuruz Doan's Island would probably be the last time he makes 'Gundam' on film, and the last time he works on anime. He began his career as an animator in 1970, and now he is 74.
RELATED: Yoshikazu Yasuhiko Says Cucuruz Doan's Island will be His Last Gundam Film and Anime Work
Cinema Today has a YouTube video of what he said on stage.
The standards for a hit have changed dramatically. The scale for indicating success is very different from the days of Yamato and Gundam, so I feel that the numbers are meaningless. Since I said at the event that this would be the last one for me, I am often asked if it is really the last. I don't intend to call it 'the last' to attract audience, but I don't know what the future holds.
But as you can see, I am getting old. Making an animation is a difficult task and takes several years. Cucuruz Doan's Island was proposed to the former and current presidents (of Sunrise) and received their approval in April 2019. So it was already three years ago, and during that time there was the COVID-19 pandemic. Anyway, I am old, so it comes naturally to me that this will be my last time. If I don't age any more I may change my mind. However, it is true that I have no regrets about First Gundam. 
The film is based on the first Mobile Suit Gundam TV anime's 15th episode of the same name, which was aired in Japan on July 14, 1979. It is set to be released in Japan on June 3, 2022. 
60-second trailer:
https://www.youtube.com/watch?v=Dqe4YUT4ADE
Main poster visual: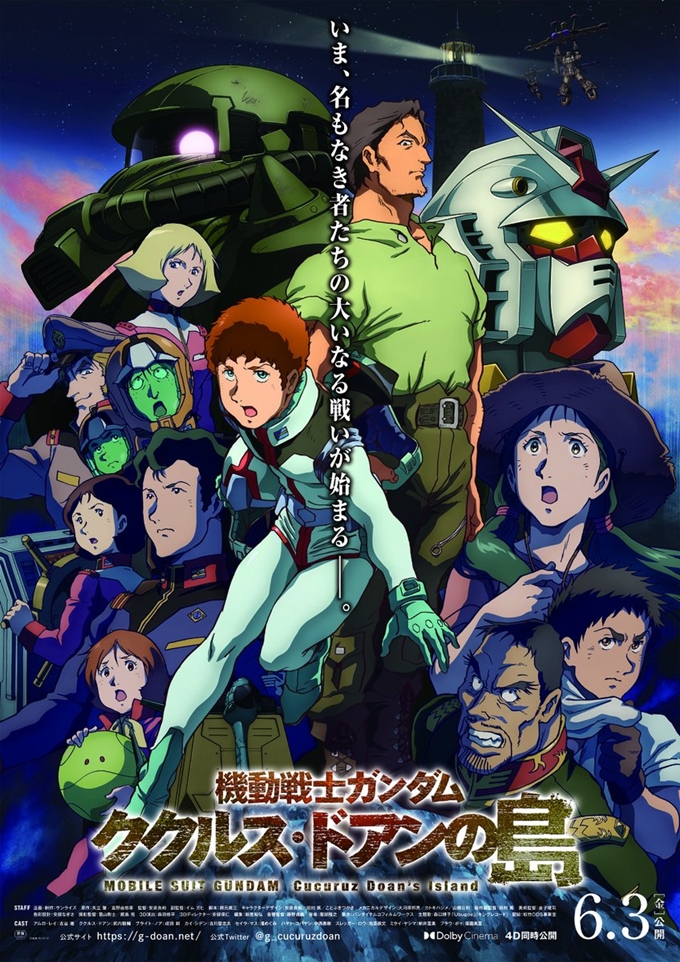 RELATED: Listen to Hiroko Moriguchi's Beautiful Voice in Gundam: Cucuruz Doan's Island Theme Song MV
---
Source: Cinema Today official YouTube channel
©SOTSU, SUNRISE