As the second entry from KADOKAWA's "TUNKU" project that is specialized in BL (Boys' Love) drama series, a live-action drama adaptation of Shinta Harekawa's romantic comedy BL manga Senpai, Danjite Koi Deha! (Senpai, This is Never Love) will start airing on MBS' midnight drama slot "Drama Shower" on June 16, 2022. The project's first entry, the live-action drama adaptation of Gamoko Tsuyu's Fukoukun wa Kiss Surushikanai! (Mr. Unhappy has no choice but to kiss!) has been aired since April.
Senpai, Danjite Koi Deha! was serialized on KADOKAWA's BL manga website Comic Fleur in January 2019, then its sequel Senpai, Danjite Koi Deha! Brush up followed in September 2020. The story follows Yanase, an experienced CG designer, has been assigned as a trainer for newcomer Kaneda. But he has been unable to get close to Kaneda. Yanase understands Kaneda is a hard worker, but he never breaks facial expressions, and even when he tries a little physical contact with Kaneda, he is rejected, "I'd prefer you not to touch me." While Yanase is depressed, Kaneda, on the other hand, does not know what do with Yanase. In fact, Kaneda respects Yanase to the point of worshipping him as a "god"…!
26-year-old Shuichiro Naito (Touma Kamiyama/Kamen Rider Saber in Kamen Rider Saber) is cast as Yanase, while 26-year-old Toshiki Seto (Hiiro Kagami/Kamen Rider Brave in Kamen Rider Ex-Aid) plays Kaneda. The two actors, who have both appeared in the Kamen Rider series, will co-star in the drama.
6/16~MBS他 #ドラマシャワー で放送????
 ????BLドラマレーベル #トゥンク???? 
      第2⃣弾
  「先輩、断じて恋では!」

優秀チャラめ先輩????柳瀬淳 #内藤秀一郎
       ✖    
新人ツンデレ後輩????金田優希 #瀬戸利樹
  
アンマッチな二人のオフィスBLコメディ????#せぱ恋???? pic.twitter.com/ZxFk7U3v11

— 不幸くんはキスするしかない!/先輩、断じて恋では!【MBSドラマシャワー/トゥンク公式】 (@tunku_shower) May 17, 2022
"Senpai, Danjite Koidewa!" and "Senpai, Danjite Koidewa! Brush up" manga tankobon covers: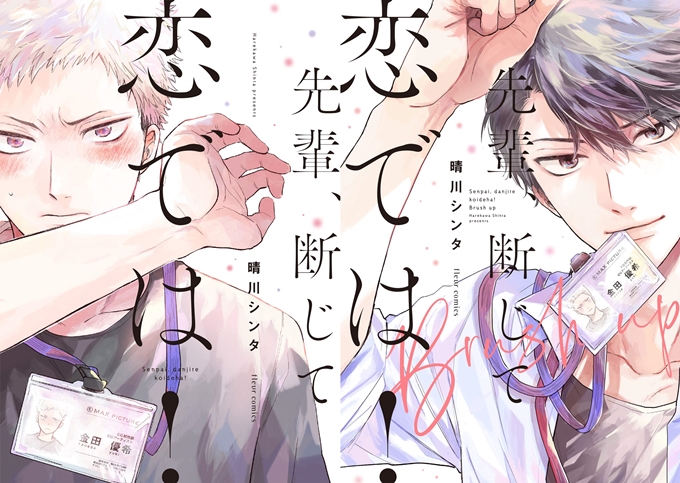 RELATED: Gamoko Tsuyu's BL Manga Fukoukun wa Kiss Surushikanai! Gets Live-action Drama in April
---
Source: MBS Drama Shower official Twitter
©"Senpai, Danjite Koi Deha!" Production Committee, MBS