The French-produced anime film adaptation of The Summit of the Gods manga illustrated by Jiro Taniguchi (Kodoku no Gourmet) will be released in Japan on July 8, 2022, in a Japanese dub edition. The film directed by Patrick Imbert was released in over 300 theaters in France in 2021, selling 130,000 tickets.
Teaser trailer:
RELATED: Netflix Releases Trailer For French "The Summit Of The Gods" Animated Film Adaptation 
The manga was based on Baku Yumemakura's (Garouden, Onmyoji) 1998 novel of the same name, which on the 11th Shibata Renzaburo Prize. Taniguchi's manga adaptation also won the Excellence Prize of the 5th Japan Media Arts Festival's manga category in 2001. The novel was previously adapted into a live-action film in 2016, directed by Hideyuki Hirayama (Sword of Desperation).
Its story follows a lone climber, Joji Habu, and a cameraman, Makoto Fukamachi, as they attempt the oxygen-free solo ascent of the Southwest Face of Mount Everest in winter, which is considered impossible, while approaching the greatest mystery in the history of mountaineering, "Did the mountaineer Mallory succeed in making the first ascent of Mount Everest?"
The Japanese dub edition features Kenyu Horiuchi (Mashymre Cello in Mobile Suit Gundam ZZ) as Makoto Fukamachi, Akio Otsuka (Batou in Ghost in the Shell) as Joji Habu, Ryota Osaka (Nariyuki Yuiga in We Never Learn: BOKUBEN) as Habu's junior, Buntaro Kishi, and Asami Imai (Kurisu Makise in Steins;Gate) as Buntaro's sister and Habu's lover, Ryoko. 
Japanese poster visual: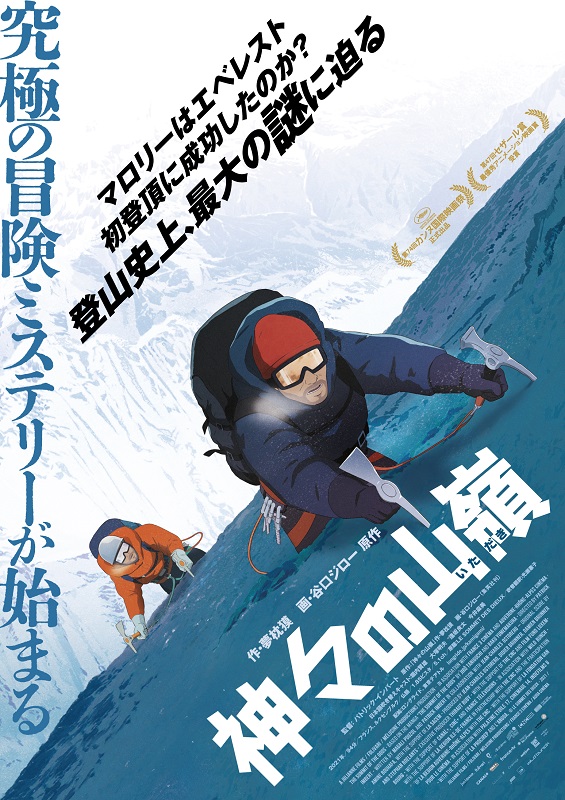 RELATED: BELLE, Nikuko, Pompo, The Summit of the Gods Nominated for Annie Awards' Best Indie Feature
---
Source: "The Summit of the Gods" Japanese official website
(C)Le Sommet des Dieux – 2021 / Julianne Films / Folivari / Melusine Productions / France 3 Cinema / Aura Cinema