The official Twitter for EVANGELION CROSSING EXPO, the forthcoming exhibition event for the Evangelion anime franchise, has posted a newly-drawn main visual featuring the five main characters who huddle together under a blue sky (and Eva-01 behind them).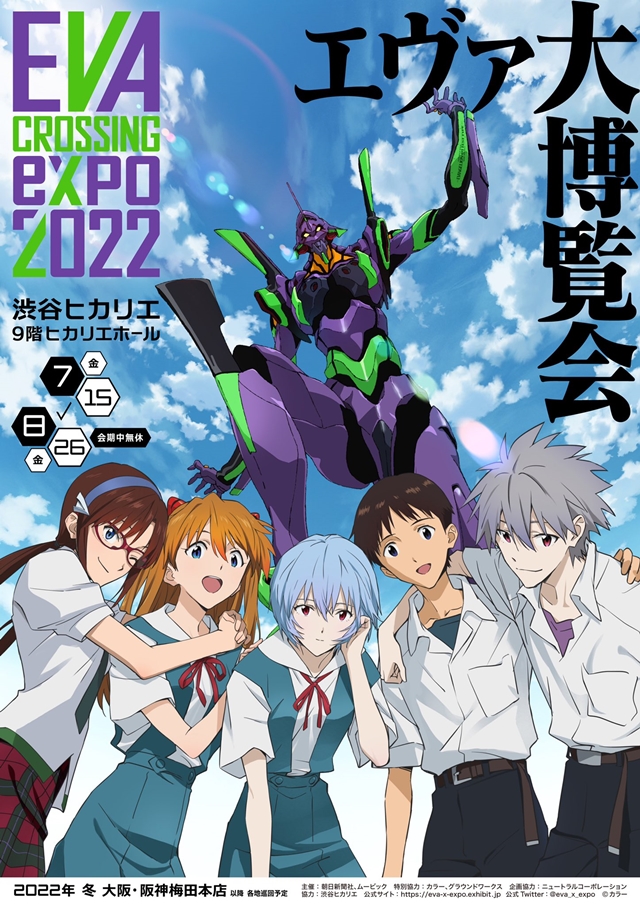 メインビジュアル公開????

青空の下に初号機と5人。
『EVANGELION CROSSING EXPO -エヴァ大博覧会-』のための描き下ろしビジュアルです????!!

????7/15(金)東京・渋谷ヒカリエで開幕!#エヴァ博 #エヴァンゲリオン pic.twitter.com/m3aJnVBC1y

— EVANGELION CROSSING EXPO -エヴァ大博覧会- (@eva_x_expo) May 9, 2022
EVANGELION CROSSING EXPO is scheduled to be held first at Hikarie Hall on the ninth floor of the Shibuya Hikarie compound facility in Tokyo from July 15 to August 26, 2022, then at the Hanshin Umeda department store's main store in Osaka in the winter of 2022, and will tour various locations in Japan thereafter. The total number of items on display is expected to exceed 4,000.
開催決定。
『EVANGELION CROSSING EXPO -エヴァ大博覧会-』

展示総数4000点超!
ファン・作品・プロダクトが"クロス"するエヴァプロダクトの祭典が、
7/15(金)東京・渋谷ヒカリエで開幕。

エヴァカルチャーを形作ってきた「モノ」と「コト」が一堂に集結します。#エヴァ博 #エヴァンゲリオン pic.twitter.com/CU6dwLEV3t

— EVANGELION CROSSING EXPO -エヴァ大博覧会- (@eva_x_expo) April 27, 2022
RELATED: More Than 4,000 Items to be Displayed at EVANGELION CROSSING EXPO This Summer
---
Source: "EVANGELION CROSSING EXPO" official Twitter
©khara