The official website for Fullmetal Alchemist Complete Edition, the two-part sequel live-action film of Hiromu Arakawa's internationally popular fantasy action manga Fullmetal Alchemist, has posted a new clip introducing the face-off between the Elric brothers, and Scar played by Mackenyu (Zoro in Netflix's forthcoming One Piece live-action series).
"傷の男"スカー襲来
⠀ ⠀ 本編映像解禁
 ̄ ̄ ̄ ̄ ̄ ̄ ̄ ̄ ̄ ̄
錬金術師の抹殺を誓う、最強の復讐者スカー(#新田真剣佑)の襲来で、エド(#山田涼介)と弟のアル(#水石亜飛夢)が絶体絶命のピンチに!

" #ハガレン完結編 "二部作はここから始まる―

詳細☞https://t.co/mYUjzAqpUL
????5.20(金)/6.24(金) pic.twitter.com/7CqnqK1O9Z

— 映画『鋼の錬金術師 完結編』公式 (@hagarenmovie) May 8, 2022
RELATED: Fullmetal Alchemist Manga Author Says New Live-action Films are "Packed with Highlights" 
The sequels to the 2017 first film have been produced as the manga's 20th anniversary project and will tell until the manga's final chapter. Ryosuke Yamada, who reprises his role as Edward Elric, says, "The sequels have been scaled up with the new cast members. Hagaren absolutely cannot convey its goodness unless it is drawn to the end, and after four years of making it, we can finally bring it to you all! I can't wait for the release of 'Fullmetal Alchemist Complete Edition,' because it was created with the strongest lineup, including those who returned in the series and those who newly joined."
The first part Fullmetal Alchemist: The Avenger Scar is set to be released in Japan on May 20, 2022, then the second part Fullmetal Alchemist: Final Transmutation will follow on June 24.
Latest trailer:
Main poster visual: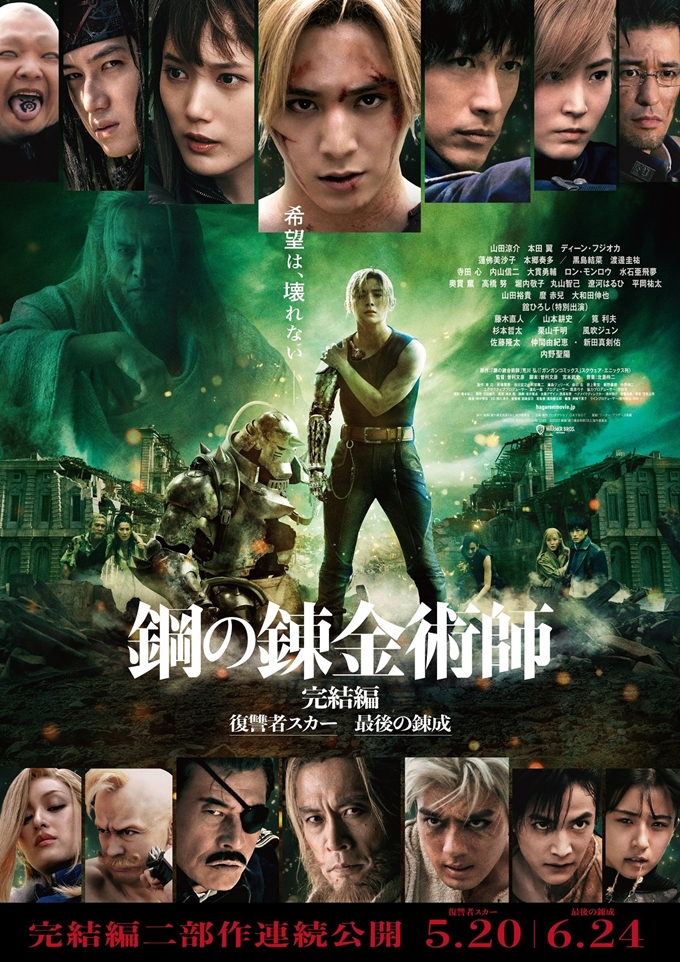 RELATED: Meet the Cast of the New Fullmetal Alchemist Live Action Film in Character Trailer
---
Source: "Fullmetal Alchemist Complete Edition" official website / Twitter
©2022 Hiromu Arakawa/SQUARE ENIX ©2022 Movie "Fullmetal Alchemist 2&3" Production Committee