Bushiroad's mixed-media franchise BanG Dream! has unveiled its five-member new band MyGO!!!!!, consisting of Tomori (vocal), Anon (guitar), Rāna (guitar), Soyo (bass), and Taki (drums). The voice actresses who play the characters have not yet been revealed, but you can check out their voices in their first promo below.
The name is pronounced "Maigo" and its pronunciation can be meant "A Lost Child." They are described as "a new band that synchronizes 'reality (real)' and 'virtual (character)' and their catchphrase is "It's okay to be lost, just move forward."
Their first live concert "MyGO!!!!! 1st LIVE Bokutachi wa Koko de Sakebu (We Shout Out Here)" is set to be held at duo MUSIC EXCHANGE in Tokyo on July 3, 2022. The fastest advance lottery for tickets will start at 12:00 p.m. on April 29 (JST).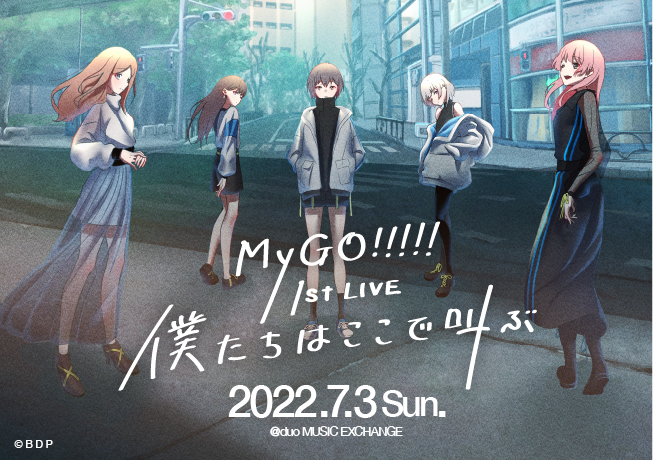 バンドリ!から生まれる"現実"と""仮想""が同期するバンド
「MyGO!!!!!」、始動――

2022.7.3 Sun.
MyGo!!!!! 1st LIVE「僕たちはここで叫ぶ」開催決定。
@ duo MUSIC EXCHANGEhttps://t.co/fNTvFgngUA#バンドリ #MyGO pic.twitter.com/YD39nmsOhH

— MyGO!!!!!公式 (@bang_dream_mygo) April 29, 2022
---
Source: Bushiroad press release
©BanG Dream! Project