We're thrilled to announce that an English dub of the dream-team collaboration between legendary studios MADHOUSE and MAPPA, the one and only takt op.Destiny, will be conducting its way into the Crunchyroll catalog on a weekly basis this SimulDub season, starting from April 23 at 3:30pm Pacific Time!
Here's who'll be facing the music in Episode 1:
Cast
Ernesto Jason Liebrecht (Zeke in Attack on Titan) as Takt
Emi Lo (Rena Higurashi: When They Cry – GOU) as Destiny
Alexis Tipton (Miko in Mieruko-chan) as Anna
Additional Voices: Sara Ragsdale, Caitlin Glass, Sarah Wiedenheft, Nazeeh Tarsha, Alex Mai, Kevin D. Thelwell, Shawn Gann, Jordan Dash Cruz, Jim Johnson
Crew
ADR Director: Caitlin Glass
Assistant ADR Director: Emi Lo
Lead ADR Engineer: Zachary Davis
Mix Engineer: Gino Palencia
ADR Script Writer: Eliza Harris (#1), Ben Phillips (#2-12)
Script Supervisor: Bonny Clinkenbeard
ADR Prep: Brandon Peters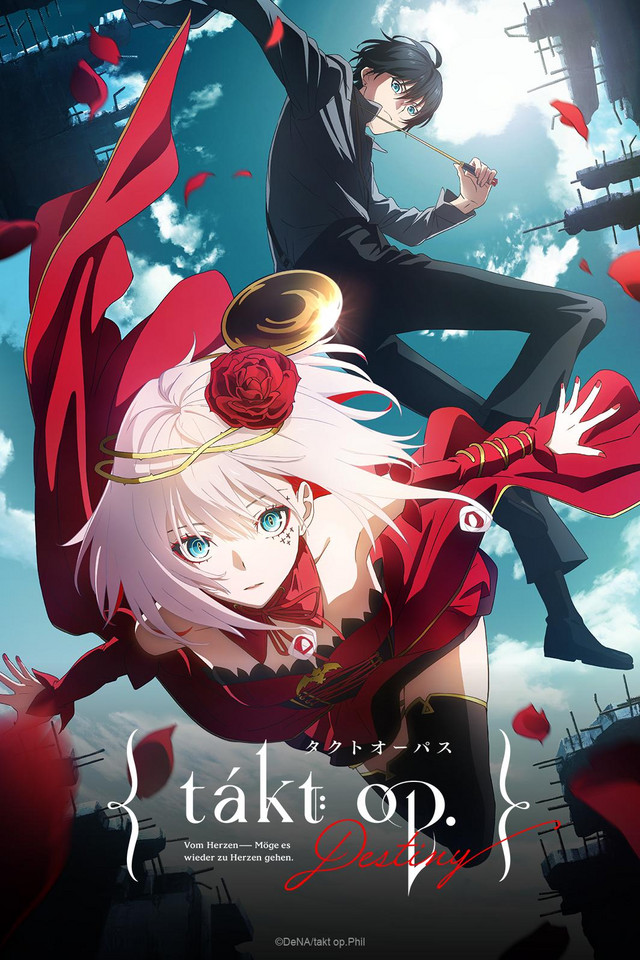 RELATED: Crunchyroll Reveals SimulDub Lineup for Spring 2022, First SPY x FAMILY Cast Details
An original project by Oji Hiroi and LAM, takt op.Destiny is directed by Yuki Ito (GRANBLUE FANTASY: The Animation) at studios MADHOUSE and MAPPA, with series composition by Kiyoko Yoshimura (GARO -VANISHING LINE-) and character designs adapted for animation by Reiko Nagasawa (Boogiepop and Others key animator).
If you're a fan of urban fantasy anime, don't miss Episode 1 of takt op.Destiny's English dub when it drops on April 23 at 3:30pm Pacific Time, right here on Crunchyroll!
Music is the light that illuminates people's hearts– and that "light" was suddenly taken from the world. The world changed the night the black "Kuroya Meteorite" fell. Grotesque monsters known as D2 emerged from the meteorite and began to overrun the land and people. As the D2 were drawn to melodies people played, eventually "music" itself became taboo. However, those who opposed the monsters appeared. They the "Musicart," girls who draw power from music. They possess the great operas and musical scores of humanity history and use them to defeat the D2.

Der shy man behind @Shymander, Liam is a timezone-fluid Aussie with a distinct fondness for anime, Eurovision and creating odd stats projects despite hating math.