We're about to blow our orange whistle and get the game started for Aoashi's English dub, but before we can kick off on April 23 at 2:00pm Pacific Time, we have to warm up by running down the draft picks:
Cast
Ciarán Strange (Richard in Requiem of the Rose King) as Ashito Aoi
Eric Vale (Trunks in Dragon Ball Z Kai) as Tatsuya Fukuda
Marisa Duran (Lou/Louise in SHADOWS HOUSE) as Hana Ichijo
Monica Rial (Bulma in Dragon Ball Z Kai) as Noriko Aoi
Blake McNamara (Seth Rich Cutter in Appare-Ranman!) as Shun Aoi
 
Additional episode 1 cast:
 
Greg Silva as Futamihama Coach
Kim Morton as Kogure
Meg McClain as Nanami
Kelsey Maher as Sawa
Jennifer Alyx as Female Assistant 1A
Aaron Campbell as Goalie's Father
Nazeeh Tasha as Male Baishinji Player 1A, Male Spectator 1A
Ben Balmaceda as Male Baishinji Player 1B, Male Futamihama Player 1D
Alex Mai as Male Futamihama Player 1A, Male Spectator 1B
JR Joseph as Male Futamihama Player 1A
Paul Cline as Male Futamihama Player 1C, Male Underclassman 1A
Justin Green as Male Underclassman 1B
Jack Reeder as Male Baishinji Goalie 1A
Crew
ADR Director: Shawn Gann
Assistant ADR Directors: Emi Lo & Marcus Stimac
Lead ADR Engineer: Paul Cline
Assistant ADR Engineers: Ian Emerson & Noah Whitehead
ADR Script Writer: Leah Clark
ADR Script Supervisor: Bonny Clinkenbeard
ADR Prep: Ry McKeand
ADR Mix Engineer: Matt Grounds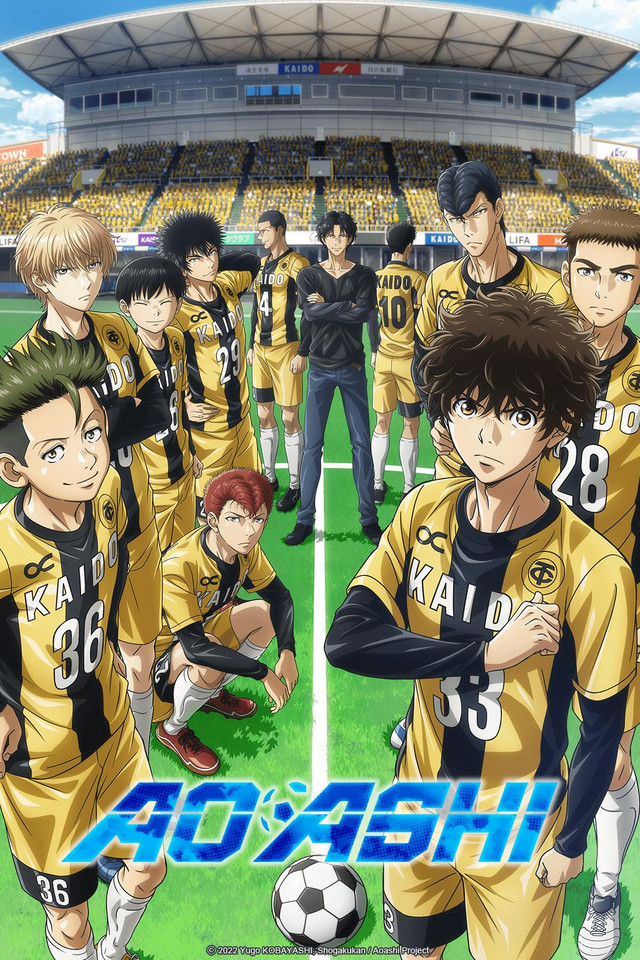 RELATED: Crunchyroll Reveals SimulDub Lineup for Spring 2022, First SPY x FAMILY Cast Details
Based on the manga by Yugo Kobayashi, Aoashi is directed by Akira Sato (RELEASE THE SPYCE) at studio Production I.G, with series composition by Masahiro Yokotani (Free! – Iwatobi Swim Club) and character designs by Toshie Kawamura (B-PROJECT).
If you're a fan of sports anime, don't miss Episode 1 of Aoashi's English dub when it drops on April 23 at 2:00pm PT, right here on Crunchyroll!
 "I'll take you to the world." Ashito Aoi is a middle schooler who lives in Ehime, and the ace of an unremarkable soccer club. The day that they lost the final tournament of middle school, Ashito runs along the ocean in frustration, before running into a man who had been watching his game. That man is Tatsuya Fukuda, the coach of the high-school-aged Youth team of a leading J-League team, "Tokyo City Esperion FC." After sensing immense potential in Ashito's still-unrefined skills, he describes his ambition. "I want to build a team, and use it to take over the world. Our club isn't going to be a milestone for players who take on the world. Our club is going to be the world. And to make this happen, I'm going to need some 'aces' to train." After hearing Fukuda's offer, Ashito decides to head to Tokyo and try out for his team── Aoashi is considered the cutting edge of soccer manga, and now it's finally getting a TV anime adaptation! Loss, growth, and friendship: everything in youth is here!

Der shy man behind @Shymander, Liam is a timezone-fluid Aussie with a distinct fondness for anime, Eurovision and creating odd stats projects despite hating math.