Go go rom-com anime! Love After World Domination is the perfect blend of tokusatsu mayhem and the enemies-to-lovers trope, and we're pleased to announce that the English dub is officially coming to Crunchyroll on April 22 at 2:15pm Pacific Time!
Here's the superhero (and supervillain) team being called to action:
Cast
Anthony DiMascio (To Handa in The Vampire Dies in No Time) as Fudo (Red Gelato)
Lindsay Seidel (Nejire Hado in My Hero Academia) as Desumi (Reaper Princess)
Morgan Lauré (Kurenai in DECA-DENCE) as Misaki (Yellow Gelato)
Nazeeh Tarsha (Ard in The Greatest Demon Lord is Reborn as a Typical Nobody) as Hayato (Blue Gelato)
Macy Anne Johnson (Marusan in SSSS.GRIDMAN) as Haru (Pink Gelato)
Jason Lord as Daigo (Green Gelato)
Charlie Campbell (Fujitora in One Piece) as Professor Big Gelato
Cris George (Rikido Sato in My Hero Academia) as Culverin Bear
Monty Thompson as Narrator
Additional episode 1 cast:
Mark Allen Jr. as Boar 1A
Jalitza Delgado as Boy 1A
Emi Lo as Boy 1B
Dalton Walker as Man 1A
Monty Thompson as Changer
Molly Searcy as Female Base Announcer 1A
Emi Lo as Female Staffer 1A
Dalton Walker as Male Skull 1A
Comona Lewin as Male Skull 1B, Male Skull 1M
Cory Phillips as Male Skull 1C, Male Skull 1L
Aaron Campbell as Male Skull 1D, Male Skull 1K
Jacob Alexander as Male Skull 1E, Male Skull 1J
Ethan Gallardo as Male Skull 1F, Male Skull 1I
Mark Allen Jr. as Male Skull 1G
John Gerhardt as Male Skull 1H
Crew
ADR Director: Jad Saxton
Assistant ADR Directors: Dallas Reid, Sara Ragsdale, Caitlin Glass
Lead ADR Engineer: Rickey Watkins
Assistant ADR Engineers: Zachary Davis, Jameson Outlaw
ADR Script Writer: Clint Bickham
ADR Script Supervisor: Emily Neves
ADR Prep: Jennifer Alyx
ADR Mix Engineer: Neal Malley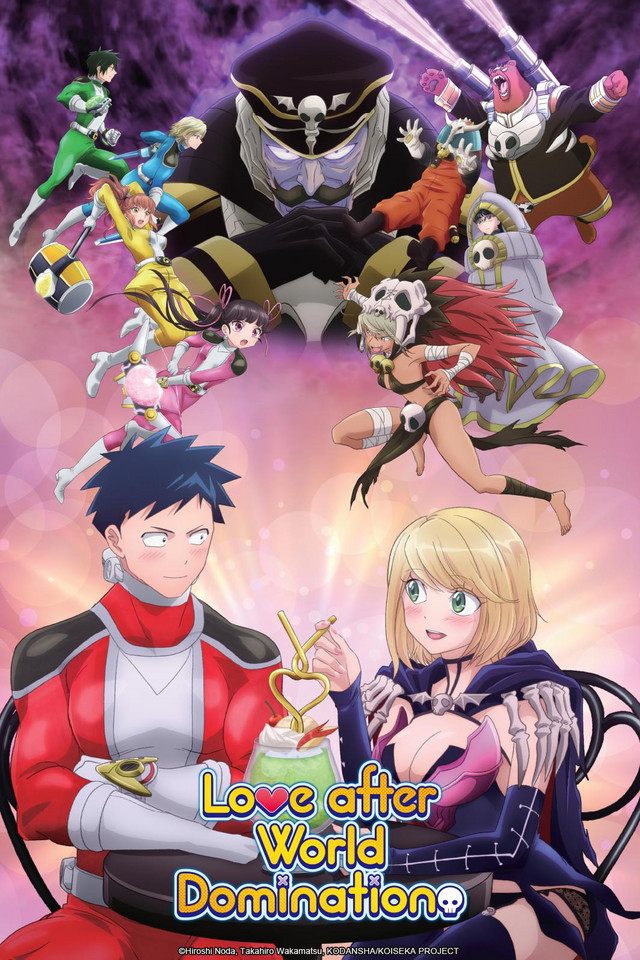 RELATED: Crunchyroll Reveals SimulDub Lineup for Spring 2022, First SPY x FAMILY Cast Details
Based on the manga by Hiroshi Noda and Takahiro Wakamatsu, Love After World Domination is directed by Kazuya Iwata (Cute Executive Officer) at studio project No.9, with series composition by Satoshi Sugisawa (Cute Executive Officer) and character designs by Akemi Kobayashi (SUPER HXEROS chief animation director).
If you're a fan of tokusatsu and rom-com anime, don't miss Episode 1 of Love After World Domination's English dub when it drops on April 22 at 2:15pm PT, right here on Crunchyroll!

Der shy man behind @Shymander, Liam is a timezone-fluid Aussie with a distinct fondness for anime, Eurovision and creating odd stats projects despite hating math.