The official website for the anime adaptation project based on Happy Elements' male idol-themed game franchise Ensemble Stars!! announced on April 21 that its all-new feature film Ensemble Stars!! -Road to Show!!- had  earned over 350 million yen (2.73 million USD) on 250,000 admissions from its domestic run so far. The film had surpassed the 200 million yen mark in the first 10 days of its release.
The 72-minute film directed by Masakazu Hishida (KING OF PRISM -Shiny Seven Stars-) was released in 113 theaters across Japan on March 4, then made its sixth place debut with 50 million yen (433,000 USD), which was the highest ranking this year for a film released in less than 200 theaters. It also ranked sixth in Filmarks' fiirst day satisfaction ranking with an average rating of 3.54/5.0 based on 94 reviews.
The film has become the third top-grossing Japanese anime film of 2022, behind Doraemon: Nobita's Little Star Wars 2021 and Detective Conan: The Bride of Halloween. Thanks to the strong box-office performance, 13 more theaters have been added from today, April 22.
Trailer:
Key visual: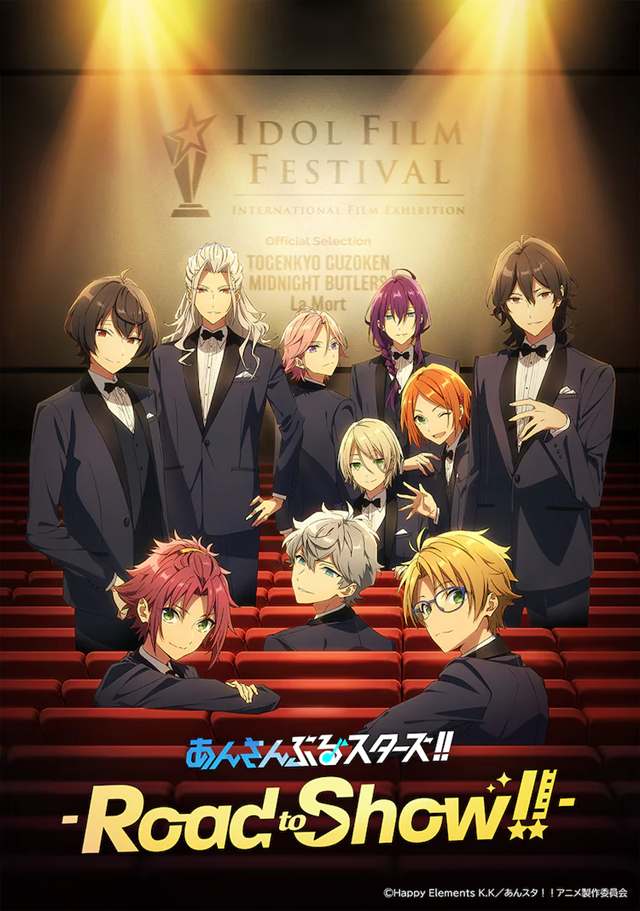 Story introduction:
"Tougenkyo Guzou Ken (Shangri-la Idol Fist)," "Mayonaka no BUTLERS (Midnight Butlers)," and "La Mort," the three films in which the Ensemble Square's idols appeared, were nominated for the Idol Film Festival (IFF), an annual idol film festival held in New York. In order to attend the award ceremony, the idols who were chosen to represent the films headed to New York.
After participating in the film festival and reception party, the idols head out to various places in New York City to enjoy some sightseeing before the awards ceremony, but a suspicious shadow creeps up on them…
RELATED: Ensemble Stars!! -Road to Show!!- Film Full Trailer Introduces Theme Song by Special Unit SCREEN10
---
Source: "Ensemble Stars!! -Road to Show!!" official website
(C)2018 Happy Elements K.K/EnSta! Anime Production Committee