Today, April 15, its theatrical release day in Japan, the official website for the Detective Conan anime franchise's 25th feature film Detective Conan: The Bride of Halloween posted the film's 75-second OP movie (short version).
\\\\\∨/////

ついに本日公開!!

/////∧\\\\\
  
公開を記念して、
スペシャルオープニング映像(ショートver.)を解禁????

大きなスクリーンで是非お楽しみください!
劇場でお待ちしています!

— 劇場版名探偵コナン【公式】 (@conan_movie) April 14, 2022
---
At the same time, the film's director Susumu Mitsunaka, best known for his directorial works for the Haikyu!! anime series, posted his comments on Twitter.
"Finally, the Conan film opens tomorrow! Our first meeting was before the Corona disaster, so we worked on it for over two years. I feel sorry for the directors of the past films… The entire staff worked as hard as they could. Please come see it in the theater!"
"I have to say this. The content of the film has nothing to do with reality. It has nothing to do with reality, but I sincerely hope that the world will become a peaceful place. I just want people to enjoy watching the film."
いよいよ明日映画コナン公開です!
最初の打ち合わせはコロナ前だったんで2年以上かけて作ったんです。
歴代の監督たちに申し訳ない…
スタッフ一同精一杯頑張って作りました。
ぜひ劇場でご覧ください!

— 満仲 勧 (@susumumitsunaka) April 14, 2022
これだけは言っておかないと。
映画の内容は現実と一切関係ありません。関係ありませんが平和な世界になることを心から願っております。
楽しく映画を観てもらいたいだけです

— 満仲 勧 (@susumumitsunaka) April 14, 2022
---
Full trailer:
Main poster visual: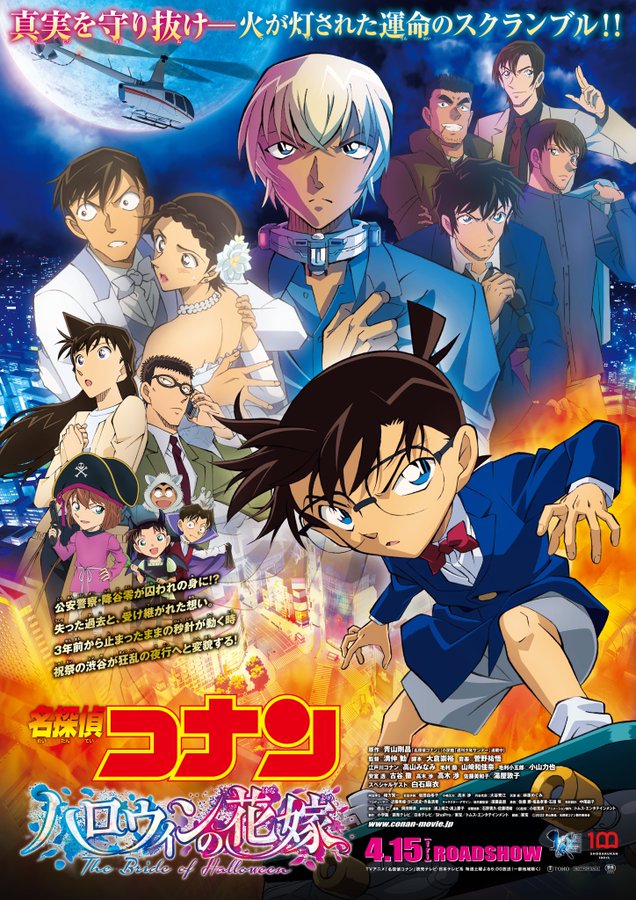 Story introduction:
Shibuya, Tokyo, is bustling with the Halloween season. A wedding is being held at Shibuya Hikarie, where Detective Miwako Sato of the Metropolitan Police Department is dressed in a wedding dress. While Conan and the other invited guests are watching, an assailant suddenly bursts in, and Detective Wataru Takagi, who was trying to protect Sato, is injured. Takagi survived and the situation was settled, but in Sato's eyes, the image of the grim reaper that she had seen when Detective Matsuda, the man she had been in love with, had been killed in a series of bombings three years ago, overlapped with Takagi's.
At the same time, the perpetrator of the bombings escapes from prison. Is this really a coincidence? Rei Furuya (Toru Amuro), a member of the public safety police, is hunting down the man who killed his classmate, Detective Matsuda, but a mysterious person in disguise suddenly appears and puts a collar bomb on him.
Conan visits the underground shelter where Amuro is hiding out to disarm the collar bomb, and hears about an incident three years ago when he and his now deceased classmates from the police academy encountered an unidentified virtual bomber named "Plamya" in Shibuya. As Conan and his team investigate, a disturbing shadow begins to loom over them.
RELATED: Detective Conan: The Bride of Halloween Film Also Gets IMAX, MX4D, 4DX, DOLBY CINEMA Screenings 
---
Sources: "Detective Conan" film series official website / Susumu Mitsunaka Twitter
©2022 Gosho Aoyama/Detective Conan Production Committee