The official website for the forthcoming TV anime adaptation of Kouko Shirakawa's Kokyu no Karasu (Karasu in the Inner Palace) novel series opened on April 14, announcing its October 2022 premiere date, as well as its main voice cast members and staff.
Main voice cast:
Main staff:
Teaser visual:
TVアニメ「#後宮の烏」2022年10月より放送予定!

柳 寿雪:#水野朔
夏 高峻:#水中雅章
衛青:#八代拓
九九:#高野麻里佳

▼ティザーサイトOPEN!https://t.co/apcMjJC5ww
各キャスト・スタッフからのコメントも公開中!

????4/21 21時にアニプレックスYouTubeにてティザーPV公開!https://t.co/8QTdpthEvy pic.twitter.com/k4keV339oh

— TVアニメ「後宮の烏」公式 (@kokyu_anime) April 14, 2022
RELATED: Kouko Shirakawa's Kokyu no Karasu Fantasy Novel Gets Anime Adaptation
---
With illustrations by manga artist Ayuko (Kimi to Eureka, Haru to Arashi), the "Chinese Fantasy Tale" novel series has been published from Shueisha's entertainment novel imprint Orange Bunko since April 2018 and its final seventh volume is set to be released in Japan on April 21, 2022. According to the publisher, the series' total print run has surpassed one million copies.
Synopsis:
In the depths of the inner palace in China, there lives a special queen consort called "Uhi" (Crow Queen), who is a queen but does not sleep with the emperor. Some who have seen her say she is an old woman, while others say she is a young girl. She is said to have magical powers and can do anything you ask her to do, from killing people to finding lost items.
One night, the emperor of the time, Koushun, comes to visit the current Uki, Ryu Jusetsu. He says that a jade earring he found is haunted by a female ghost and he wants to know who it is…
Koushun, the emperor, whose mother was killed by the Empress Dowager when he was a boy, has gone through a lot of hardships as the abolished crown prince. Jusetsu, who is said to be the chosen one of the gods, and has lived a life as Uki, which even the emperor has said that no one can give orders to her. Their encounter will reveal a "secret" that will overturn history…!
Novel 7th volume cover: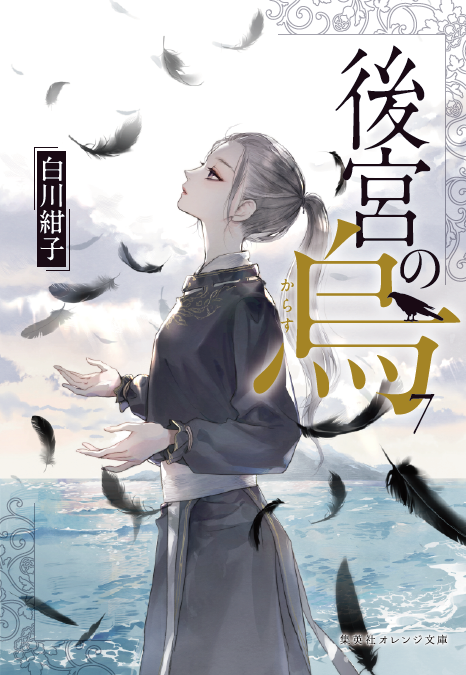 ---
Source: Aniplex press release
©Kouko Shirakawa/SHUEISHA, "Kokyu no Karasu" Production Committee
Author: Kouko Shirakawa/Cover Illustration: Ayuko (Shueisha Orange Bunko)