The official website for Fullmetal Alchemist Complete Edition, the two-part live-action film sequel of Hiromu Arakawa's internationally popular fantasy action manga Fullmetal Alchemist, has posted a special behind-the-scenes clip focusing on Scar played by Mackenyu (Pegasus Seiya in Saint Seiya, Roronoa Zoro in One Piece).
"He has his own sense of justice and tries to follow through with it. And he has a very strong core within himself. I played Scar not just as a bad character, but also thinking how I could make him more attractive," he says of his character, Scar, who is one of the most popular villain characters in the series. As for his iconic scar, he said, "I spent about two hours every day putting on makeup. His name means 'scar' in English. Without it, it wouldn't be Scar. The time spent on special makeup was also an important part of creating the role."
"The director explained in detail what he envisioned, and I acted with 100 percent understanding. I think I was able to shoot what I imagined because we were able to communicate well, and it was an easy shooting site to work on."
〓 スカー場面写真解禁 〓#新田真剣佑 さんも「自分なりの正義があって、それを貫こうとする。そして自分の中にある芯がすごく強い。」と語る、国家錬金術師の連続殺人犯として描かれるスカー。その復讐の裏にある、彼の正義とは…#ハガレン完結編 pic.twitter.com/rbd6Kk6pp8

— 映画『鋼の錬金術師 完結編』公式 (@hagarenmovie) April 8, 2022
RELATED: Fullmetal Alchemist Complete Edition Feature Films Release Scene Photos of New Cast Members
The sequels to the 2017 first film have been produced as the manga's 20th anniversary project and will tell until the manga's final chapter. The first film Fullmetal Alchemist: The Avenger Scar is set to be released in Japan on May 20, 2022, then the second film Fullmetal Alchemist: Final Transmutation will follow on June 24. Ryosuke Yamada, a member of Johnny & Associates' boy idol band Hey! Say! JUMP, reprises his role as the protagonist Edward Elric.
Trailer:
Poster visual: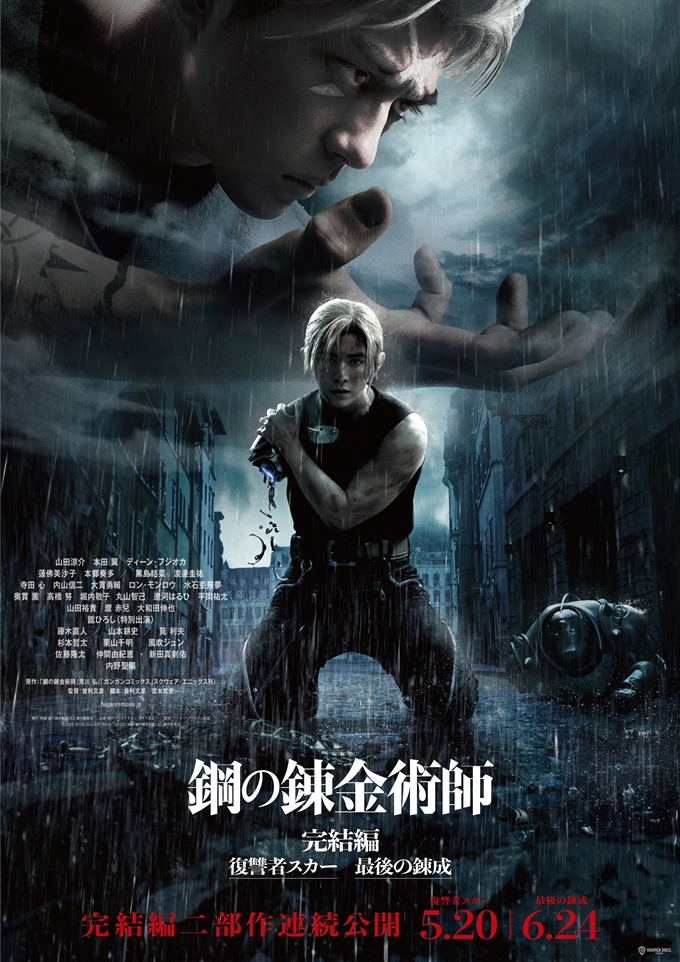 RELATED: The Promised Day Comes in New Fullmetal Alchemist Live Action Film Full Trailer
---
Source: "Fullmetal Alchemist Complete Edition" official website / Twitter
©2022 Hiromu Arakawa/SQUARE ENIX ©2022 Movie "Fullmetal Alchemist 2&3" Production Committee