The NHK is reporting today that award-winning manga creator Fujiko A. Fujio, who is best known for creating The Laughing Salesman, Ninja Hattori-kun and Obake Q-Tarou, passed away on the morning of April 7 in his home in Kawasaki City at the age of 88 years old.
Fujiko A. Fujio, whose real name is Motoo Abiko, was part of the manga duo Fujiko Fujio, who created Doraemon, one of the biggest icons of Japan today, and worked closely with Osamu Tezuka in the 1960s and 1970s.
Motoo Abiko in 2008 (Image via Mainichi)
Abiko was born in Himi City in western Toyama Prefecture on March 10, 1934. In elementary school, Abiko met his creative partner, the late Hiroshi Fujimoto (known as Fujiko F. Fujio later in life), after moving into his class and discovering Fujimoto drawing in his notebook. The pair bonded over their passion for drawing and their love of Osamu Tezuka, who influenced them greatly in their early days, eventually becoming a mentor to the pair. 
They moved to Tokyo in 1954 to pursue becoming professional manga artists after having a few serializations in local periodicals. As Fujiko Fujio, they moved into the Tokiwa-so apartment complex after Tezuka offered them his old room. 
During this time, Abiko was working on many serializations as well as as an assistant for Osamu Tezuka's works. After being overwhelmed by the workload, the pair went back to Toyama for New Year's in 1955 and missed all of their deadlines. Not giving up their dream, they continued working hard as well as branching out into filmmaking, a passion for Abiko who loved films over manga.
The pair got their first major serialized work published in 1959 in the then-brand-new Weekly Shonen Sunday magazine with Umi no Ouji. This began Fujiko Fujio's long-running relationship with Shogakukan where the pair eventually published most of their work, including the original The Laughing Salesman, Doraemon and more.
After seeing success in Shogakukan's magazines, they opened a studio in 1963 under the name Studio Zero where they collaborated with anime producer Shinichi Suzuki, Cyborg 009 and Kamen Rider creator Shotaro Ishinomori, fellow manga creator Jiro Tsunoda, Osomatsu-kun creator Fujio Akatsuka, and many more talents. The studio helped animate Tezuka's work, including Astro Boy, as well as produced hit manga such as Obake Q-Tarou.
During Studio Zero's heyday, they produced the first adaptation of Osomatsu-kun, both the live-action and some animated parts of Ninja Hattori-kun, and worked on the original Doraemon and Moomin anime series.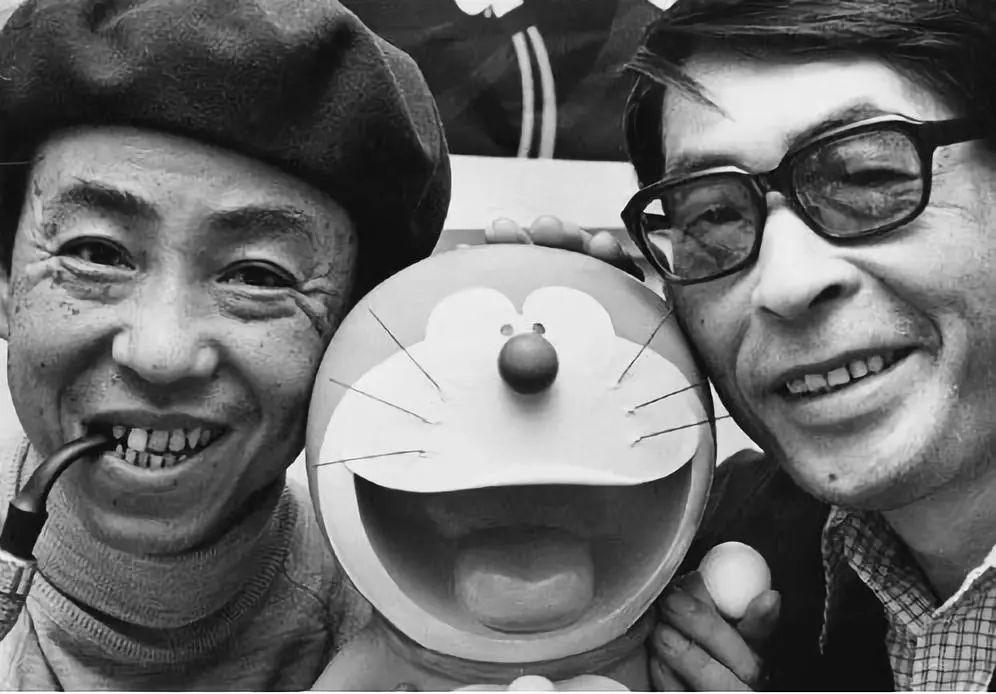 Fujimoto (left), Abiko (right), Doraemon (middle) (via middle-edge.jp)
While Doraemon is now known as Fujiko F. Fujio's work, the pair worked together on the series in the early days with Fujimoto in the lead role. During this time in the late 1960s, Fujimoto was working more on children's stories, while Abiko wanted to make more mature manga, which is when The Laughing Salesman was first created. Shogakukan passed on Salesman as they thought it was too scary for children, with Abiko instead taking it to Jitsugyo no Nihon Sha's Manga Sunday magazine.
The Fujiko Fujio pair split in 1987 after more than two decades of success after it was found that Fujimoto had liver cancer and heart disease in 1986. Both of them continued to admire each other, with Abiko stating in 2005 at a party for the Disappearance Diary autobiographical manga by Hideo Azuma that "though I have received many manga awards under the name Fujiko Fujio, they were all actually Fujimoto's works. I haven't received any personally." 
Even after Fujimoto's death in 1996, Abiko said that Fujimoto and Tezuka were his greatest influences and that without Fujimoto, Abiko wouldn't have become a manga creator.
In 2008, Abiko was made an Honorary Citizen of his hometown of Himi City for his contribution to the revitalization of the city, as well as receiving the Order of the Rising Sun 4th Class, Gold Rays with Rosette from the Japanese emperor.
「忍者ハットリくん」などで知られる漫画家の藤子不二雄Aさんが死去しました。写真は2020年12月撮影。(航)#藤子不二雄a pic.twitter.com/eH3zD05DKr

— 朝日新聞 映像報道部 (@asahi_photo) April 7, 2022
Abiko was known for leading a healthy lifestyle and never getting sick. This was until 2013 when he was diagnosed with colon cancer – which Abiko claimed was the first time he had ever gotten sick. In March 2015 while golfing, Abiko fainted and was found to have suffered from heart failure. Abiko continued golfing after his hospitalization.
Abiko was found passed away in his home at 8:40 am on April 7, 2022. The police are currently investigating the details of his death.
Source: NHK

—- 
Daryl Harding is a Japan Correspondent for Crunchyroll News. He also runs a YouTube channel about Japan stuff called TheDoctorDazza, tweets at @DoctorDazza, and posts photos of his travels on Instagram.