In the world of Yoko Taro's SINoALICE, just about anything is a gamble. Add the bet-hungry teens of Kakegurui xx to the mix, and it's anyone's game.
The dark storybook mobile game has announced their crossover with the anime, kicking off this month worldwide on the app. Yumeko Jabami (CV Saori Hayami) and her friends and rivals will find themselves in the world of the game, complete with a new storyline. A teaser video shows us an interesting silhouette, and a very excited sounding Yumeko:
https://www.youtube.com/watch?v=qHeDZk4fe68
A Yumeko Jabami/Breaker will be up for grabs during the campaign. Expect to see Mary Satome, Midari Ikishima, Kirari Momobami, and Sayaka Igurashi in some capacity as well: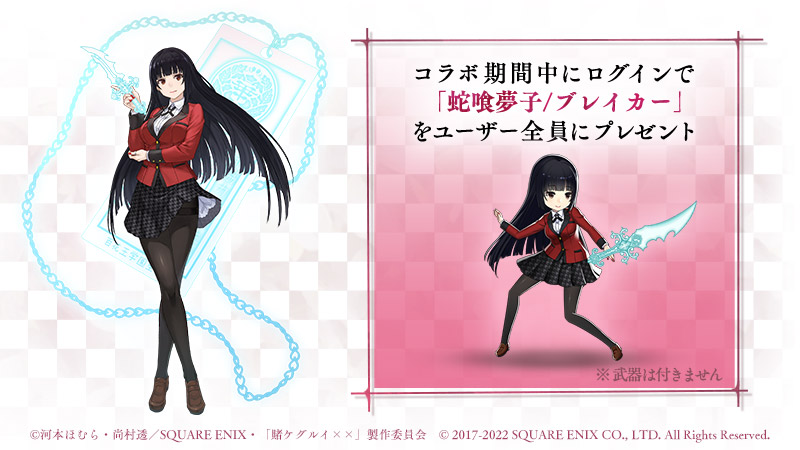 Pre-campaign festivities are already underway for the Japanese server, which will have access to the Kakegurui xx event starting April 12. Global players will have their chance at it, but we'll have to wait just a bit longer — the event goes live outside Japan on April 26.
SINoALICE has crossed over with several anime in the past, including Higurashi When They Cry, Black Butler, and Re:ZERO -Starting Life in Another World-. When they're not being visited by anime guests, the residents of the Library fight Nightmares — and each other — for the right to resurrect their respective author(s) for their own, occasionally, grim, purposes.
Source: SINoALICE.jp, SINoALICE Global Twitter

——
Kara Dennison is the book reviewer for Sci-Fi Magazine and a regular features writer for Otaku USA Magazine. Follow her on Twitter @RubyCosmos, and read more at KaraDennison.com.