This summer, the story of Mobile Suit Gundam expands as episode 15, "Cucuruz Doan's Island," is turned into a full-length film. The new movie will re-examine the story from a new point of view, giving us more intel on the former Zeon soldier.
The latest news drop shows us his former Southern Cross Team members — both character settings and cast.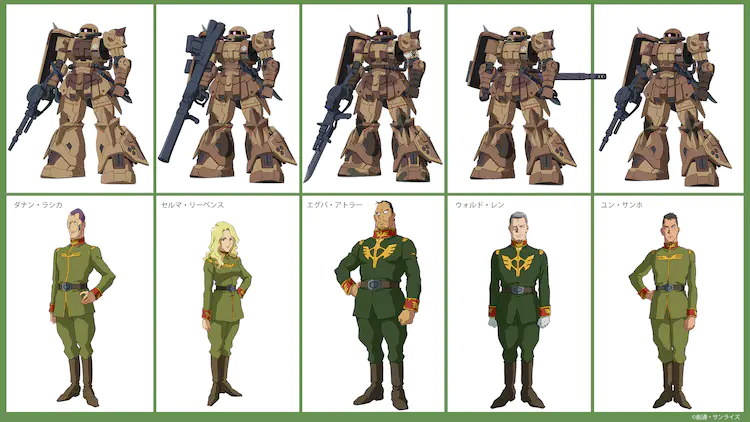 From left to right, we have:
Danan Rashica: CV Yuu Hayashi ("Mikey" in Tokyo Revengers)
Selma Levens: CV Shizuka Itou (Sailor Venus in Pretty Guardian Sailor Moon Crystal)
Egba Atler: CV Atsushi Miyauchi (Geil Hunt in Mobile Suit Gundam 0083: Stardust Memory)
Wald Ren: CV Yōji Ueda (Sebastian Morse in Mobile Suit Gundam Thunderbolt)
Yun Sanho: CV Koji Yusa (Brain Unglaus in Overlord)
They join a cast that includes Shunsuke Takeuchi as Cucuruz Doan himself, and Tohru Furuya reprising his long-standing role as Gundam hero Amuro Ray.
The image also gives us a look at the team's MS-06GD High Mobility Zaku, designed especially for combat on the ground.
Mobile Suit Gundam: Cucuruz Doan's Island is directed by Yoshikazu Yasuhiko, the character designer and chief animation director of the original Mobile Suit Gundam, and a regular director and artist across the franchise. It's set to be released in Japan on June 3.
© Sotsu ・ Sunrise

——
Kara Dennison is the book reviewer for Sci-Fi Magazine and a regular features writer for Otaku USA Magazine. Follow her on Twitter @RubyCosmos, and read more at KaraDennison.com.