The winners of the 31st Japan Movie Critics Awards were announced on March 31, and the Shinya Watada (Aikatsu Stars! The Movie)-directed original anime feature film Hula Fulla Dance won the Animation Film Award of 2021. In addition, Keishi Otomo (Rurouni Kenshin: The Final, Rurouni Kenshin: The Beginning) won the Director Awrad, and Hideaki Anno (Evangelion: 3.0+1.0 Thrice Upon a Time) received the Animation Director Award.
The Japan Movie Critics Award was established in 1991 by acclaimed film critics such as Haruro Mizuno, Nagaharu Yodogawa, and Kazuko Komori. Since then, for more than 30 years, the winners have been selected solely from the viewpoints of film professionals. The theme of the 31st Award is "The Power of Words," because one of the major tasks of film critics is to "verbalize invisible values." 
Hula Fulla Dance tells the one-year story of Hiwa Natsunagi, a rookie member of Hawaiians Dancing Team at Spa Resort Hawaiians in Fukushima Prefecture, her fellow teammates, and the bond between them and the people around them.
Seiji Mizushima (Fullmetal Alchemist, Mobile Suit Gundam 00) served as general director, alongside director Shinya Watada (Aikatsu Stars! The Movie, screenplay writer Reiko Yoshida (Girls und Panzer, Violet Evergarden), and character designer Hiroko Yaguchi (Aikatsu! series). BN Pictures worked on anime production. The film was originally slated for the early summer of 2021 but was postponed due to December 3, 2021, due to various circumstances. 
Trailer (via: Cinema Today):
Poster visual: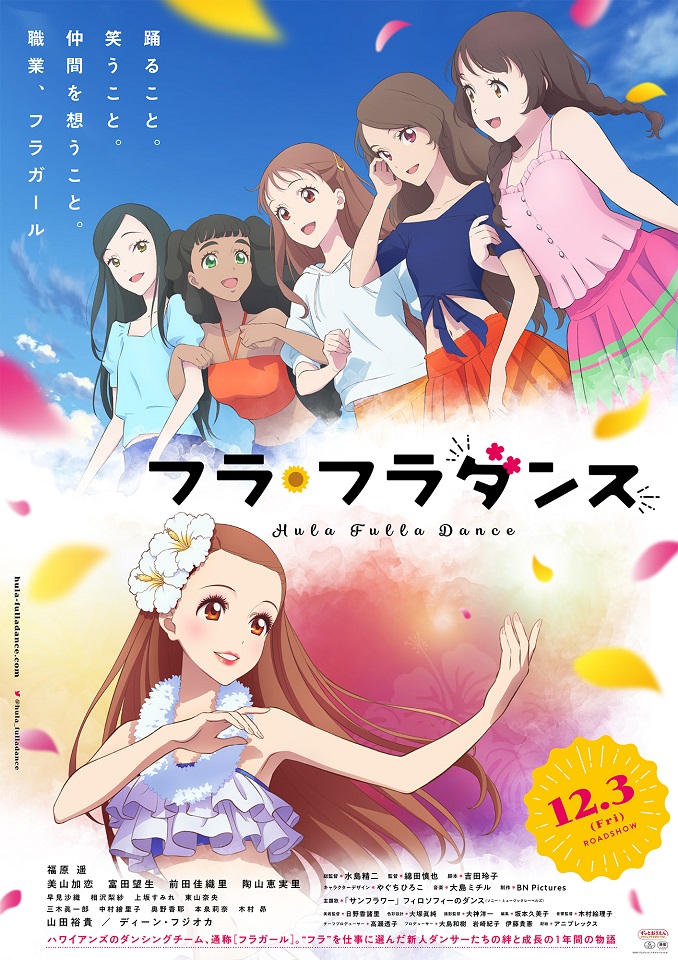 ---
Source: Japan Movie Critics Award Organization press release
©BNP, FUJI TV/Oshare Salon Natsunagi