Heyas, Knights! As alluded to up top in the title, we've got a whole smorgasbord of updates to share with y'all. A new character, a new story event to pair, and the return of the Princess Gala –  get ready to stop, drop, and roll, because this update is fire. Let's take a hop, skip, and a jump and get into it!
Don your kimonos and slip on those getas, as the Princess Gala is making an Eastern revival, featuring none other than the brand new character Kuka (Oedo)! While retaining a lot of the bulk and magic defense that her original version is known for, this traditional garb remixes her toolkit into additional support skills that debuff enemies and increase magic damage output, resulting in a character that can both tank a ton of incoming magic damage, and help her allies deal a bunch of outgoing magic damage. 
The Princess Gala is more than just an opportunity for Kuka (Oedo) to shine – during the week-long campaign, you'll also enjoy twice the normal draw rates for 3★ characters, making your Jewels go twice as far as they normally go when performing draws. Plus, the sword-wielding, critical hit-dealing femme fatale, Christina, also will make a limited-time return while the Princess Gala is happening. If you're brand new to the world of Astraea, the Princess Gala is the perfect time to round out your roster and meet new friends. If you're a seasoned veteran of the land, get the most bang for your Jewel and maybe pick up some characters you're missing! It's a win-win for everyone.
The Princess Gala featuring Kuka (Oedo) and Christina will be live for a week, from 4/5, 23:00 UTC to 4/12, 22:59 UTC. During the campaign, you'll enjoy boosted 3★ draw rates, and both Kuka (Oedo) and Christina can also be obtained via character points. While this isn't the last opportunity you'll have to obtain Kuka (Oedo), after this time period, the increased 3★ will go back to normal, and Christina will not be available. Mark your calendars!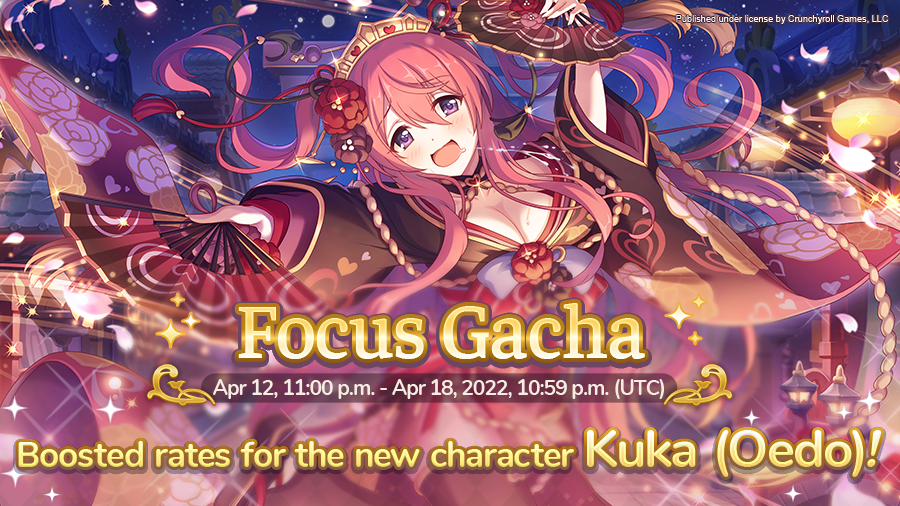 While the Princess Gala may end after a week, Kuka (Oedo) isn't done dancing just yet! She'll be enjoying her own dedicated Focus Gacha after the Princess Gala ends, where plenty of eyes will be cast her way (trust us, she's into that). While your character points will reset after the Princess Gala ends, Kuka (Oedo) will still stick around in the main Premium Gacha pool; however, this will be your best opportunity to obtain her before her solo performance ends. Keep that in mind!
The Kuka (Oedo) Focus Gacha runs for an additional 6 days, from 4/12, 23:00 UTC to 4/28, 22:59 UTC.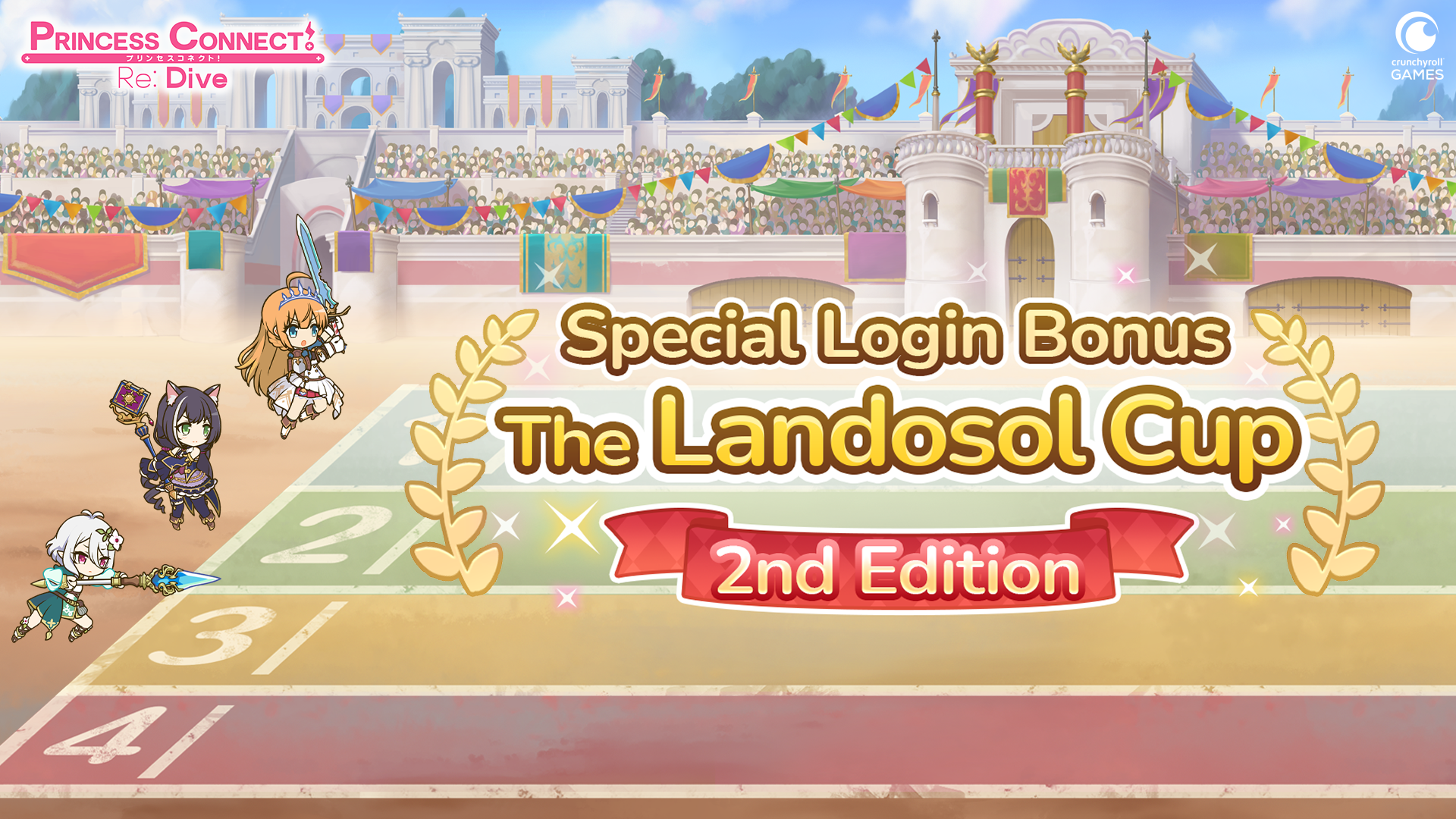 Finally, we've got one last special login campaign for y'all – it's the return of the Landosol Cup! Once per day throughout the 10-day campaign, you'll be able to pick your favorite character out of a random four and cheer them on as they race to see who's the fastest in all of Landosol. You'll receive Jewels based on how well your chosen heroine does – anywhere from 250 Jewels for 4th place all the way up to 500 Jewels for first. It's free Jewel estate.
The Landosol Cup #2 Daily Login Bonus runs for 10 days, from 4/2, 13:00 UTC to 4/12, 12:59 UTC.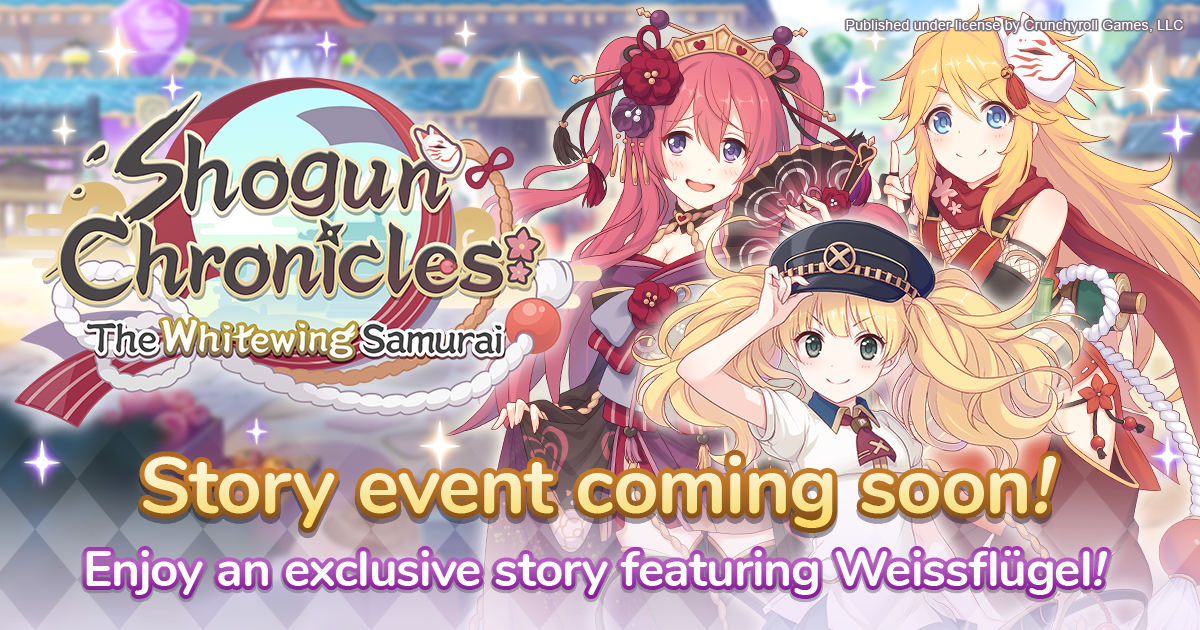 Y'all might be wondering why Kuka's putting on such unique garb. Worry not – she's just fitting into the culture of Oedo Town, the centerpiece of the brand new story event, Shogun Chronicles: The Whitewing Samurai! Join Monika's crew of misfits and adventurers as Weissflügel makes their collective way to a town at the cross-section of Occidental and Eastern culture. But the vibes are slightly different from the last time Ninon was here… what's up with that? Also, why is Kuka flying at increasingly alarming speeds across the town?
This event features unique, exclusive boss battles, where you can test your skills in three varying difficulties: Normal, Hard, and Very Hard. Very Hard is set to be the toughest of the bunch, and is only clearable once per day. If you're craving even more of a challenge, we've also prepared another Special difficulty Boss, with unique challenges and mechanics that will challenge you in new ways across three different modes. Of course, for each boss you best, you'll earn various rewards for your troubles, such as Victory Medals, equipment, and more. 
In order to fight the bosses, though, you'll need to spend Boss Tickets. These Boss Tickets can be obtained by clearing event stages, as well as from login bonuses while the event is active. If you don't successfully defeat a boss on your first attempt, don't sweat it – you can retry as many times as necessary, and non-lethal damage dealt to a Boss carries over between attempts.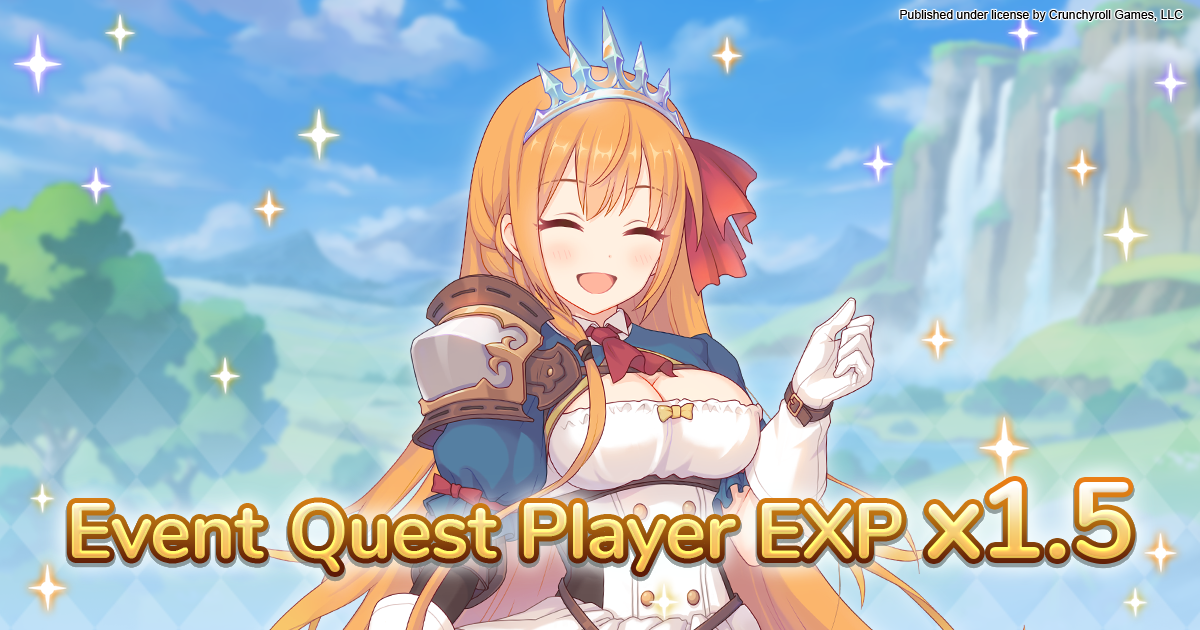 With Weissflügel, you know you'll be having a whacky time. To match that upbeat vibe, we're also increasing the experience gain rates for completing Event Quests. During the event, clearing Event Quests will give 1.5x times the normal experience points, in addition to the normal Mana, items, and Boss Tickets that these quests give out. Clear stages to complete this unique event-exclusive story. 
The Victory Medal Gacha also makes its poetic return for the event! Clearing event stages, event missions, and defeating the previously mentioned bosses will earn you Victory Medals, which can be exchanged for a plethora of goodies. There's a predetermined series of reward lineups, each featuring a key reward – once you roll the current lineup's key reward, you'll have the opportunity to either reset the rewards and move ahead to the next lineup, or hold off on resetting to clear out all the possible rewards. Here are the key rewards you should look out for!
Lineup 1: Kuka's Memory Shard x 20
Lineup 2: Monika's Memory Shard x 25
Lineup 3: Kuka's Memory Shard x 30
Lineup 4: Monika's Memory Shard x 40
Just remember – once you've gone through the four initial lineups, you won't be able to reset the active lineup until you've obtained all the possible rewards from the current active lineup. Good luck!
The Shogun Chronicles: The Whitewing Samurai story event will be available from 4/5, 23:00 UTC to 4/16, 22:59 UTC.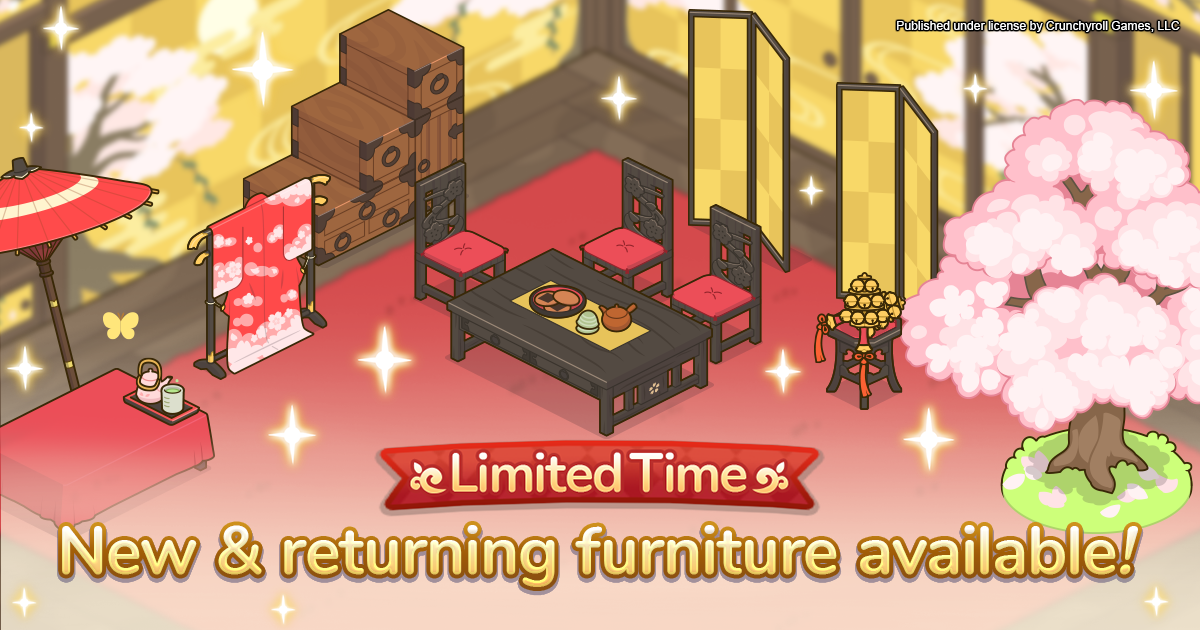 There's no better way to celebrate the beginning of April than with a pink furniture set to decorate your guildhouse! With the coming of April also comes the beauty of pink cherry blossoms. Now you can take it back to your very own guildhouse with this exclusive limited-time furniture set featuring both new and returning furniture pieces. Whether you're looking to stock up on traditional Japanese teahouse furniture or just want to show off your dazzle with a splash of pink, this set is right for you!
This limited-time furniture set will be available starting from 4/3, 23:00 UTC, so get ready to turn your guildhouse into the perfect dessert garden lined with cherry blossom trees. It will only be available until 5/13, 22:59 UTC, so be sure to watch your calendars before the cherry blossom season is over. The full list of the Beauties of Nature furniture set is as follows:
New Furniture:

Limited Time

Springtime Kimono
Staircase Drawers
Nature Motif Background

Non-Limited

Nebbia's Leisurely Biotope

Returning Furniture:

Portable Tearoom
Cherry Blossom Tree
Ceremonial Bell
Sliding Screen Wall
Tatami Mats
Indoor Lantern
Red Rug Wooden Flooring
Gold Leaf Screen
Lacquer Table
Lacquer Stool
Lacquer Chair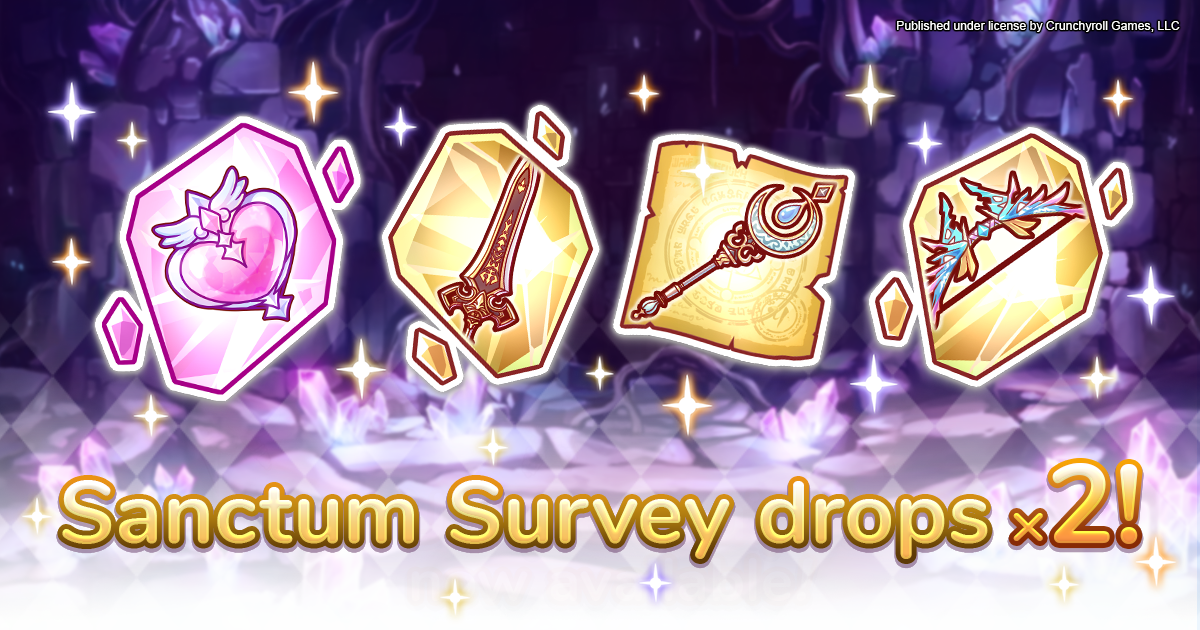 With all the Unique Equipment, we know you Knights can always use more Princess Heart Fragments. Once again, double drops will be making their way back into the Sanctum Survey. During the Sanctum Survey Double Drop Campaign, you will collect double equipment, Mana, and most importantly, Princess Heart Fragments when completing the Sanctum Survey.
The Sanctum Survey Double Drop Campaign lasts for six days, from 4/9, 13:00 UTC to 4/14, 12:59 UTC.
Lastly, the Normal Quest Double Drop Campaign will be making a return where you will be able to collect double equipment, Mana, and other items when completing Normal Quests during the campaign period.
The Normal Quest Double Drop Campaign runs for six days, from 4/14, 13:00 UTC to 4/19, 12:59 UTC.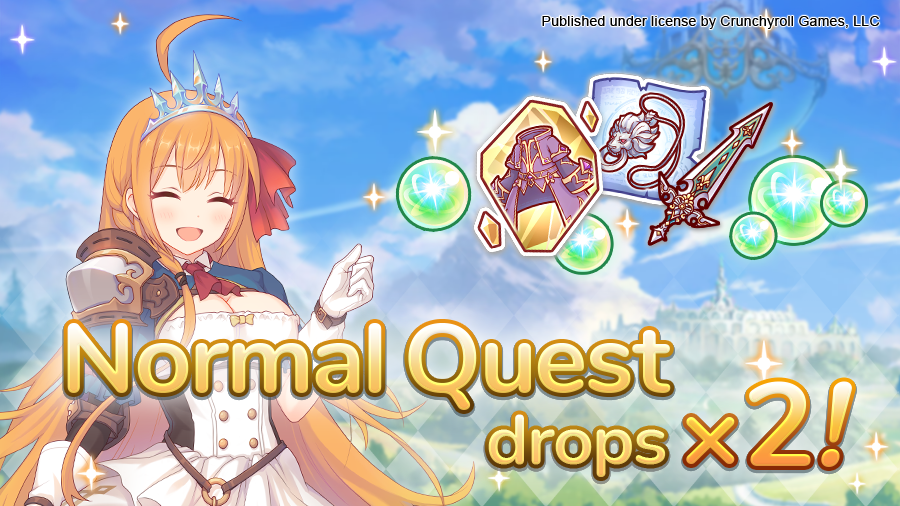 For easy reading and accessibility, included below is a summarized version of all the updates announced today. Thank you for all your support, and we hope you continue to enjoy Princess Connect! Re: Dive! 
See you in Astraea, Knights!
— Crunchyroll Games
*Note: All event details may be subject to change. Please check the in-game notifications at the start of the events for the full details.
Kuka (Oedo) & Christina Princess Gala (4/5 23:00 UTC to 4/12 22:59 UTC)

Boosted rate-up for Kuka (Oedo) & Christina, also available for redemption via character exchange points.
Doubled draw rates for 3★ characters in the Kuka (Oedo) & Christina Princess Gala.
Christina and Muimi are limited units and will only be available during the Princess Gala Gacha period.

Kuka (Oedo) Focus Gacha (4/12 23:00 UTC to 4/18 22:59 UTC)

Boosted rate-up for Kuka (Oedo) within the Focus Gacha.
Kuka (Oedo) will also be available for redemption via character exchange points.

The Landosol Cup #2 Daily Login Bonus (4/2 13:00 UTC to 4/12 12:59 UTC)
Story Event – Shogun Chronicles: The Whitewing Samurai (4/5 23:00 UTC to 4/16 22:59 UTC)

Event missions give 1.5x experience.

New limited-time furniture added to the Guildhouse Shop (4/3 23:00 UTC to 5/13 22:59 UTC)
Sanctum Survey Double Drop Campaign (4/9 13:00 UTC to 4/14 12:59 UTC)
Normal Quest Double Drop Campaign (4/14 13:00 UTC to 4/19 12:59 UTC)