Mail order site WHISKEY MEW offers a unique service: curated whiskeys, released as special-label collaborations. The site has teamed up with everyone from Yatterman to Devilman, with sidelines into fine art, celebrities' personal collections, and even Toho's legendary kaiju. For their latest release, they're looking back on another classic: boxing manga and anime Ashita no Joe.
The duo of spirits was curated by movie producer, former Shogakukan editor, and renowned whiskey collector Hideo Yamaoka, who started the mail-order service as a way to draw attention to the wide variety of whiskies the world has to offer.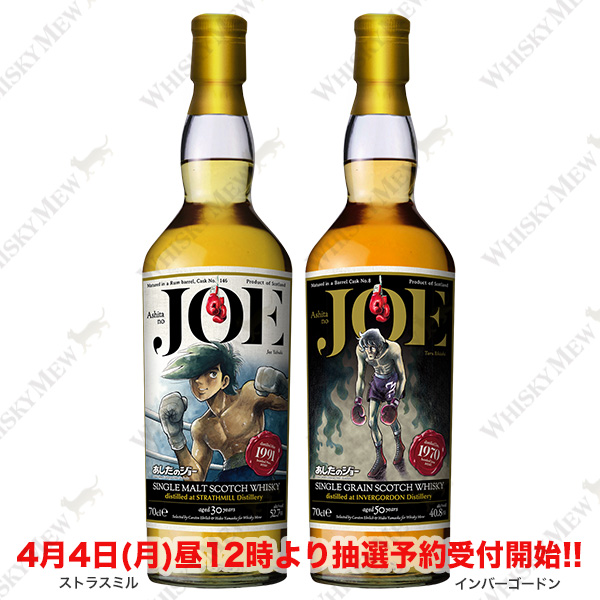 For protagonist Joe Yabuki, Yamaoka chose a 1991 Strathmill single malt Scotch — described as light and somewhat sweet, and easy to drink with a splash of water.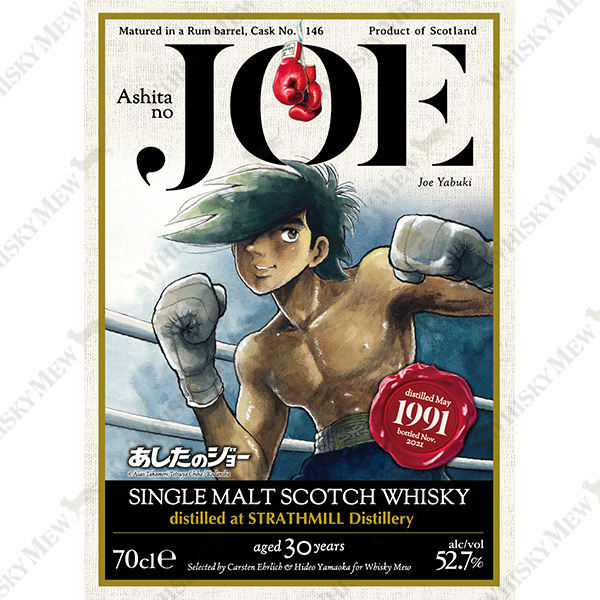 Tōru Rikiishi gets a 1970 Invergordon single-grain Scotch. The year was a very deliberate choice, given a certain match in the February 22, 1970 issue of Ashita no Joe. The Scotch itself is described as "smooth but rich," and made for sipping without diluting.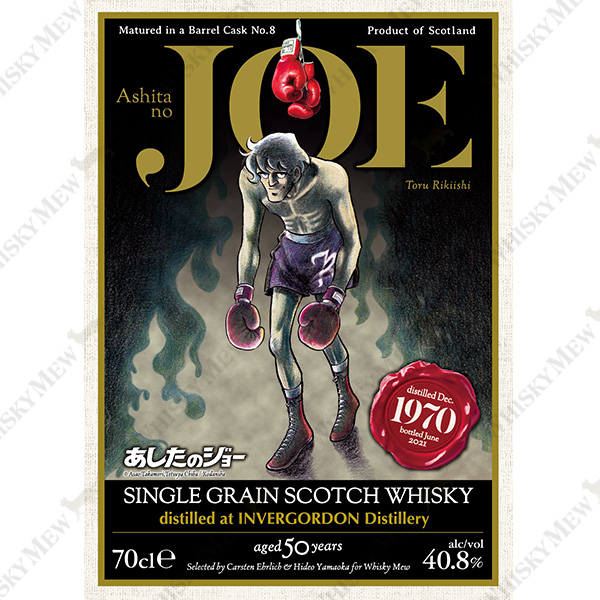 Both whiskies will be sold by lottery on the website during a two-day window, April 4-6. The Joe Yabuki label is priced at 39,600 yen, and the Tōru Rikiishi label is priced at 68,200 yen (both with tax included). As supplies are extremely limited — just 102 bottles of the Strathmill and 85 bottles of the Invergordon — each buyer can only apply once, and only for one of the two bottles.

—–
Kara Dennison is the book reviewer for Sci-Fi Magazine and a regular features writer for Otaku USA Magazine. Follow her on Twitter @RubyCosmos, and read more at KaraDennison.com.