Nearly five months after it was announced, the sequel to Sword Art Online The Movie -Progressive- Aria of a Starless Night has finally shared new details about its staff and cast, while also unveiling its first teaser visual that reveals a fall 2022 release window: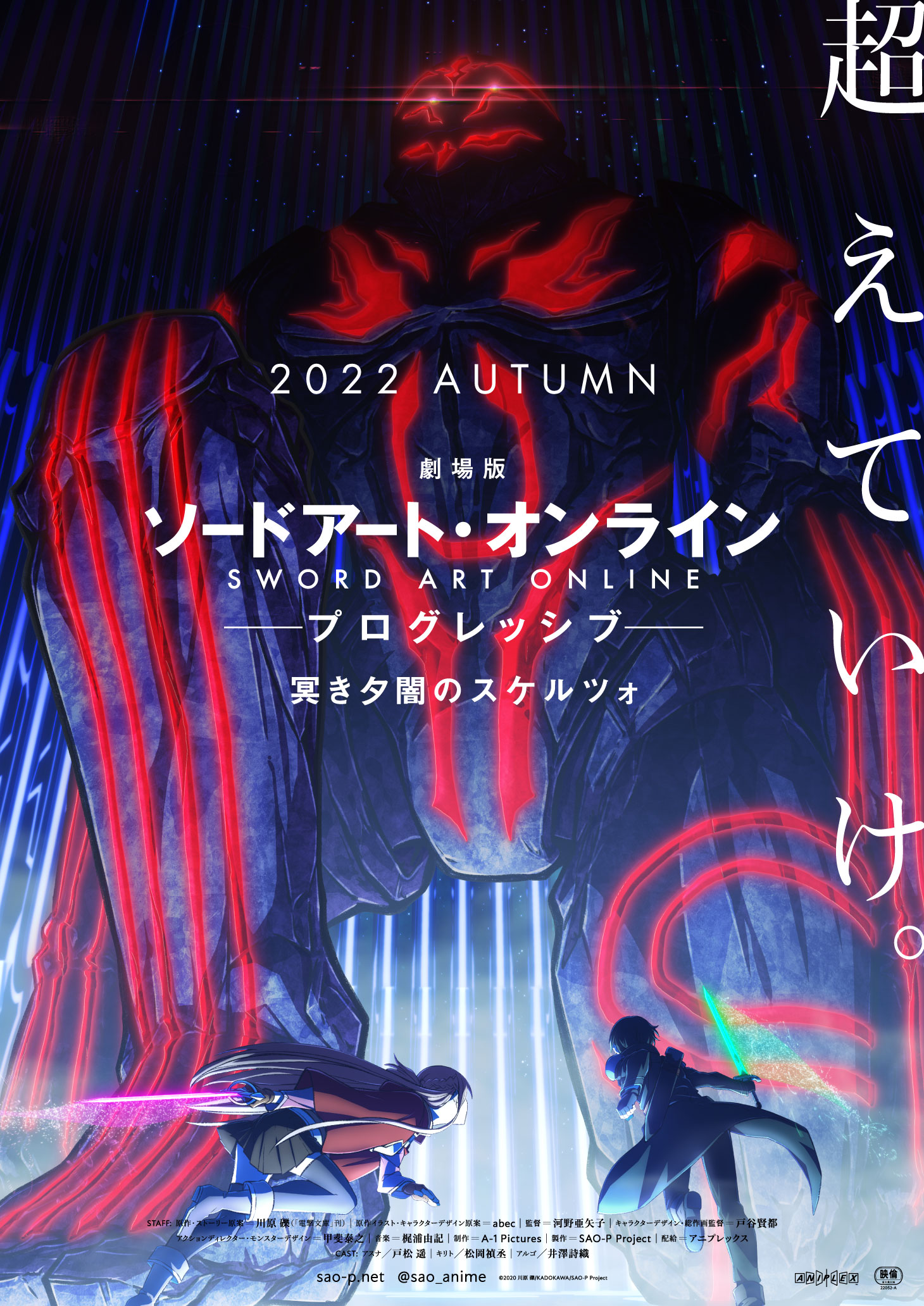 The main staff members from the first film will return for the sequel, subtitled "Scherzo of Deep Night", at A-1 Pictures, including Ayako Kono as director, Kento Toya as character designer and chief animation director, Yasuyuki Kai as action director and monster designer, and Yuki Kajiura as music composer.
Yoshitsugu Matsuoka and Haruka Tomatsu were also confirmed to be returning as Kirito and Asuna, joined by Shiori Izawa (Nanachi in Made in Abyss) as Argo "The Rat", an information broker in Sword Art Online.
Sword Art Online: Progressive, a retelling of the series' Aincrad arc, was first published by author Reki Kawahara in 2012 and now spans eight volumes, with each volume generally covering a single floor in the Sword Art Online game, starting from Floor 1 in Aria of a Starless Night. "Scherzo of Deep Night" is the title of the fourth volume's storyline, which means we'll be jumping ahead to Floor 5 of Sword Art Online when the new film premieres this fall in Japan.
Yen Press, who publishes the light novels' official English version, describes the volume as:
It's been just two months since they were trapped in the game of death that is Sword Art Online, and Kirito and Asuna continue their struggle at the vanguard of progress through the game. The fifth floor of Aincrad is a mazelike ruin, and the two dare to take pleasure in raiding it for the treasure it contains. Upon returning to the fourth floor, it's time to do some questing on behalf of the Elf Lord Yofilis–but here begins Asuna's discontent, for in doing so they will have to face her least favorite monster ever…
Source: Comic Natalie

Der shy man behind @Shymander, Liam is a timezone-fluid Aussie with a distinct fondness for anime, Eurovision and creating odd stats projects despite hating math.