A musical adaptation of Shinobu Ohtaka's fantasy action adventure manga Magi: The Labyrinth of Magic, entitled "Musical 'Magi' – Dungeon Kumikyoku (Suite) -," is scheduled to be performed at The Galaxy Theater in Tokyo from June 3 to 12, then at Morinomiya Piloti Hall in Osaka on June 18 and 19.
The manga was serialized in Shogakukan's Weekly Shonen Sunday from 2009 to 2017, then its TV anime  adaptation was aired for 50 episodes from 2012 to 2014. This is the first time this manga has been made into a musical.
Kotaro Yoshitani, known for his stage play adaptation works based on popular Japanese game/manga/anime series, such as Hetalia, BANANA FISH, Bakumatsu Rock, and Revolutionary Girl Utena, is attached to direct on a script/lyrics by Sayaka Asai (Touken Ranbu musicals). Yugo Miyajima, a member of the seven-member Japanese-Korean dance vocal unit ORβIT, is cast as the protagonist Aladdin, while Hiroki Ino (Tenya Iida in the My Hero Academia stage plays) plays another protagonist, Alibaba. And voice actor Toshiyuki Morikawa, who voiced Ugo in the anime series, will make a voice appearance as his character.
Message from director Kotaro Yoshitani:
A dazzling world of magical strange adventure. Please come to the theater with the excitement and thrill like experiencing an attraction. The vibrant city, the wide expanse of grassland, and the terrifying labyrinth (dungeon) are all presented with full visual and aural effects, making each scene a moving, three-dimensional experience. Come and join Aladdin on his magical turban for an adventure. The musical "Magi" will take you to a magical world. 
Teaser visual: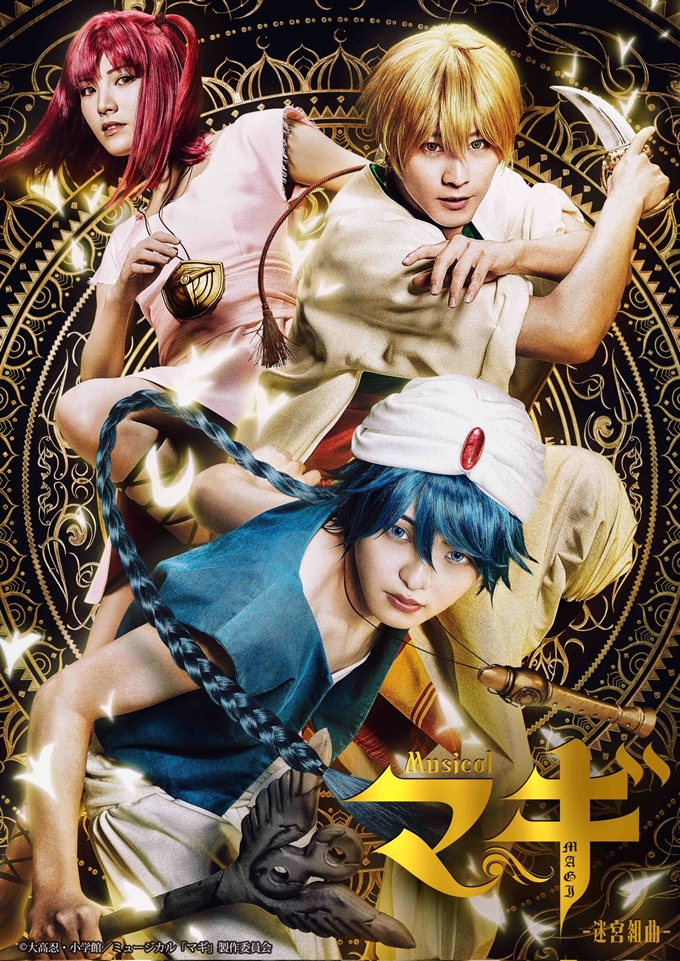 Main cast:
Aladdin: Yugoa Miyajima
Alibaba: Hiroki Ino
Morgiana: Nana Okada (AKB48)
Budel: Mitsuhiro Nagatomo (Hibiki)
Baba-sama: Miho Sugimoto
Gortus: Shogo Onozuka
Hakuei Ren: Shina Tanaka
Judal: Akito Tejima (SOLIDEMO)
Kasim: Daisuke Hirose
Jamil: Yuji Kawakubo
Ugo: Toshiyuki Morikawa
大高忍 による人気漫画「マギ」が、初のミュージカル化!
22年6月東京大阪にて上演!https://t.co/032R2hccEc

週刊少年サンデー最速先行:23日10時~
※明日発売のサンデーQRから
最速HP先行:25日正午〜#ミューマギ #宮島優心 #猪野広樹 #岡田奈々 #廣瀬大介 #川久保拓司 #森川智之(声の出演) pic.twitter.com/wFhhnNwU7q

— ミュージカル「マギ」-迷宮組曲- (@musical_magi) March 22, 2022
---
Source: "Musical 'Magi' – Dungeon Kumikyoku -" official website / Twitter
© Shinobu Otaka, Shogakukan/Musical "Magi" Production Committee