A live-action TV drama adaptation of Minato Shouji Coin Laundry, a boys-love manga written by Yuzu Tsubaki and illustrated by Sawa Kanzume, is confirmed to be in the works. Further details including broadcast schedule, cast, and production staff will be announced at a later date.
Based on Wash my heart!, which won the Excellence Award of the Yurukyun BL Manga Original Story Contest, the manga with the new title has been serialized on the free web manga website Gene Pixiv since December 2019. Its latest third tankobon volume is set to be releeased in Japan on March 26, and  its total print run will reach 300,000 copies with the volume.
Synopsis:
Akira Minato has taken over "Minato Shouji Coin Laundry" from his grandfather, an old store with no air conditioning facilities. Akira, a former company employee now in his thirties, takes it easy running a store that is loved by the local community. One day, a high school student named Shintaro Katsuki comes to the store as a customer. The two become friends regardless of their age difference, but Akira's gayness is suddenly revealed to Shintaro…? A handsome high school student and a caretaker in his thirties. Their world changes when they meet in an old coin laundry–.
Congratulatory illustration from the manga's illustrator Sawa Kanzume: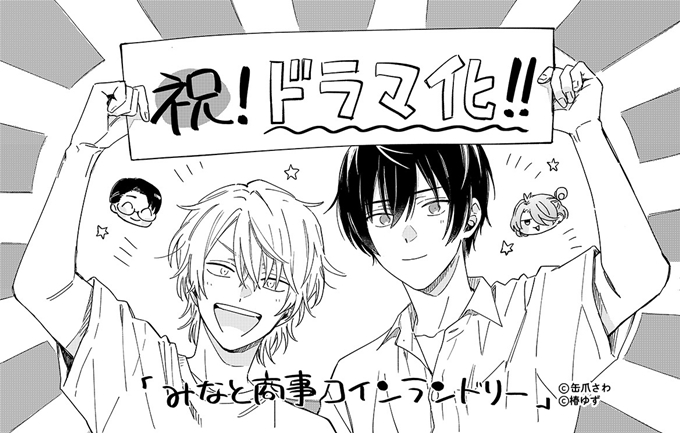 Manga's TV CM:
Tankobon 1st & 3rd volume covers: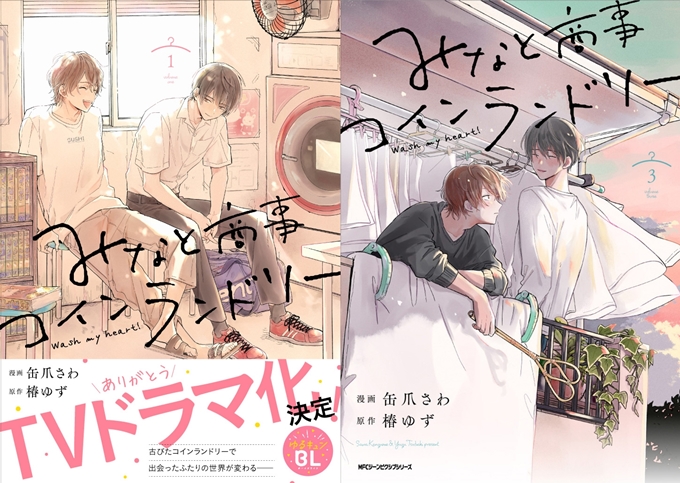 To celebrate the TV drama adaptation, a traffic ad will be displayed in the north passageway outside the ticket gates of JR Ikebukuro Station from March 21 to 27.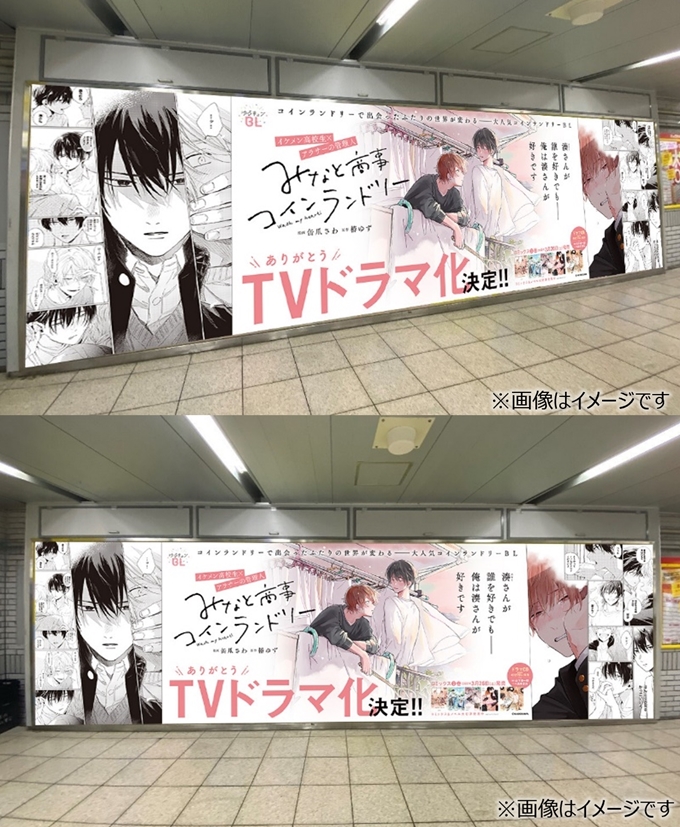 ㊗️「みなと商事コインランドリー」TVドラマ化が決定しました❣️缶爪さんからの告知イラストをお届け♪????✨

そして今週末2022年3月26日(土)発売の③巻ドラマ化決定帯つき書影はこちら????????(やっと出せました…!)
続報をお待ちください???? pic.twitter.com/XJStBpjEmm

— みなと商事コインランドリー????3巻3/26発売 (@minato_syouji) March 21, 2022
---
Source: KADOKAWA press release
© Yuzu Taubaki © Sawa Kanzume