The official website for the forthcoming live-action film adaptation of Non Tamashima's romance shoujo manga Moekare wa Orange-iro / My Boyfriend is Orange has released a 30-second teaser trailer introducing its two main cast members – Meru Nukumi and Hikaru Iwamoto (a member of Johnny & Associates' boy idol group Snow Man). 
The story centers on Moe Sasaki (Nukumi), a high school girl who moves in with her family after the death of her father. Unable to get along with her classmates, Moe was a "loner" until she was rescued by Kyosuke Ebihara (Iwamoto), a firefighter, at her high school's fire drill. Although he is blunt, Kyosuke is kind and mature, and he gradually gives her courage, and she becomes more and more attracted to him as she tries to break free from being a loner.
The teaser trailer begins with a scene set on a school rooftop. It shows Ebihara walking toward Moe, saying, "I'm here to rescue you." Moe is carried by Ebihara and "rescued" by him, shouting "Something's not right! Something is wrong~!"
It has been also announced that the Shosuke Murakami (One Week Friends, Promise Cinderella)-directed film is set to be released in Japan on July 8, 2022.
Teaser visual with a tagline: "I fell in love with someone who would protect me."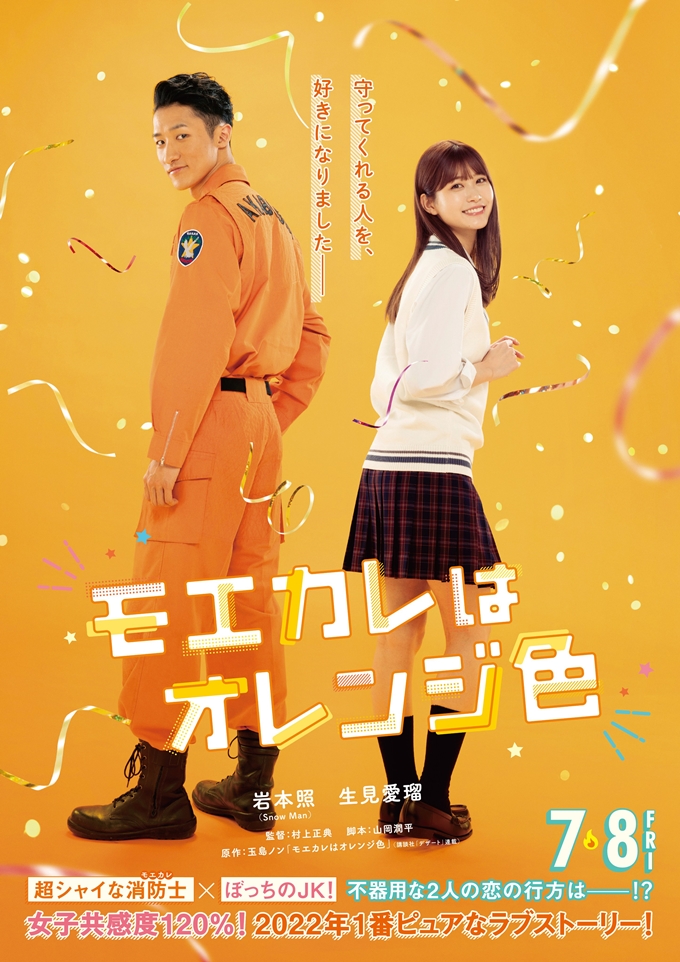 ✨????*゚・*:..。✨????

『#モエカレはオレンジ色』
   特報映像解禁????

    ✨????*゚・*:..。✨????

女子共感度120%!
2022年一番の
胸キュンラブストーリー!?????????

息の合ったタイトルコールにも注目です☝#岩本照 #生見愛瑠#モエカレ #7月8日公開#今年の夏は皆でモエカレ pic.twitter.com/N1ESefrTSu

— 映画『モエカレはオレンジ色』公式 (@moekare_movie) March 20, 2022
---
Sources: "My Boyfriend is Orange" live-action film official website / Twitter, Shochiku official YouTube channel
©2022 Movie "My Boyfriend is Orange" Production Committee