The official website for Masaaki Yuasa's (Devilman crybaby, Keep Your Hands Off Eizouken!) forthcoming anime feature film INU-OH has released a main visual and a 60-second new trailer to announce its Japanese release date of May 28, 2022.
The world premiere screening of the 98-minute musical film based on Hideo Furukawa's 2017 novel Heike Monogatari Inu-Oh no Maki was held at the 78th Venice International Film Festival in September 2021, and the film was described as a "rock opera."
This new trailer begins with the singing voice of the protagonist Inu-Oh played by Avu-chan (Japanese rock band Ziyoou-vachi vocalist), then introduces musical scenes with grooving music and flashy performances one after another. The voices of Yoshimitsu Ashikaga by Tasuku Emoto. Inu-Oh's father by Kenjiro Tsuda, and Tomona's father by Yutaka Matsushige are also featured in this trailer for the first time.
60-second trailer:
30-second trailer:
Main visual: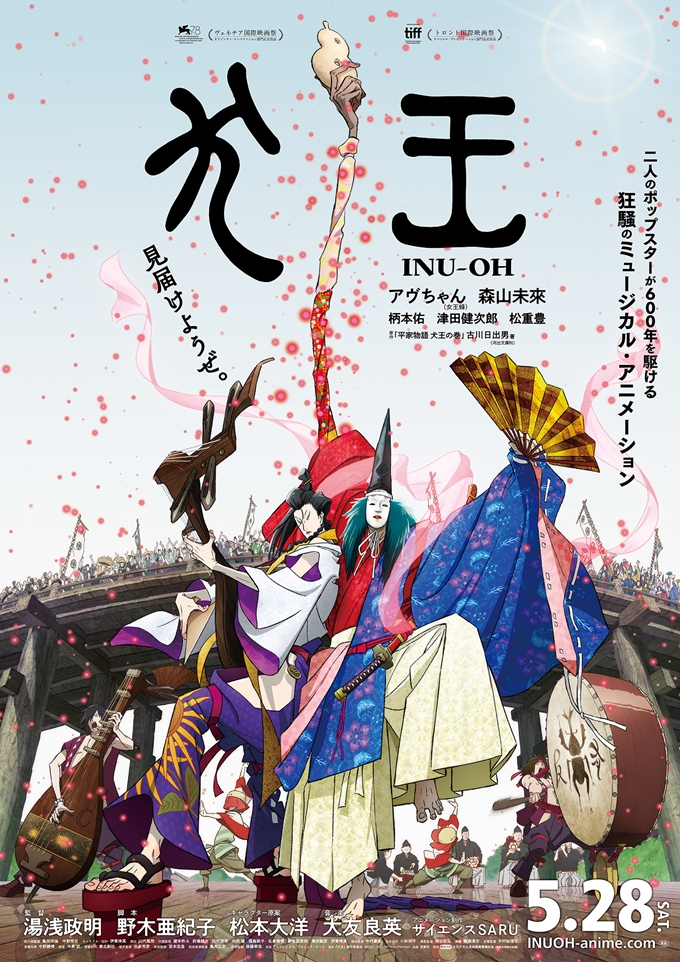 Synopsis:
Inu-Oh is born with unique physical characteristics, and the horrified adults cover every inch of his body with garments, including a mask on his face. One day, he meets a boy named Tomona, a blind biwa player, and as Tomona plays a delicate song of tangled fate, Inu-Oh discovers an incredible ability to dance. Inu-Oh and Tomona become business partners and inseparable friends, using their creative gifts to survive on the margins of society, as song after song gain them notoriety and propel them to stardom. Through the songs, Inu-Oh mesmerises his audiences on stage, and gradually begins to transform into someone of unequalled beauty. But why is Tomona blind? Why was Inu-Oh born with unique characteristics? It is a story about the friendship of Inu-Oh and Tomona, who dance and sing to get to the truth and break each other's curse.
◢| 熱狂の本ビジュアルも解禁‼

異形の能楽師《犬王》
盲目の琵琶法師《友魚》
そして、ド派手な二人のステージを見届けようと民衆が熱狂する本ビジュアルは、まさに音楽フェス????

さらに、本作の世界観を凝縮したオリジナルサウンドトラックも5/25発売決定????

『#犬王』5/28(土)公開???????? pic.twitter.com/yDTRfG648T

— 【公式】劇場アニメーション『犬王』 (@inuoh_anime) March 14, 2022
---
Source: "INU-OH" official website / Twitter
©2021 "INU-OH" Film Partners