"Wonderism: Kimi wo Yobu Koe (The Voice That Calls You)," a new anime music video project by Toho's animation label TOHO animation, has released a main visual featuring its protagonist girl Natsushima standing in front of Goshikizuka Kofun in Kobe City, Hyogo, a huge ancient tomb built around the end of the fourth century to the beginning of the fifth century. The tagline is "Guided by a mysterious stone, the secrets of the world are set in motion."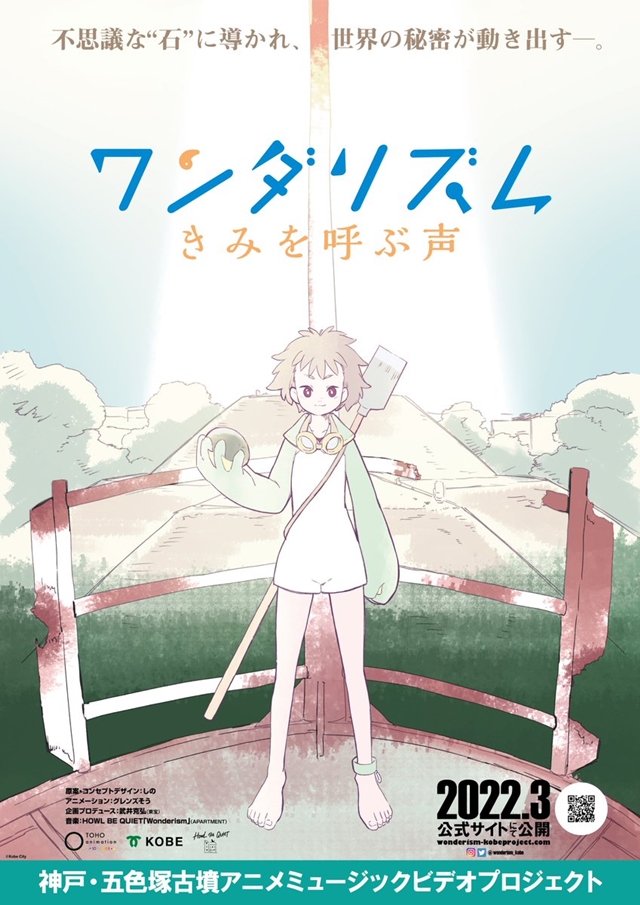 【メインビジュアル解禁】
大冒険の始まりを予感させる
ポスターが遂に完成———????✨

巨大な #五色塚古墳 をバックにした
幻想的なビジュアルになりました​​​????

不思議な石を手にした
主人公 #なつしま の姿に、
公開に向けて
ますます期待が高まりますね!#ワンきみ #TOHOanimation#HOWLBEQUIET pic.twitter.com/JqRuRwYT4O

— ワンダリズム きみを呼ぶ声【公式】 (@wonderism_kobe) March 11, 2022
The story of the project is set in a world where civilization was once lost. The protagonist Natsushima, who lives on a huge floating island made by connecting ships, discovers a mysterious stone that fell from the sky. The stone, which she has never seen before in her life on the ship, leads her out to sea to discover the secrets of the world.
Based on the original idea and concept design created by Shino (Digimon Ghost Game digimon designer), Glens Sou works on anime production. He is known for his anime music video works for Aoya Natsuki's (Hatsune Miku) "Hakushi", Zutto Mayonaka de Iinoni's "Neko Reset", and Eve's "Aisai".
/
????情報解禁
\
アニメMVのアニメーションを
担当するアーティストが決定????

TVアニメ「#呪術廻戦」OP主題歌で
話題となったEveの最新曲『#藍才』のMVほか
様々なアニメ制作に携わる
新進気鋭のアニメーション作家
【グレンズそう】@Glens_sou が
本作に参加することになりました????✨#ワンきみ pic.twitter.com/925JCD5S9z

— ワンダリズム きみを呼ぶ声【公式】 (@wonderism_kobe) February 18, 2022
The four-member Japanese piano rock band Howl Be Quiet (The Dungeon of Black Company OP theme) is in charge of the music. The anime music video is scheduled to be posted on the web before the end of this month.
さらに、新しい設定画も解禁✨

アニメーションにおいて
とても重要な「表情集」。
未知なる大冒険に飛び出すなつしまの
さまざまな表情が描かれています????

躍動感あふれるアクション描写が得意な#グレンズそう の手によって
どう動き出すのか…

乞う、ご期待ください❕#ワンきみ #なつしま pic.twitter.com/OFESyBptrV

— ワンダリズム きみを呼ぶ声【公式】 (@wonderism_kobe) February 18, 2022
---
Source: "Wonderism" project official website / Twitter 
© Kobe City