The 10th anniversary year of the Aikatsu! franchise will begin on March 24. The project's teaser site has started a countdown for the memorial day and posted a special PV to look back at its 10-year history.
"Aikatsu" is short for Aidoru Katsudou (Idol Activities). The idol-themed franchise was launched with its Data Carddass trading card game line in October 2012 and its first TV anime series Aikatsu! was aired for 178 episodes from October 2012 to March 2016. Then, it was followed by Aikatsu Stars! (April 2016 to March 2018), Aikatsu Friends! (April 2018 to Spetmebr 2019), Aikatsu on Parade! (October 2019 to March 2020), and Aikatsu Planet! (January to June 2021).
In the end of the clip, it says, "There will be a new start beyond the goal!," so some kind of new project may be announced after the countdown is over.
「#アイカツ!シリーズ」の10周年YEARが3/24(木)よりスタートします!
アイカツ!シリーズ、そしてアイドル達への熱い応援本当にありがとうございます☆
10周年を記念して、10周年公式ティザーサイトと10th ANNIVERSARY PVを公開中!
詳細はこちらhttps://t.co/UsgF4CGk1t#aikatsu10th pic.twitter.com/2C6eVP4hTg

— アイカツプラネット!&アイカツオンパレード!アニメ公式 (@aikatsu_anime) March 10, 2022
---
As reported back in October 2021, a feature film edition of the latest series Aikatsu Planet! has been in the works for a release in the summer 2022. As the first live-action and animation hybrid TV show in the franchise, it was aired for 25 episodes in Japan from January 10 to June 27, 2021. Its live-action part's eight main cast members formed a unit STARRY PLANET* to perform as idols at events and on YouTube.
"Aikatsu Planet!" TV series key visual: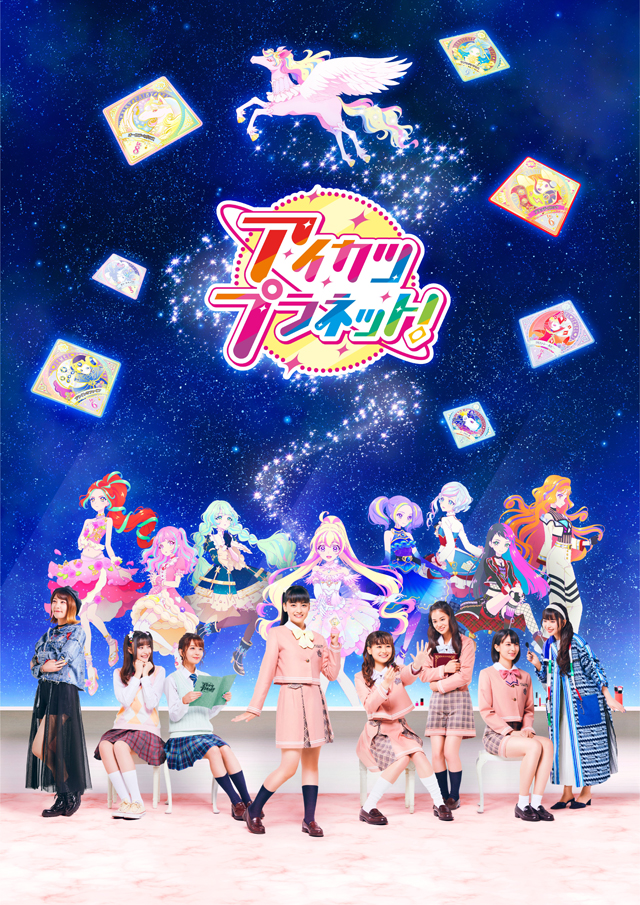 ---
Source: "Aikatsu!" franchise official website / YouTube channel
©BNP/BANDAI, DENTSU, TV TOKYO, BNArts