The official website for the forthcoming new feature film Mobile Suit Gundam: Cucuruz Doan's Island announced today that Shunsuke Takeuchi (Producer in The [email protected] Cinderella Girls, Alexander Yamato in KING OF PRISM) is cast as the title character, Cucuruz Doan. He is a former MS pilot of the Principality of Zeon Army, who lives on an isolated island with many children and livestock for dairy farming.
As its title suggests, the film is based on the first Mobile Suit Gundam TV anime's 15th episode of the same name, which was aired in Japan on July 14, 1979. The episode depicted the melancholy of war through the interaction of the protagonist, Amuro Ray, with Doan, a deserter from the Zeon army. In the original episode, the character was voiced by Kan Tokumura, and after his passing in 2011, Kenji Nomura had taken over the role.
"I feel very honored to be involved in the Gundam series at this time, which has just passed its 40th anniversary, and to be a part of the 'first series' directed by Yasuhiko-san," Takeuchi says. "I have known about the existence of the 15th episode for a long time, but I had no idea that it would be rebooted. In order not to disappoint your expectations, I reviewed the entire first series and took on the challenge myself. As with the original episode, this film will be enjoyable for those who know Gundam as well as those who do not."
\#ザクの日 ザクザクキャンペーン4⃣????/

【ククルス・ドアンのキャラクター設定画を公開!】

『機動戦士ガンダム ククルス・ドアンの島』
2022年6月3日(金)全国ロードショー

≪ガンダム、再び大地に立つ≫#ククルス・ドアンの島 #機動戦士ガンダム #ガンダム pic.twitter.com/ViVj3aq4i3

— 機動戦士ガンダム ククルス・ドアンの島 (@g_cucuruzdoan) March 8, 2022
Setting visuals of RX-78-2 Gundam and MS-06F Zaku Doan's Custom are also revealed:
\#ザクの日 ザクザクキャンペーン1⃣????/

【RX-78-02 ガンダム 設定画公開!】

『機動戦士ガンダム ククルス・ドアンの島』
2022年6月3日(金)全国ロードショー

≪ガンダム、再び大地に立つ≫#ククルス・ドアンの島 #機動戦士ガンダム #ガンダム pic.twitter.com/fchkt19vlt

— 機動戦士ガンダム ククルス・ドアンの島 (@g_cucuruzdoan) March 8, 2022
\#ザクの日 ザクザクキャンペーン2⃣????/

【MS-06F ドアン専用ザク 設定画公開!】

『機動戦士ガンダム ククルス・ドアンの島』
2022年6月3日(金)全国ロードショー

≪ガンダム、再び大地に立つ≫#ククルス・ドアンの島 #機動戦士ガンダム #ドアン専用ザク#ドアンザク pic.twitter.com/iFl8P5nSVF

— 機動戦士ガンダム ククルス・ドアンの島 (@g_cucuruzdoan) March 8, 2022
The film version directed by the first TV series' character designer / chief animation director Yoshikazu Yasuhiko is set to be released in Japan on June 3, 2022. Toru Furuya and Toshio Furukawa from the original series are confirmed to reprise their roles as Amuro Ray and Kai Shiden, respectively. 
Main voice cast:
Amuro Ray: Toru Furuya (Tuxedo Mask in Pretty Guardian Sailor Moon)
Bright Noah: Ken Narita (Sesshomaru in InuYasha)
Mirai Yashima: Satomi Arai (Beatrice in Re:ZERO -Starting Life in Another World-)
Sayla Mass: Mugumi Han (Momiji Soma in Fruits Basket)
Kai Shiden: Toshio Furukawa (Asuma Shinohara in Mobile Police Patlabor)
Hayato Kobayashi: Hideki Nakanishi (Alan in Nodame Cantabile)
Fraw Bow: Misato Fukuen (Yoshika Miyafuji in Strike Witches)
Sleggar Law: Tomofumi Ikezoe (Furanken in Francesca)
映画『機動戦士ガンダム ククルス・ドアンの島』は、
2022年初夏公開!

\超特報映像解禁/

《ガンダム、再び大地に立つ————》

劇場版『機動戦士ガンダムⅢ めぐりあい宇宙』から40年、RX-78-02 ガンダムとアムロの物語がスクリーンに舞い戻る!#ククルス・ドアンの島 pic.twitter.com/Lfnyw9Cen1

— 機動戦士ガンダム ククルス・ドアンの島 (@g_cucuruzdoan) December 20, 2021
Teaser visual: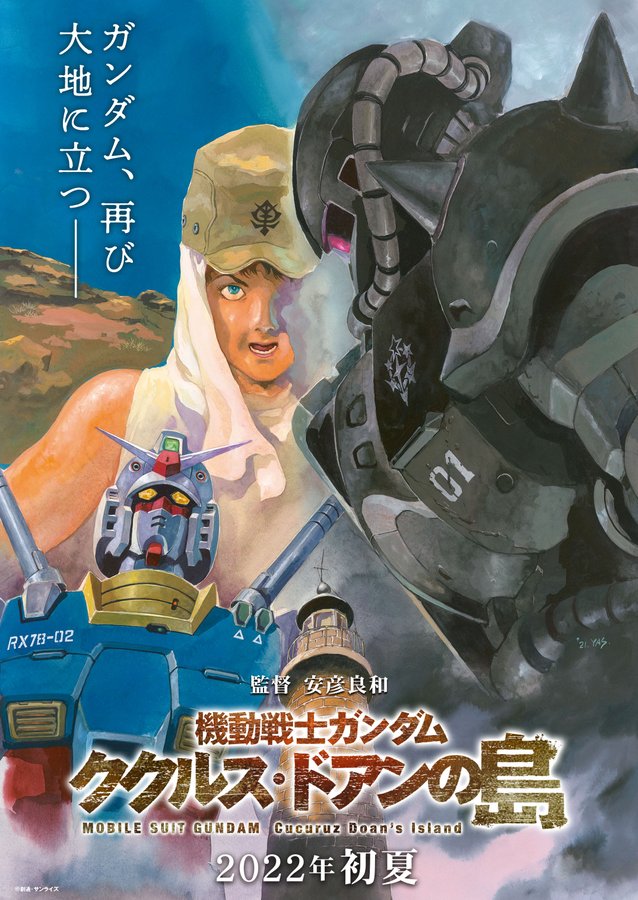 ---
Sources: "Mobile Suit Gundam: Cucuruz Doan's Island" official website / Twitter
©SOTSU, SUNRISE