The official website for the forthcoming live-action film adaptation of the Naoki Prize-winning author Mizuki Tsujimura's popular novel Haken Anime! has posted a 60-second full trailer featuring its theme song "Éclair" performed the five-member rock band Genie High.
Voice actress Marika Kouno (Silence Suzuka in Uma Musume Pretty Derby), who appears in the film as the role of the popular idol voice actress Aoi Gunno, joined recording as a guest vocalist. In addition, the four voice actors who played the main characters in the film's two in-story anime episodes – Yuki Kaji, Megumi Han, Rie Takahashi, and Kana Hanazawa– also provided their shout-out voices.
Full trailer:
Genie High: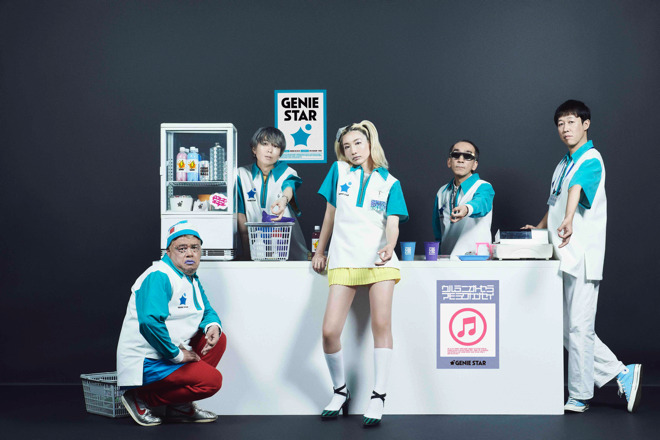 ---
The novel was first serialized in the weekly women's magazine an-an (Magazine House) from October 2012 to August 2014, then was published as a book with illustrations by CLAMP in August 2014. The story centers on Hitomi Saito, a former local government employee who has jumped into the world of the anime industry. She makes her directorial debut and competes for the title of "Haken" (supremacy) with the star director of her dreams, Chiharu Ouji. He has produced many mega-hit films and is returning to the director's chair for the first time in eight years. Hitomi struggles to win the title "Haken" together with the peculiar producer and her unique colleagues. "Soundback – Kanade no Ishi-" is Hitomi's directorial debut film in the story, while "Unmei Sensen Liddell-Light" is Chiharu Ouji's new film.
The live-action film Haken Anime!, directed by Kohei Yoshino, who participated as a CG creator in Makoto Shinkai's 2016 anime feature film Your Name. and has worked on numerous commercials and music video, is set to be released in Japan on May 20, 2022. Toei Animation supervises the project.
Main poster visual:
"Soundback – Kanade no Ishi-" teaser trailer:
"Unmei Sensen Liddell-Light" teaser trailer:
---
Source: "Haken Anime!" official website / Twitter
©2022 Movie "Haken Anime!" Production Committee, Toei