Welcome to Crunchyroll! If you're new to our site, this article will help you discover the wide variety of  features, events, and spaces that make up the Crunchyroll community. Beyond our core streaming service, we offer a ton different ways for you to interact with the anime you love. Welcome to a new world of anime!
Use this Table of Contents to Jump to any Section in the Article:
Anime

Manga

Crunchyroll-Hime

Social Media

Crunchyroll News

Crunchyroll Games

Crunchyroll Store

Crunchyroll Expo

The Anime Awards

What to Watch
---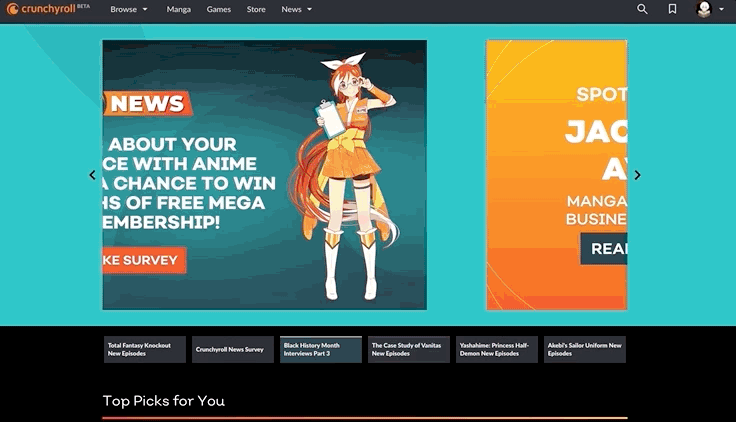 At the core of it all is our streaming platform — Crunchyroll offers the world's largest (and ever-growing) library of over 1,000 anime series and movies! Crunchyroll Beta is the latest version of our anime streaming experience, specifically designed to fit the needs of the anime community. The homepage's interface provides personalized recommendations for users and seamless navigation to specific shows, episodes, personal watchlists, collections curated by Crunchyroll's anime experts, and more! 
Note: You need to have a registered account to access Crunchyroll Beta!
There are multiple ways to discover anime on Crunchyroll beyond the front page! Under the Browse tab at the top, you'll find a variety of filters to find your next favorite anime: 

Keep track of series you want to watch with our Watchlist function. Adding a series to your Watchlist is as easy as navigating to its show page, and then clicking the Watchlist button!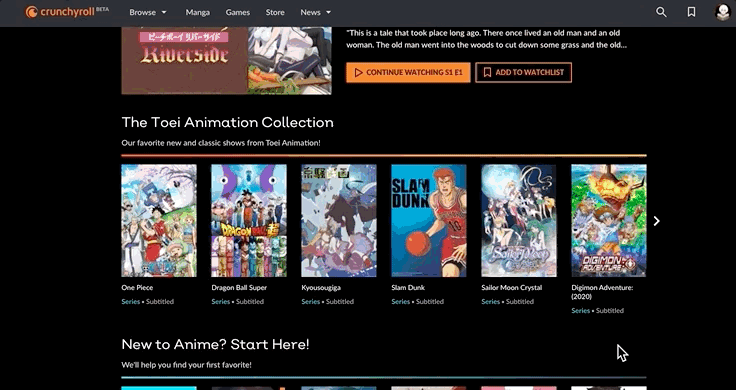 Your Watchlist is just one click away with the bookmark icon in the top right corner: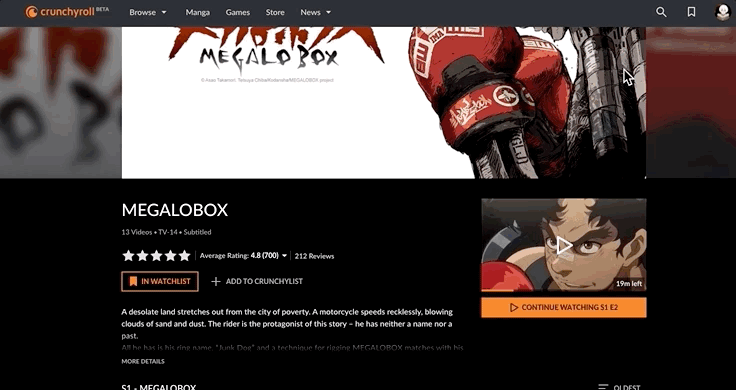 We also offer Crunchylists, a feature that allows fans to create curated collections of their own. To make a Crunchylist, first click your icon in the upper right-hand corner and select Crunchylists. Create a new list and name it any title you like!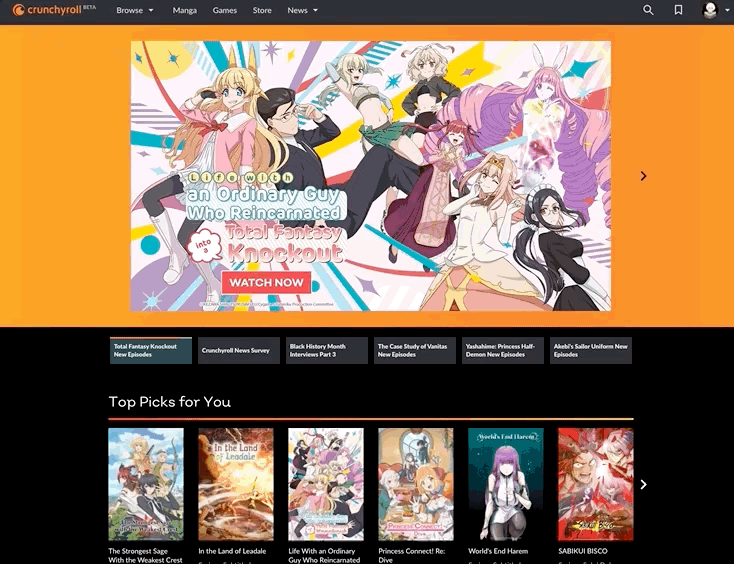 Congratulations! You can now add your favorite series to the list from series pages. (If you're looking for new series to watch, check out this list!)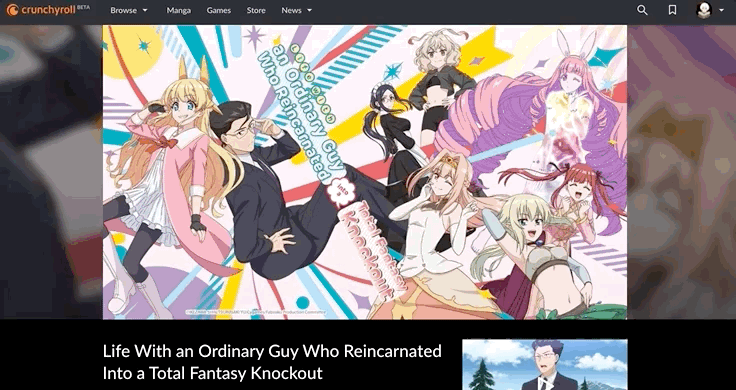 ---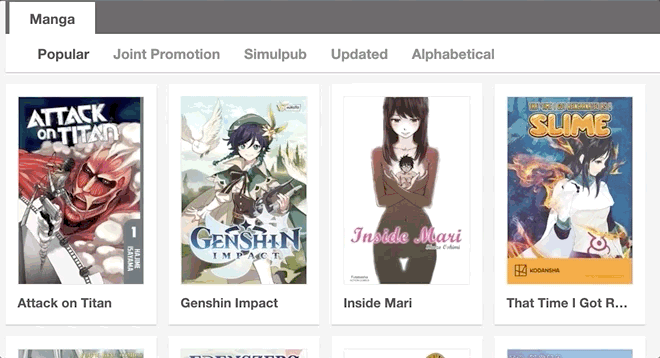 We also offer a wide variety of series for our users to read on our Manga page! With titles ranging from That Time I Got Reincarnated as a Slime to Sun-Ken Rock to Fairy Tail, there's something for everyone to read! You can also read Crunchyroll manga on your phone with our iPhone and Android apps!
---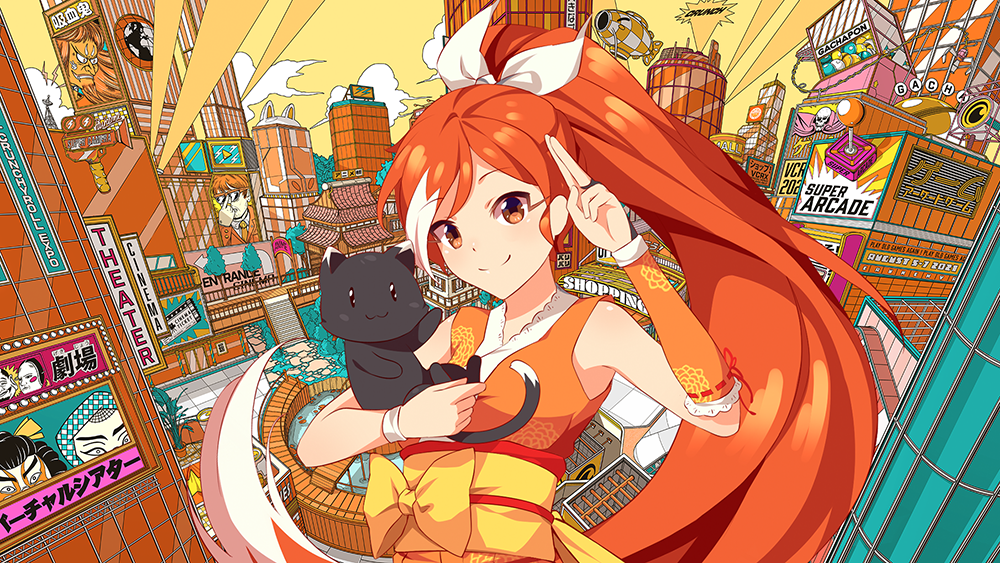 Meet Crunchyroll's official mascot, Crunchyroll-Hime (you can call her "Hime")! Hime's original design was created by Eunice Dahae Baik and submitted to the Anime Industry-tans Contest, an online fan art contest where contestants created gijinka (anthropomorphized mascots) of anime companies. Eunice's design won against 100 other approved entries and — with the help of artist Shiori Abe — our mascot was born!
Hime is a kitsune — a Japanese fox spirit — and she manages Crunchyroll's entire website and social media accounts. She also streams on her YouTube account here!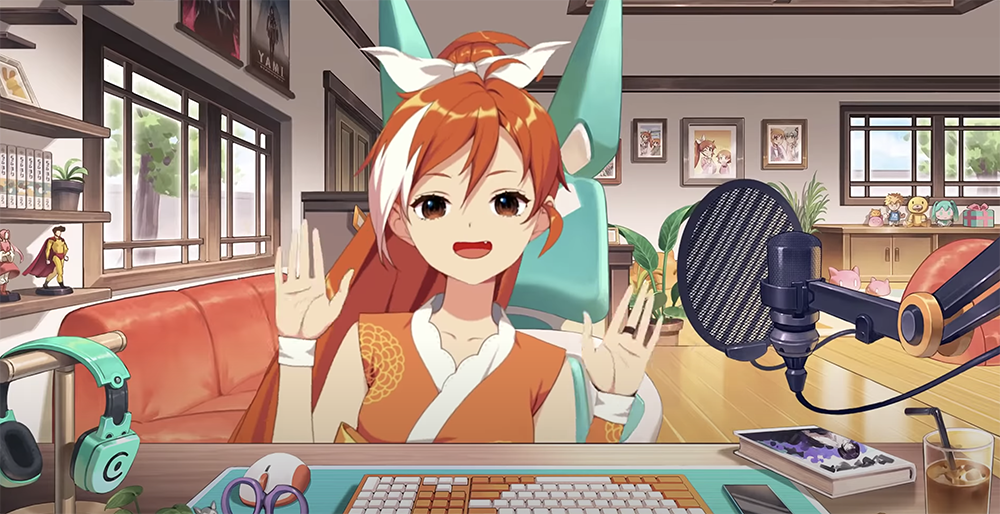 If you want to learn more about Hime's life, be sure to check out Hime's 4-koma manga series The Daily Life of Crunchyroll-Hime (made by artist Kata), which you can read on our Twitter account!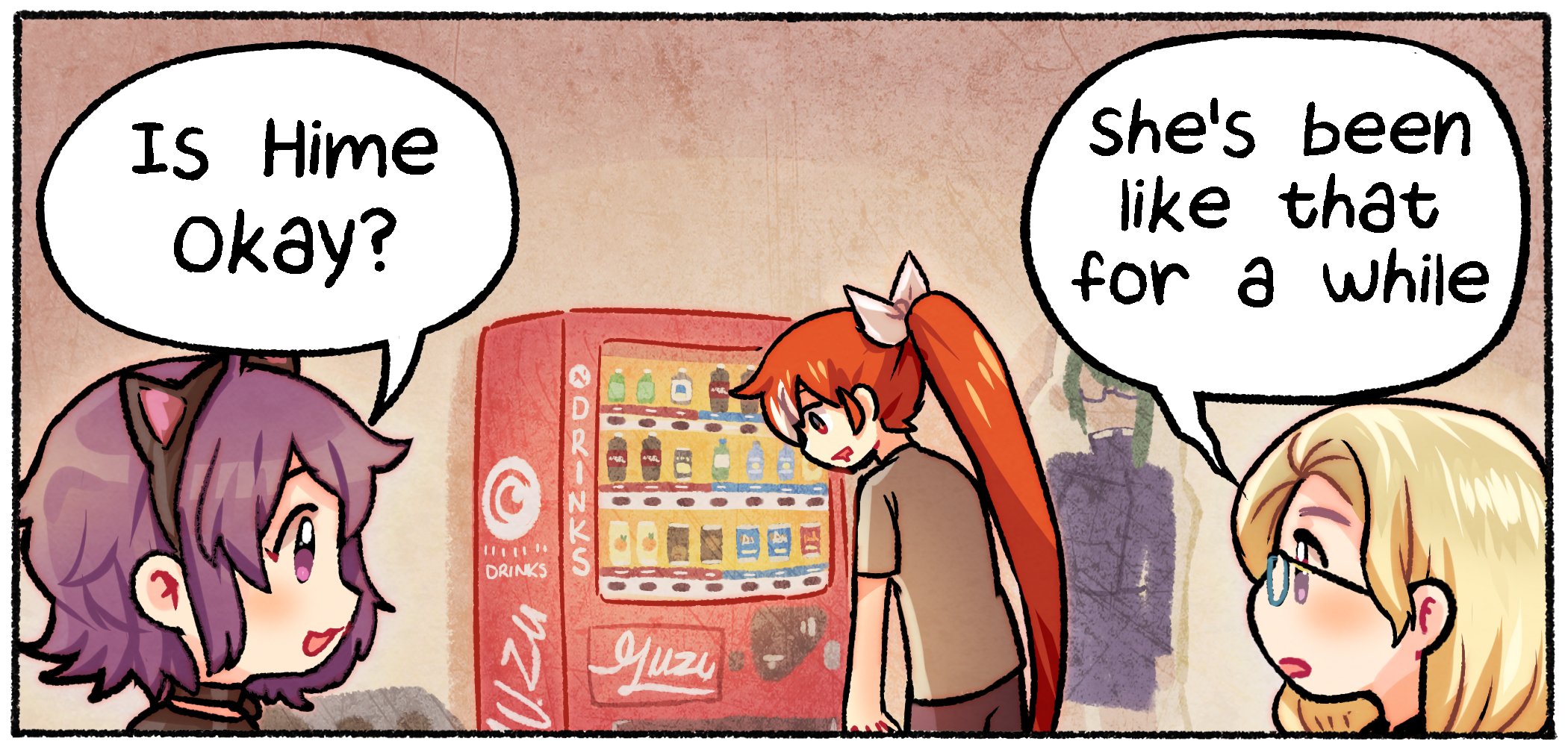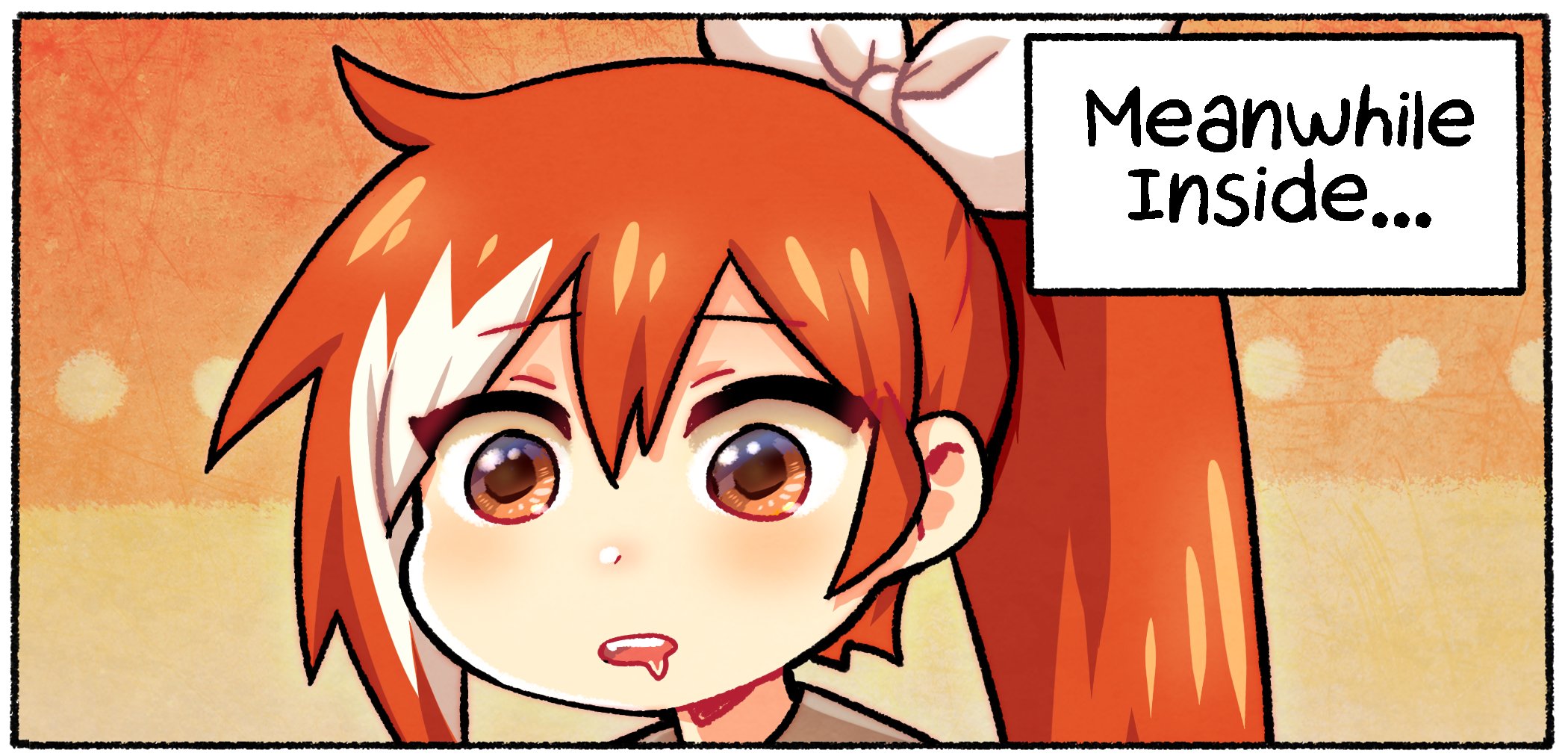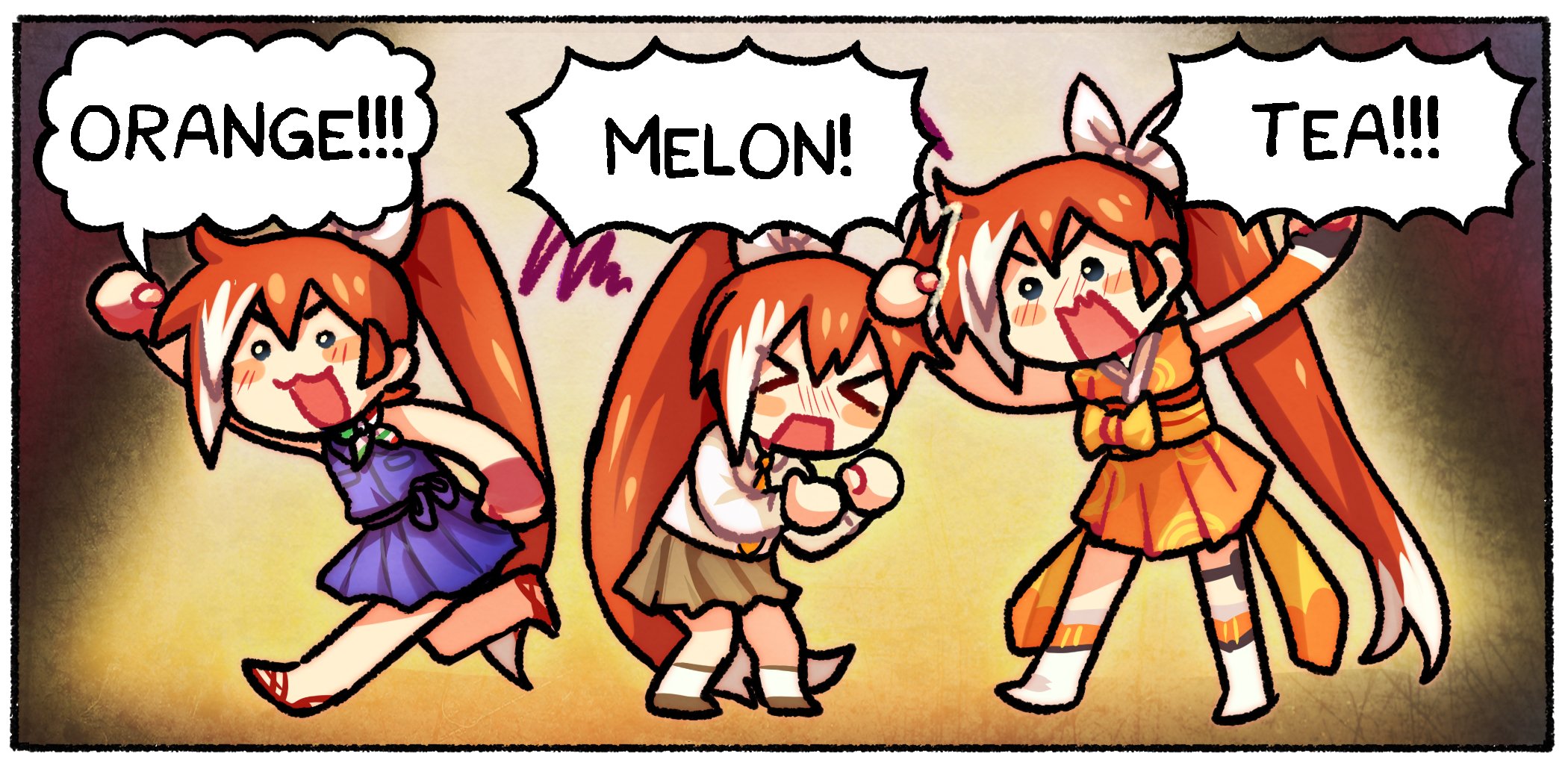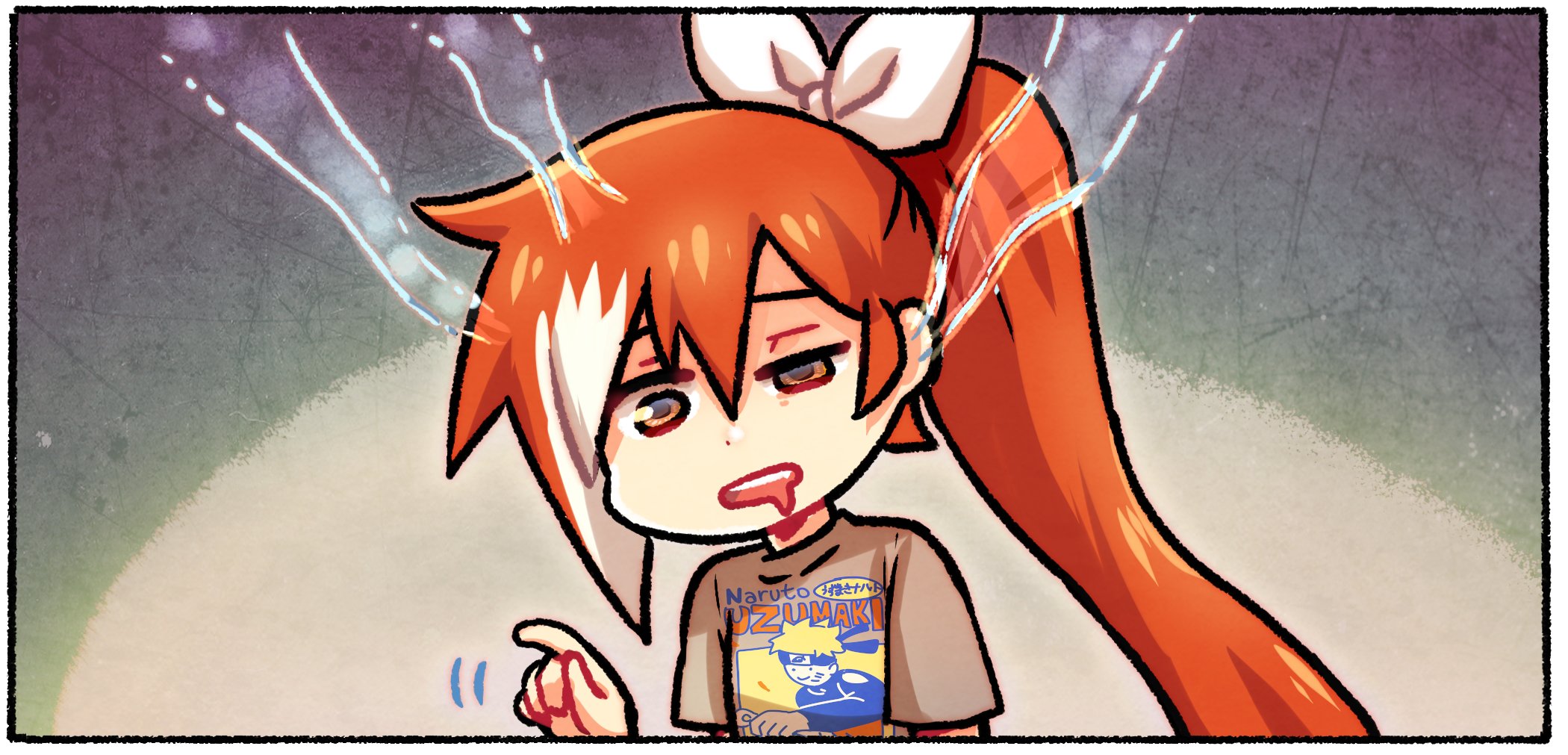 ---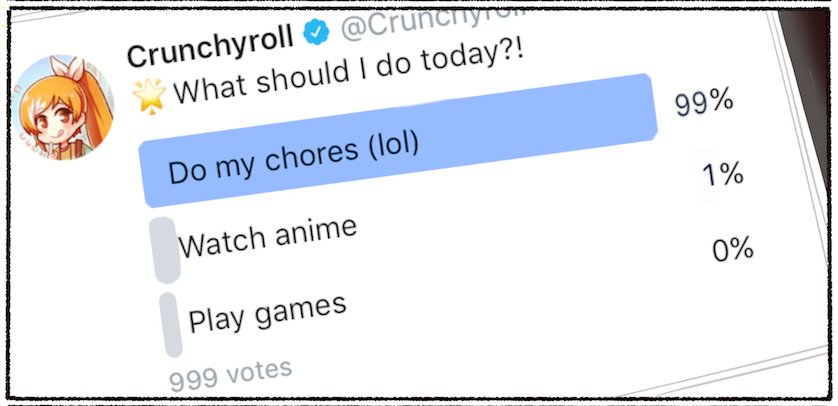 Crunchyroll has official accounts on most major social media platforms, each of them run directly by Crunchyroll-Hime to interact directly with anime fans around the world! Be sure to follow us for the latest updates, announcements, and contests!
We also have not one, but three different YouTube channels (besides Hime's streaming channel, of course):
Finally, we have Crunchycast, our own podcast that posts episodes every other week covering all things anime!
---

Crunchyroll News reports on everything anime with our own team of anime-loving writers! Crunchyroll News writes on all of the biggest news stories about anime, manga, and gaming, as well as interest pieces about anime and Japanese culture, opinion pieces, interviews with creators and industry leaders, behind-the-scenes content, character quizzes and more! We publish dozens of articles each day, so be sure to check back often for more new stuff to read!
---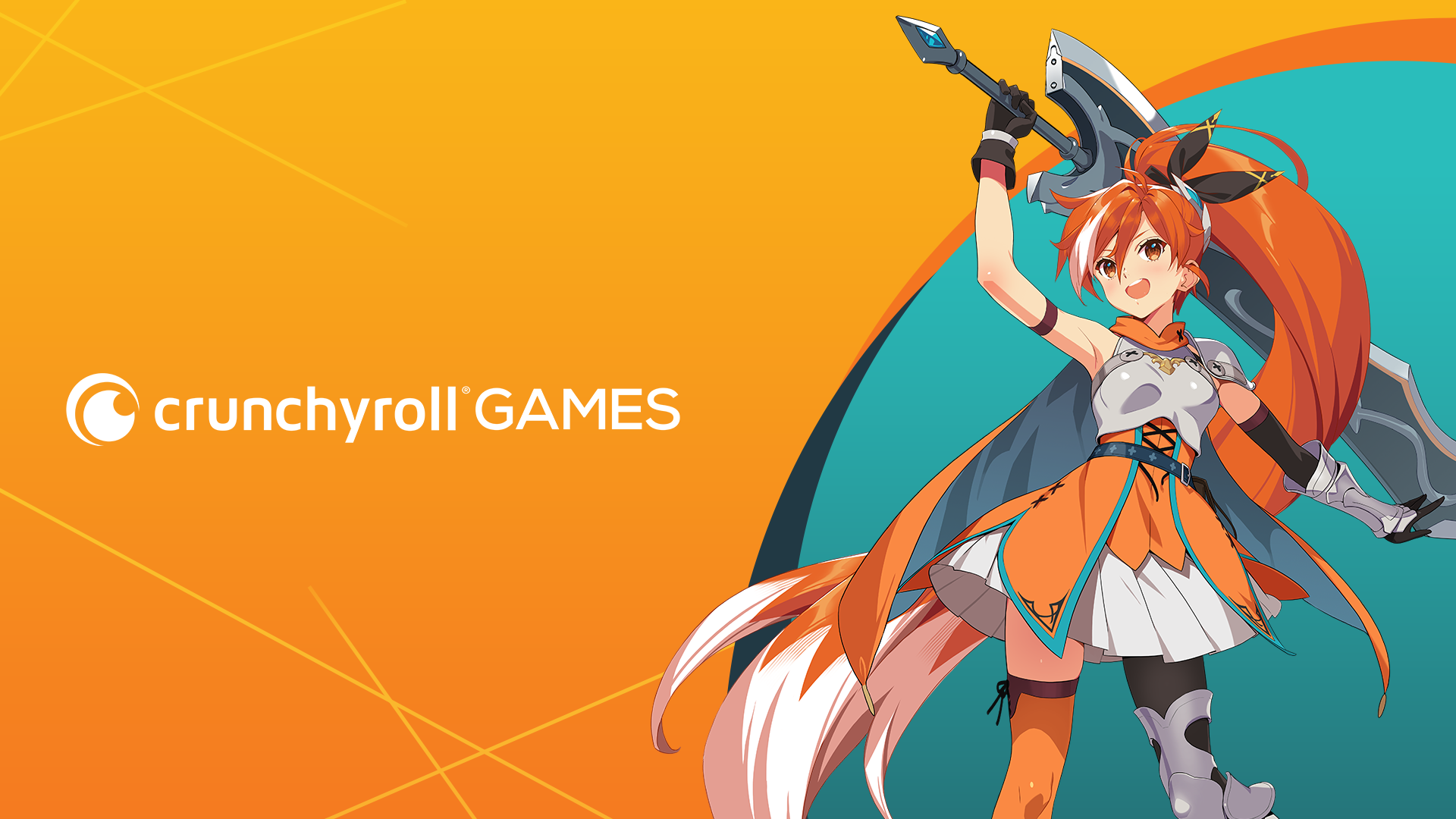 In addition to anime and manga, Crunchyroll also publishes a line of video games! Crunchyroll Games works to bring amazing anime-based mobile games from many of the  top Japanese developers to anime and gaming fans around the world. Take a look at our lineup below:
---

If you want to buy anime merch, the Crunchyroll Store is your one-stop shop! We sell everything from character figures and plushies to manga and home video to apparel you can wear to rep your favorite series! The Crunchyroll Store also releases limited run drops of exclusive clothing collaborations with big names in the anime industry, so be on the lookout!
---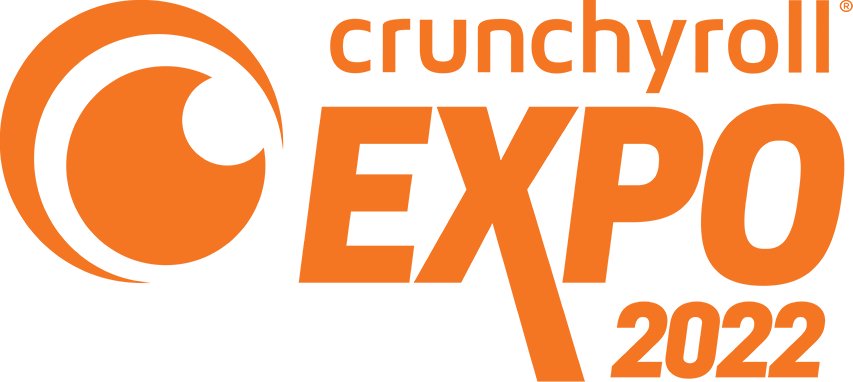 Every year, Crunchyroll hosts Crunchyroll Expo, our own anime convention! Since its beginning 2017, CRX offers anime fans around the world industry and fan panels, exclusive merchandise, world premieres, and more! For the past two years we've held CRX virtually, but this year we'll be transitioning to a hybrid event. Check out the CRX site to learn more, buy tickets, and sign up for updates!
---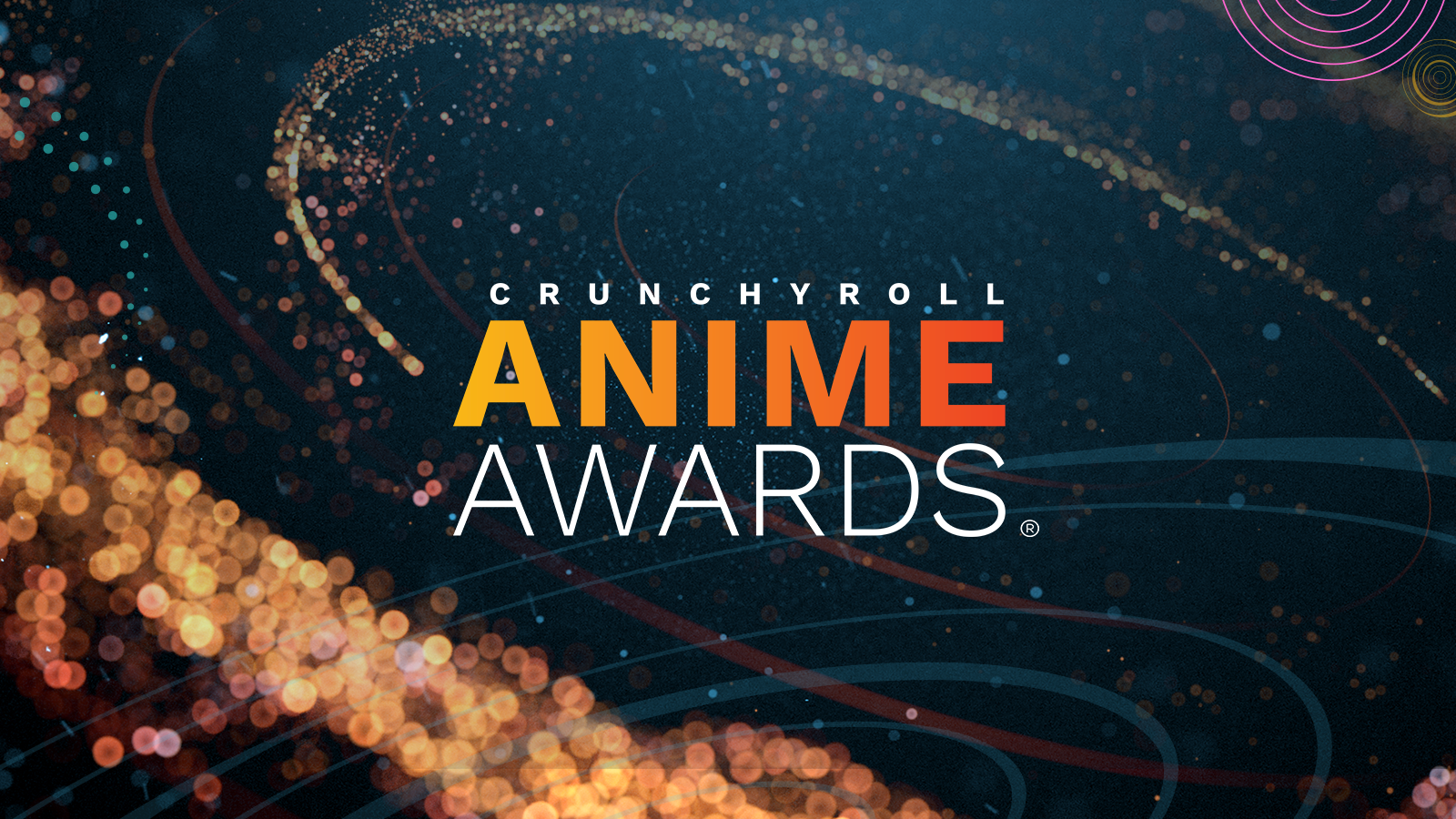 The Anime Awards is a global event honoring the anime series, characters, and artists that fans around the world love most. Each year, a panel of judges select nominees from every anime released in that year for categories like Best Anime, Best Girl, Best Animation, and more! Votes then open to the public, and finally the winners are revealed! The Anime Awards celebrates the amazing medium we all love and are the perfect opportunity for fans around the world to come together and celebrate their favorite anime.
---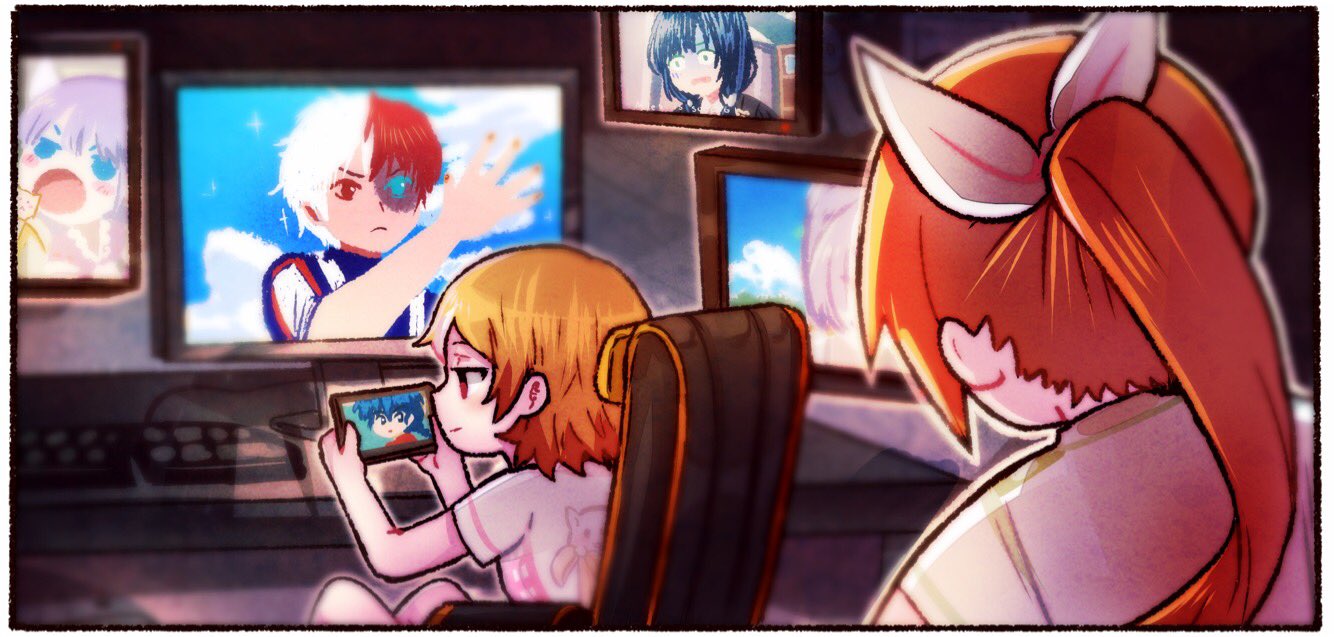 Now that you've been given the Crunchyroll world tour, it's time to get in there and watch some anime! Need some help finding something to watch? Here are some places to start:
If you want to watch series that are currently airing, check out our Seasonal Launch to see all of our ongoing simulcasts!
If you're a fan of specific genres, here are some series to get you started, too:
Shonen
Naruto
Demon Slayer: Kimetsu no Yaiba
JUJUTSU KAISEN
My Hero Academia
One Piece
Romance
Fruits Basket
Rent-a-Girlfriend
MY love STORY!!
given
Inuyasha
Fantasy
Attack on Titan
Mob Psycho 100
Black Clover
Re:Zero -Starting Life in Another World-
Ranking of Kings
Comedy
KONOSUBA -God's blessing on this wonderful world!
Gintama
Miss Kobayashi's Dragon Maid
Cromartie High School
Daily Life of High School Boys
Sports
Haikyu!!
Hajime No Ippo: The Fighting!
Kuroko's Basketball
Run with the Wind
Slam Dunk
And lastly, here are some must-watch series available on Crunchyroll:
Hunter x Hunter
Fullmetal Alchemist: Brotherhood
Mobile Suit Gundam
ODDTAXI
Revolutionary Girl Utena
 
---
Funimation has joined Crunchyroll for a combined anime viewing experience! In case you missed them, here are some helpful links:
—