Voice actress/singer Nana Mizuki's official YouTube channel has started streaming a ten-minute digest clip of her "NANA MIZUKI LIVE RUNNER 2020 → 2022" concert held at Saitama Super Arena on January 4, 2022. It was her first concert with an audience in two years and four months since since her last concert tour "NANA MIZUKI LIVE EXPRESS 2019."
.
As the largest tour in her career to celebrate her debut's 20th anniversary, "NANA MIZUKI LIVE RUNNER 2020" was originally scheduled to run through 13 cities in Japan with 17 performances from March 28 to August 16, 2020, but all performances were canceled due to the COVID-19 pandemic. As an alternative performance, "NANA MIZUKI LIVE RUNNER 2020 → 2022" was held at the 37,000-capacity arena for two days on January 3 and 4. The title of the tour, "LIVE RUNNER," reflects the 20th anniversary of her singer's debut, and the idea of "running towards the future."
At the concert, she announced that her 14th album was set to be released in the spring of 2022, and her summer live tour will be held at five cities across Japan from July 16 to August 21, 2022.
/#LIVE_RUNNER ダイジェストを公開????
\

今年1月に開催した、
「NANA MIZUKI LIVE RUNNER 2020 → 2022」ダイジェスト映像をYouTubeにて
公開しました????

ライブのハイライトを
10分越えの大ボリュームでお届け❗️

▷https://t.co/nXxiT1Oy88

ぜひご覧ください????#水樹奈々

— 水樹奈々オフィシャル (@NM_NANAPARTY) February 27, 2022
The concert key visual: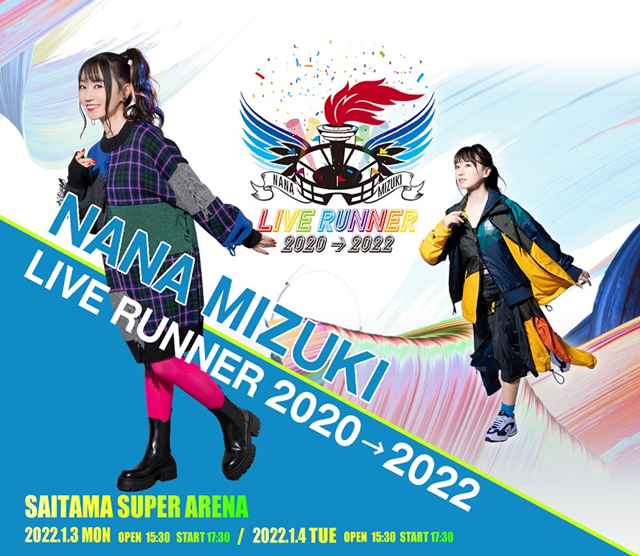 ---
Source: Nana Mizuki official website / YouTube channel
©COPYRIGHT 2021 KING RECORD.CO.,LTD.