Japanese publisher Futabasha announced today that the long-awaited seventh volume of Ichigo Takano's sci-fi romance manga orange is set to be released in Japan on April 12, 2022. It will be the manga's first new volume in five years since its sixth volume released in May 2017.
Five years ago, the sixth volume of the manga, which told another story from the point of view of the main character's friend Hiroto Suwa, was released, and the series had been completed once there. However, there was actually a message from the author on the back of the cover of the sixth volume: "The fifth volume was the final volume, but now the sixth volume is out. The episodes in the sixth are extra stories, but I decided to call it 'sixth' to connect it to the fifth volume. The sixth volume may not be the last either…"
As she said, the seventh volume that includes "a story that gives us a new perspective" is set to be released. The publisher describes its story as:
Another story spun in the world where "Kakeru could be saved." Thoughts from friends to Kakeru, and from Kakeru to his friends. A story that makes you want to cherish even more the irreplaceable beings beside you in times of happiness, sadness, joy, and pain.
The author Takano also says, "Volume 7 is a story of normal daily life with the theme of 'living.' Living is a natural thing, but it's a tough thing, too. We experience both good and bad things, and sometimes we enjoy living, and sometimes we get tired. I wanted to save someone who is still struggling somewhere, so I decided to draw for them. The seventh volume will be the real final volume. I sincerely thank you all for reading." 
✨新刊情報✨

連載開始から10年――
至極のSFラブストーリー『#orange』
待望の第7巻の発売が決定しました????????????

/
2022年4月12日(火)発売❣
\

仲間から翔へ
翔から仲間へ綴られる想いに感涙必至????

続報も随時お知らせしていきますので
お楽しみに✨ pic.twitter.com/T9z1CHUxdh

— 高野苺コミックス情報公式 (@orange_comics) February 25, 2022
Manga 1st & 6th volume covers: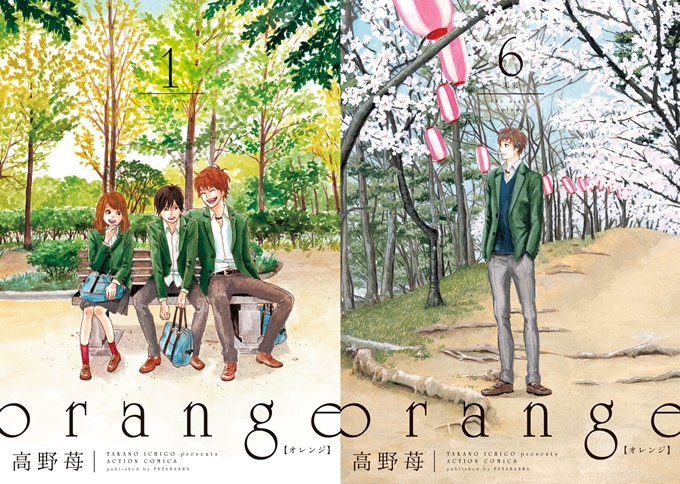 ---
Source: Futabasha press release
© Ichigo Takano/Futabasha